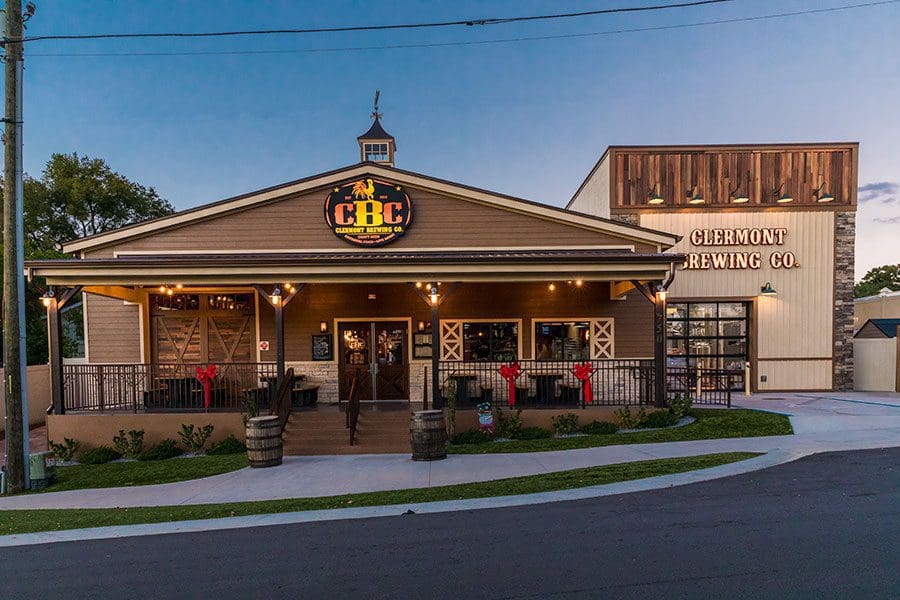 The owners of Clermont Brewing Co. provide something for everyone.
When you visit Clermont Brewing Co., you can be sure that everyone in your party will be happy with what the place has to offer.
Co-owners Darren Johnson and David Earl are aware that craft beers and IPAs have become popular just in the past 10 years or so and are well-liked among the millennial generation. They're not as popular with the older crowd, however—it's a "you can't teach an old dog new tricks" sort of thing—which is why Clermont Brewing offers many other options for people who prefer domestics.
"I would say the younger crowd really likes hoppy beer, and the older crowd likes lagers and the darker beers and things that aren't so hoppy, and it's very interesting to see the age demographic. That's the fine line," Darren says. 
The brewery, which opened in June 2019, usually has eight or nine of its own craft beers on tap. Eric Brown relocated to Lake County from Colorado in July to become the brewmaster at Clermont Brewing, where he creates numerous craft beers, rotating them throughout the year.
"Everything comes down to what our brewery likes to brew and what people like to drink. So, you have to find that balance in there," Darren says.
For beer-drinkers who prefer domestics, Kolsch is right up their alley. It's a German-style lighter beer described by the owners as a refreshing ale-lager hybrid that has become a favored style by craft brewers and beer lovers alike. It's one of Darren's favorites and he says people who typically drink Michelob Ultra or Bud Light will like Kolsch the best.
Domestic drinkers also will enjoy the new Buzzed Light Beer, which is another light and refreshing beer. The Mexican Lager also is a lighter choice that is smooth and slightly bitter and enhanced with a slice of lime. The Kolsch and Mexican Lager are the two most popular beers at the brewery, followed closely by the Hazy IPA and the West Coast IPA.
Hops fans might sway toward the West Coast IPA, which has been described as "aggressively hoppy" and is closest to an ale in depth and texture. The West Coast IPA has notes of floral and citrus, whereas the Hazy IPA has the strongest hops flavor of the hoppy beers. However, Eric recently created a Hazy Double IPA, which exudes the aroma of hops and citrus, Darren says. The hops are much stronger in the Hazy Double IPA than in other beers.
People who like Belgian brews will enjoy the Belgian Wit, made with wheat, oats and malted barley, along with spices and orange. This one is great in warmer weather, Darren says. 
For someone who isn't as seasoned in beer or prefers to try a few different drinks when they go out, Clermont Brewing offers flights so customers can try four different beers or split a couple of flights with friends—the more, the merrier.
When creating the drink menu, Darren and David wanted to make sure everyone could come in and enjoy the atmosphere and menu, so for non-beer drinkers, they also offer wine, liquor, craft cocktails and a mango hard seltzer, called the White Rooster, that is made in-house.
The brewery's specialty craft cocktails are unique to Clermont Brewing Co., created by the trained bartenders who are always coming up with new and seasonal cocktails.
"You may only have one or two (cocktails), but with fresh mint and cucumber and muddled fruit, it's just refreshing and it's fun to drink," Darren says.
The most popular concoction is the brewery's signature cocktail, the Rockin' Rooster, which consists of Tito's vodka, lime juice, mulled raspberries and mint.
The brewery also offers two ciders imported from the state of Washington and rotates a sour throughout the year from somewhere in the United States, depending on what's popular at the time. The reason Darren and David don't brew their own sours is simply due to the time it takes to age a sour and the room they have at the brewery.
In addition to the beverages, customers can enjoy live music every night, parties for Halloween, Christmas, Cinco de Mayo and the Fourth of July, in-house catering and, coming soon, Sunday brunch buffets with a build-your-own Bloody Mary bar and Wing Wednesdays with smoked chicken wings and pitchers of beer. 
"We're big advocates of having good food with the beer," Darren says of a menu that includes appetizers such as nachos, tacos, sliders and a hummus trio.
Craft beer fans and cocktail lovers alike can spend time together knowing they'll all find something to enjoy at Clermont Brewing Co. 
Fun Fact
Get hoppin'
With the rising popularity of craft beers and IPAs, new breweries are constantly popping up all over the U.S. There are more than 6,000 breweries nationwide, and over 300 in Florida. Once you check out everything Lake County has to offer, why not plan a cross-country beer tour of America.
Clermont Brewing Co., 750 W. Desoto St., Clermont // 321.430.2337 // Hours: 11:30am-11pm Monday-Thursday; 11:30am-midnight Friday-Saturday; 11:30am-10pm Sunday; Happy Hour 3-6pm Monday-Friday // clermontbrewingcompany.com.
Originally from Buffalo, NY, Victoria graduated from Canisius College in 2018 with a bachelor's degree in English and Writing. In August of 2019, she relocated to Eustis, Florida, and soon began at Akers Media Group assisting with social media projects. Later that year, she was promoted to a full-time writing position at the company and has since found her niche telling the stories of so many of Lake and Sumter County's awesome people.
Share This Story!