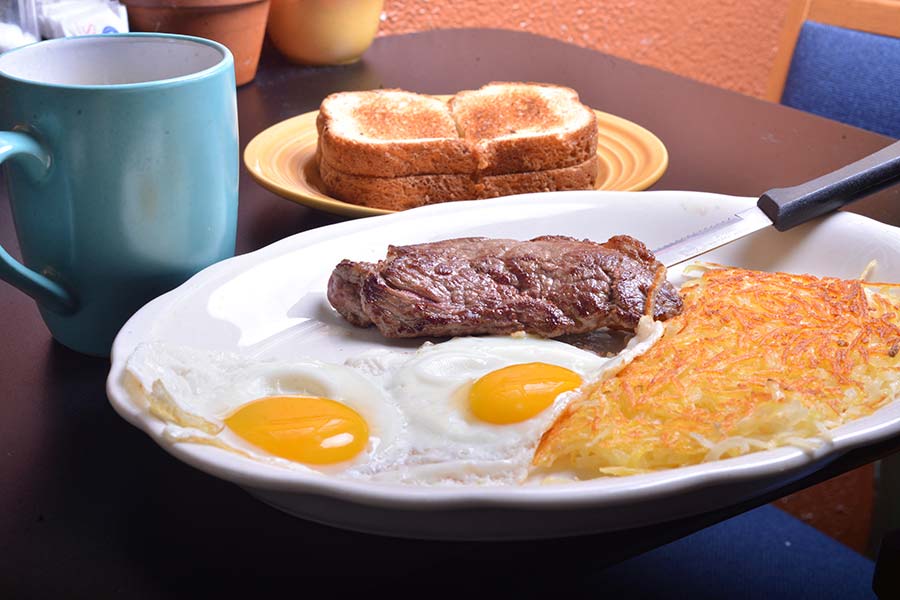 Breakfast: It does the body good
HP Grill is killin' and grillin' it. 
Seldom do I rise and dine. 
Nor do I wake and steak. 
Getting out of bed is a Herculean task for me. Sometimes, though, bad habits can be broken. That was the case on a recent morning when I jumped out of bed at the sound of my alarm and drove to HP Grill, located in Leesburg's Southside Shopping Center.
Uh-oh. Breakfast means I couldn't choose my favorite go-to food, the ever-popular cheeseburger. Never fear. HP Grill has card-carrying carnivores like myself covered. As soon as I saw steak and eggs listed on the menu, there was no need to continue reading. 
Honestly, I was expecting an inexpensive breakfast steak to be dry, tough, and overly chewy. To my surprise, the steak was full of juice and flavor, making it easier to chew. The steak mixed well with the generous portion of light and fluffy scrambled eggs. I was equally impressed with the golden-brown hash browns. Somehow, HP Grill makes them just right—not too soggy and yet not too burnt and crispy. 
In addition to good food, the restaurant's homey and friendly atmosphere makes it worth visiting. The walls are adorned with photographs of patrons who have dined there over the years. You can have your photograph hung, too. There's only one rule: it has to be a black-and-white photograph. 
I could definitely get used to this breakfast thing. But it will all depend on whether or not I can avoid hitting the snooze button on my alarm.
4 Forks
(Out of a possible 5)
HP Grill
1403 S. 14th St., Leesburg
352.314.0006
Hours: 6am-2:30pm Monday-Friday and 7am-2pm Saturday-Sunday. 
Fork report:
Casual dining $$
Seated immediately (breakfast)
Wait for meal: 5 minutes
Breakfast: Meat lover's omelet, farmer's omelet, cheese and egg omelet, biscuits and gravy, Belgian waffles, pancakes.
Lunch: Daily buffet. Half-pound burger, foot-long hotdog, shrimp basket, 6-ounce steak.
Akers Media Group's James Combs has been a staff writer for several local publications since August 2000. He has had the privilege of interviewing some of Lake County's many fascinating residents—from innovative business owners to heroic war veterans—and bringing their stories to life. A resident of Lake County since 1986, James recently embarked on a journey to lead a healthier lifestyle. He has lost 60 pounds and walks nearly five miles a day. In his spare time, he enjoys target shooting, skeet shooting and watching his beloved Kentucky Wildcats!
Share This Story!