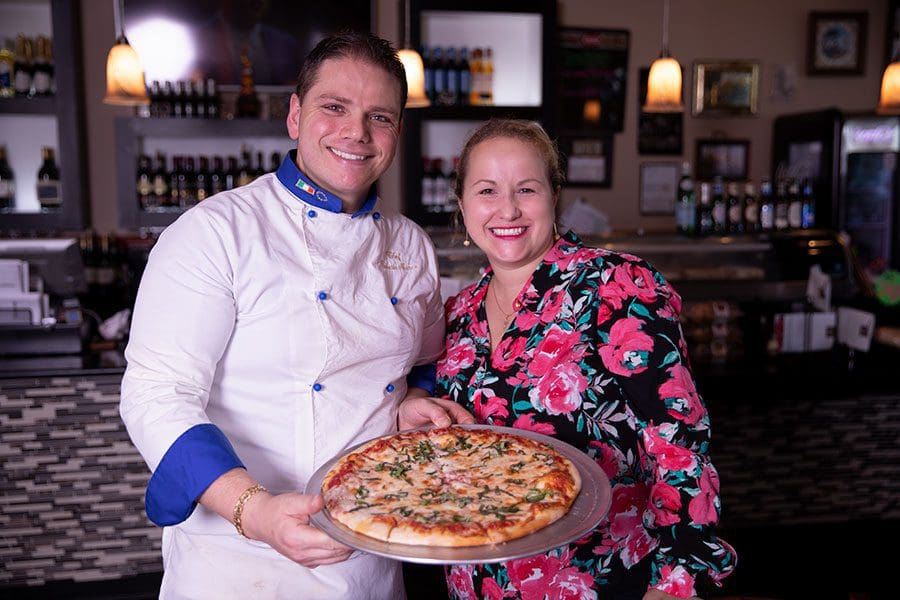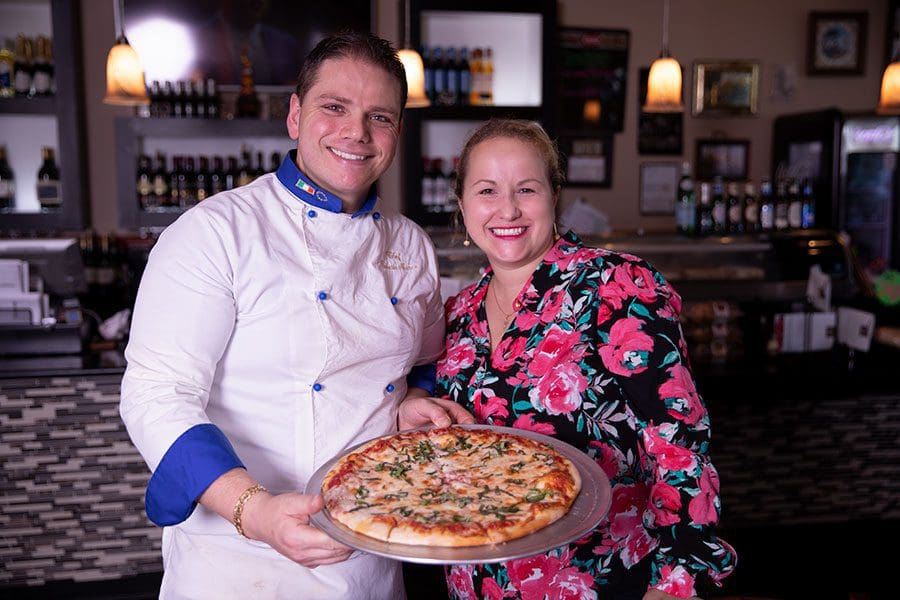 Roberto's Ristorante and Pizzeria brings the old country to The Villages.
Story: Victoria Schlabig ≈ Photos: Anthony Rao
Since Roberto's Ristorante and Pizzeria opened in July, it has been averaging about 600 customers a day, even during the first week. The restaurant is an instant hit with residents in The Villages and a great addition to Pinellas Plaza.
"It was exciting," says owner Roberto Manco, whose family emigrated from Naples, Italy. Many relatives have also opened restaurants in The Villages, but Roberto is not competitive. While each restaurant has its own theme and spin on their menus, all of them remain true to their Italian roots.
"It's all family, and it's great … I love to see everyone succeed," he says.
Since he was a little boy, Roberto knew he wanted to become a chef. At just 13 years old, he started culinary school in Italy. After graduation and two years of working in a restaurant for experience, he had the opportunity to work in Naples at Bertolini Hall, "a very fancy and amazing restaurant," he says. It's a five-star catering service and venue that hosts various events, including weddings and political meetings.
"It was an amazing opportunity to learn even more technique," says Roberto, who completed his five-year culinary degree at Bertolini Hall and then decided to move to the United States, where he felt welcomed by many. "I really enjoy cooking and (to) share my passion of cooking in The Villages."
Roberto takes pride in many guests calling his cuisine "the best food in The Villages." After serving as the executive chef at his brother's restaurant, Giovanni's, for more than a decade, he's happy with the decision to finally open his own place.
Everything at Roberto's is made from scratch—the pizza dough and sauces being at the top of the list—and the homemade touch truly shows in the meals. The first item on every table is an olive oil and balsamic vinegar dipping sauce, which is not stingy with garlic and, much like everything else served at a recent lunch, is very fresh and flavorful. The veggie pizza has fresh, crisp veggies, including peppers, tomatoes, broccoli and onion, on top of mozzarella and an aromatic tomato sauce. The bruschetta is light and crisp on airy, freshly baked Italian bread that also is made in the restaurant. Roberto sometimes even has professional cheese makers come in to make fresh mozzarella.
The calamari appetizer has a crispy, flaky coating, and the squid is tender inside and served with homemade marinara. The hearty eggplant parmesan is covered in melted mozzarella cheese, lying on a bed of perfectly cooked al dente linguine. The most popular menu item is Penne Roberto, which features shrimp sautéed in garlic and olive oil, cherry tomatoes and broccoli, all tossed with homemade penne pasta and finished with mozzarella on top.
Another perk that sets Roberto's apart from other Italian restaurants in the area are the imported desserts, including a decadent chocolate cake, limoncello flutes and a Monterosa cake that is filled with creamy ricotta and mascarpone cheeses, and topped with strawberries. Roberto's is the only restaurant in the area that offers a highly popular ricotta and pistachio cream cake, which is topped with crushed pistachios and dusted with powdered sugar. The restaurant makes tiramisu and cannolis fresh in-house, and all of the wines are imported.
The care and passion Roberto and his staff put into everything they prepare keep diners coming back. Unlike some children with fantasies of becoming an astronaut or a princess, Roberto stayed true to his childhood dream.
"I'm so excited that my dream has become true after working hard for so many years," he says.
Roberto's Ristorante and Pizzeria // 2468 Burnsed Blvd., Wildwood / Hours: 11am-9pm Monday-Saturday, 4-8pm Sunday / 352.626.1059 / facebook.com/robertosristorantevillages

Originally from Buffalo, NY, Victoria graduated from Canisius College in 2018 with a bachelor's degree in English and Writing. In August of 2019, she relocated to Eustis, Florida, and soon began at Akers Media Group assisting with social media projects. Later that year, she was promoted to a full-time writing position at the company and has since found her niche telling the stories of so many of Lake and Sumter County's awesome people.
Share This Story!