In the Kitchen: Breaking bread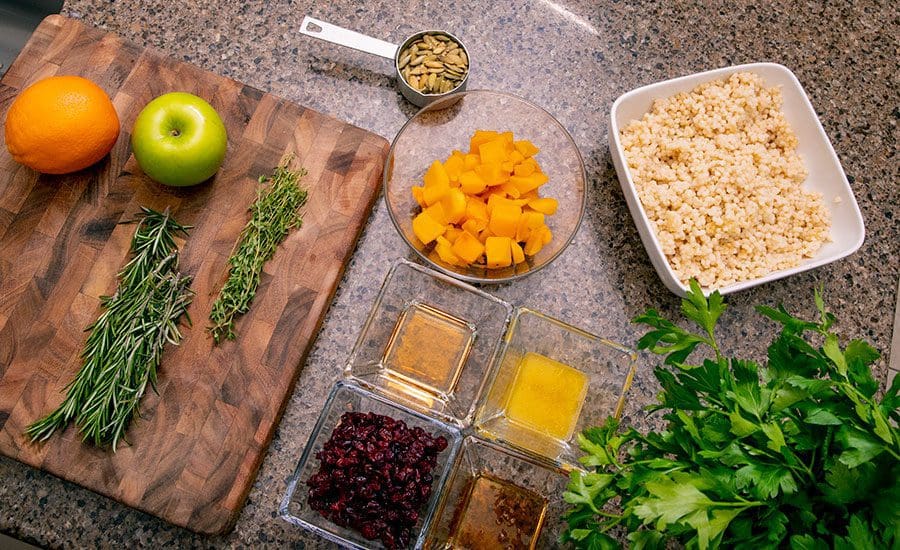 Chef Gary Appelsies: 'Cooking for people makes my heart sing. I love how it encourages conversation among strangers, helps people become friends.'
Photos: Nicole Hamel
There's something heavenly about savoring a delicious meal to the last crumb, and for Gary Appelsies, it's even more glorious being the chef behind tasty creations.
"The best thing is to see the smile on someone's face when they take that first bite," says Gary, 53, director of Healthy Eating at the YMCA of Central Florida, which serves a six-county area, including the Golden Triangle YMCA Family Center in Tavares.
The Golden Triangle Y recently served as one of 10 YMCAs in the region repurposed as a food distribution site during the early phase of the coronavirus pandemic. Gary credits "generous support" from donors and members for allowing the Ys to feed and provide basic supplies to over 3,000 families.
His love for the YMCA began when he was a Y volunteer in California before moving to Winter Garden in 2014. He holds a bachelor's degree in culinary arts from the New England Culinary Institute, and a master's in integrative health and nutrition from the University of Bridgeport.
"I write blogs for our website about healthy eating, healthy lifestyles, and give people cooking and nutrition advice through our Virtual Chef portal," says Gary, who notes that good nutrition is vital in helping people reduce their risk of chronic illness and disease.
"Teaching people how to cook with nutritious ingredients is a powerful combination," he says. "We try very hard to encourage fresh, seasonal, healthy ingredients that are easy to find."
Gary has created over 100+ recipes geared to help people cook healthy, tasty meals at home. He has also been involved in culinary medicine classes with the University of Central Florida College of Medicine.
One of his career highlights was receiving an invite from the James Beard Foundation to be among 10 Florida chefs in a bootcamp to support, sustain and maintain a better food system.
"We learned about farm workers and the inequalities and inequities in our food system," says Gary, adding that chefs bonded as friends and became a cohort group on a mission to work with state, local communities and "to help our local farmers, to promote our local food system, give fair pay to farm workers, and help restaurants find sustainably grown and locally-produced products."
Gary says being involved in this cause was a sign he was doing something right.
---
Chef chat
My passion for food: Began in my teens. I used to watch my grandmothers cook and always helped my mother bake. But my real interest began when my uncle taught me how to make a cheese omelet for the first time. I was fascinated and worked on it many times until I made the perfect fluffy omelet with oooey gooey cheese. I started to collect and read cookbooks as well as watch cooking shows on PBS such as Julia Child and the Galloping Gourmet … I remember once cooking filet mignon for my parents with a mushroom sauce and how much they loved it. My father still raves about it to this day. I think it was at that point I realized how much I enjoyed cooking for people.
Favorite cuisine to cook: Mediterranean. I love the freshness and simplicity of the flavors; they blend so well together.
What is always in my refrigerator: Eggs, Greek nonfat yogurt, berries when they are in season, and Swiss cheese.
My go-to snack: Cashew nuts.
Favorite childhood dish: Grilled cheese sandwiches were my staple. Everywhere we went my mom would bring a grilled cheese sandwich for me. She would make them and wrap them in tin foil. I still remember that even though they were cold and soggy. I also loved my grandmother's stuffed cabbage and her split pea soup. I still make her split pea soup: a few carrots, onion, some celery, yellow and green split peas of course, some barley, spices and water. Those are all etched in my memory for a lifetime.
If I could cook for anyone, it would be: All of my grandparents together. They inspired and encouraged me in so many ways. I have all of one of my grandmother's recipes in a binder. Some of these I have improved on, but the memory of them and the aromas when I cook them in my kitchen take me back to my childhood.
Favorite celebrity chef: Toss-up between Michael Symon and Andrew Zimmern. I appreciate both for their commitment to family recipes. If you ever watch them, they will often talk about how their parents or grandparents used to make a particular dish and their memories of it. I would love to cook with either of them, if ever given the opportunity.
Biggest influence: My wife, Betsy, hands down. She is and has always been my biggest cheerleader. She encourages, inspires and challenges me every day. I would not be where I am if not for her.
What I enjoy most about cooking: For me it's not about a fancy meal or an artful plate. I love how food brings people together. Cooking for people makes my heart sing. I love how it encourages conversation among strangers, helps people to become friends, bridges generations. When you cook from the heart and with love, you can taste when it's someone's passion.
---

Couscous with Butternut Squash Apple and Cranberry
6 servings
Prep time: 15 minutes
Cook time: 50 minutes
High Fiber • Low Sodium • Vegetarian • Lactose Free
Ingredients
1/4 cup olive oil
1 cup cubed and roasted butternut squash

2 cups Israeli couscous
3 cups low-sodium vegetable broth
1/4 cup parsley, chopped
1 1/2 tablespoons fresh rosemary, chopped

1 teaspoon fresh thyme, chopped
1 medium granny smith apple, diced
1 cup dried cranberries
1/2 cup pumpkin seeds (raw or roasted and unsalted)
4 tablespoons apple cider vinegar
Zest of one orange
1 tablespoon fresh orange juice
2 tablespoons honey
2 tablespoons olive oil
Kosher salt and pepper to taste
Directions
Preheat oven to 350 degrees. Cut butternut squash in half, carefully peel and remove seeds and cut into 1-inch dice. Toss squash in a large mixing bowl with 2 tablespoons of olive oil and season with salt and pepper. Place squash on a baking sheet and roast in the oven for 30-45 minutes until squash is soft but not mushy. Set aside. (You should be able to easily pierce with the tip of a sharp knife). While the squash is roasting heat 2 tablespoons of olive oil in a medium saucepan on medium-high heat. Add the couscous and cook, stirring occasionally with a wooden spoon until slightly brown, about 3 to 5 minutes. Add the vegetable broth and bring to a boil. Reduce heat and simmer for 10 minutes or until the liquid has fully evaporated. Transfer the cooked couscous to a large bowl. Toss in parsley, rosemary, thyme, apple, dried cranberries, squash and pumpkin seeds. In a small bowl, whisk together the vinegar, orange zest, orange juice, honey, salt, and pepper. Slowly whisk in the olive oil until fully combined. Pour the vinaigrette over the couscous and toss to coat evenly.
Chef's note: You can purchase precut butternut squash in the freezer section of your local grocery store or in the produce aisle. Some stores sell it in microwaveable bags for ease and convenience.
Nutrition Info:
Calories: 523
Fat: 20g

Saturated Fat: 3g
Protein: 11g

Total Carbs: 77g
Fiber: 7g
Sugar: 23g
Sodium: 29mg
Cholesterol: 0mg
---

Pumpkin Pancakes
4 servings (12 pancakes, 3 per serving)
Prep time: 10 minutes
Cook time: 25 minutes
Low Sodium • Vegetarian • Gluten Free • Kid Friendly
Ingredients
1 cup all purpose flour
1/2 cup whole wheat flour all-purpose flour
1 1/2 teaspoons baking powder
3/4 teaspoon baking soda
1/4 teaspoon kosher salt
1 1/2 teaspoons ground cinnamon
1 teaspoon ground ginger
1/8 teaspoon ground nutmeg
1 1/2 cups whole milk
2 tablespoons honey
3/4 cups canned pumpkin purée
2 extra large eggs
3 tablespoons melted butter, plus more for greasing the skillet
1 teaspoon vanilla extract
Pure maple syrup for serving
Directions
Preheat oven to 225 degrees. Using a fine mesh strainer sift flours, baking powder, baking soda, salt and spices together into a large mixing bowl. In a medium bowl, whisk the milk, honey, pumpkin purée, eggs, melted butter and vanilla extract until well combined. Pour the wet ingredients into the dry ingredients and whisk together until just combined. You may have a few lumps but that's fine. Heat a griddle or nonstick skillet over medium-low heat. Add butter to grease when hot. Using a 1/4 cup measure scoop pancake mixture into greased griddle or pan. Leave some room between pancakes so batter can spread. Cook on medium low heat until batter begins to bubble, and the bottom starts to turn brown. Using a spatula carefully flip. And cook another two to three minutes, until the batter is completely cooked through and the pancakes are puffy and deep golden brown. (be careful not to burn) Clean griddle or pan add additional butte and repeat until all of the batter is used. Place pancakes on an oven proof dish or baking sheet and place in oven to keep warm until all pancakes are cooked. Serve warm with warm maple syrup.
Chef's note: If you don't have whole wheat flour you can substitute all purpose. Substitute granulated sugar for honey.
Nutrition Info:
Calories: 399
Fat: 15g

Saturated Fat: 8g
Protein: 12g

Total Carbs: 54g
Fiber: 4g
Sugar: 15g
Sodium: 456mg
Cholesterol: 136mg
Originally from Anderson, Ind., Theresa worked for The Herald-Bulletin for many years. After experiencing a winter with 53 inches of snow, her late husband asked her to get a job in Florida, and they headed south. Well known in the area, Theresa worked with The Daily Sun and The Daily Commercial prior to joining Akers.
Share This Story!