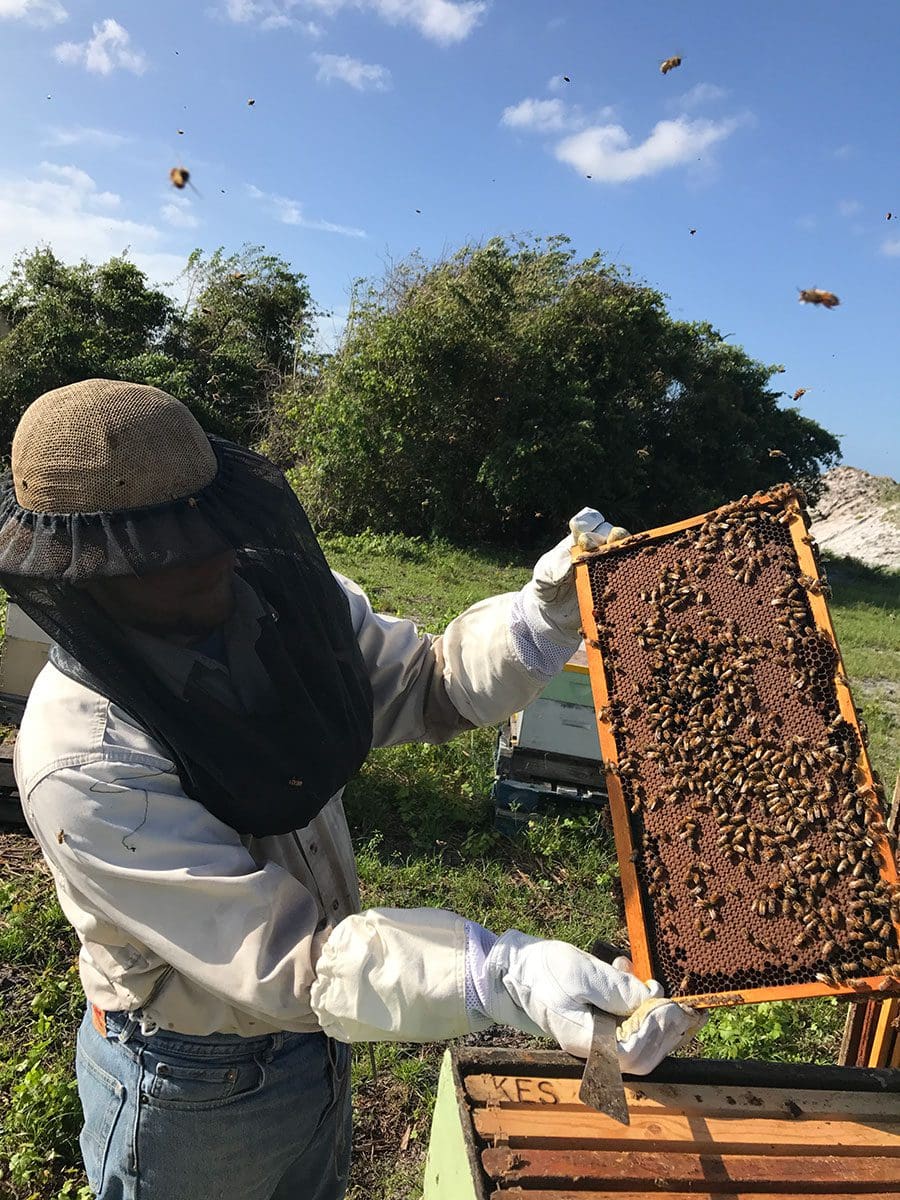 Sweet Bee Honey Farm's owner feels blessed to be a beekeeper in a dying industry.
The No. 1 comment beekeeper Keith Seifert Jr. hears about his work is, "You must get stung a lot." He doesn't deny it.
"A normal day can be as many as 20 to 30 stings, and no, you never get used to it. It hurts every time!" Keith says.
Still, he takes great pride in caring for bees and producing 100 percent raw, unfiltered Florida honey straight from the beehives on his six-acre property, Sweet Bee Honey Farm, 26356 County Road 46A in Sorrento.
And those hyper-efficient insects do play a vital role in agriculture. Almonds, for example, are almost entirely dependent on honeybee pollination.
"Over one-third of our entire diet is dependent on pollination from the honeybee. So, for every three bites of food you eat, you can thank the honeybee for one of those three bites," Keith says, also sharing his favorite Albert Einstein quote on the bees' importance: "If the bee disappeared off the face of the Earth, man would have only four years left to live."
Keith was a 15-year-old student at Umatilla High School when he got his first job working for a beekeeper with 2,000 colonies. He marveled at the work ethic of beekeepers.
"But my true passion was the bees themselves," he says. "They always fascinated me, and I yearned for knowledge. They are truly amazing creatures."
Keith is an apprentice-craftsman beekeeper, enrolled in a five-year program accredited by the University of Florida, and he finds the master beekeeper course to be a lot of work and fun. He studies with Dr. Jamie Ellis, a UF entomology professor.
"He and his department have done great things to move beekeeping into the 21st century," Keith says. "I sure have learned more about the biology of the honeybee and its intricate behavior."
Sweet Bee Honey Farm began when Keith received his first hive at age 16. The company has grown rapidly in the past five years.
"We have spent years and countless dollars perfecting our craft, and I have been mentored by beekeepers with combined experience of 100 years in beekeeping," he says.


The question of what he enjoys most about his work has a bittersweet answer.
"I love my job for so many reasons, but the freedom of my line of work comes with many disadvantages: many late, sleepless nights worrying about my hives; wondering how our crop will be; if we can get a fair price for our honey; and wondering how many times I will be stung today," he says.
"But in all that, nothing brings me more happiness than to wake up every day and put in an honest day's work," Keith adds. "I feel very blessed to be in this line of work as it is a dying breed of people who are willing to do it."
Keith's farm provides different varieties of honey, including Orange Blossom, Tupelo and Wildflower. He says that 100 percent raw honey has health benefits.
"A lot of our customers look to us for allergy relief," Keith says. "Our Wildflower honey is very popular as it is loaded with many different plant pollens which the bees gather and bring back to the hive. American honey is produced by local beekeepers, and when you purchase from local farms, you are helping local businesses."
As sweet as honey
Lori Johnson, an agent with the University of Florida Institute of Food and Agricultural Sciences Extension Lake County, used Sweet Bee Honey Farm's honey to make the following recipes she found at honey.com. "These recipes are easy for families to cook together and stay cool in the heat," she says.
---
Sweet and salty honey-baked vegetable medley fries
Ingredients
1 lb. beets, peeled
1 lb. sweet potatoes, peeled
3 large carrots, peeled
2 tablespoons olive oil
1/2 teaspoon sea salt, plus salt to taste
1/4 cup honey
1 tablespoon apple cider vinegar
Directions
Preheat oven to 400 degrees. Cut the beets, sweet potatoes and carrots into slices that are about 1/4 -inch thick and 3 inches long. Put vegetables in a bowl and add oil. Toss to coat. In a small bowl, mix together 1/2 teaspoon salt, honey and vinegar. Add to vegetables and toss. Put the vegetables in a single layer on two baking sheets and bake for 20 minutes. Remove from oven and flip vegetables. Put back in oven and bake an additional 10-15 minutes until caramelized, making sure not to burn. Add salt to taste.
Tip: Try other vegetables in your medley, just watch cooking time. For example, zucchini bakes much quicker than the root vegetables used in this recipe.
---
Honey strawberry lemonade popsicles
Ingredients
2 cups fresh strawberries, washed and stemmed, 1/2 cup reserved and diced
1/2 cup fresh or prepared lemon juice
1/2 cup honey
1 cup water
Directions
Place all ingredients except the 1/2 cup diced strawberries in a blender and mix on high until the strawberries are completely incorporated, about 1 minute. Divide the diced strawberries between the popsicle molds and carefully pour the strawberry lemonade mixture to the top of each mold. Insert the popsicle sticks in each mold and freeze. Makes 8-10 popsicles.
Tip: Run warm water over the molds for just a moment for easy popsicle removal.
---
Honey lime chicken skewers
Ingredients
2 tablespoons honey
3 tablespoons soy sauce
1 tablespoon olive oil
1 lime, juiced
1 lb. chicken breast strips, skinless and boneless
Directions
In a small bowl, whisk all liquid ingredients together until completely blended. Pour mixture into a freezer bag and add chicken strips. Reseal bag and gently shake to cover chicken strips. Allow to marinade for 2 hours.
Next, prepare skewers by soaking bamboo sticks in water for 15 minutes. Remove chicken strips from marinade and skewer onto bamboo sticks. Grill on medium to high heat for 8 minutes or until juices are clear and chicken is fully cooked. Serves 8.
---
Chat with beekeeper Keith
Misconceptions about honeybees: They are very misunderstood among the public. We have lost a great amount of our natural forage land due to urbanization and suburban sprawl, and when people and honeybees mix, it's going to have less than desirable results. I receive complaints about my bees going to neighbors' swimming pools to gather fresh water to swarms of bees moving into people's property. You name it, I've dealt with it. But it takes patience and mutual understanding on both sides to overcome the obstacles.
Funny moments: In the 15 years I've done this kind of work, I have seen scores of the roughest and toughest guys run out of the bee yards kicking and screaming when a bee manages to slip through their protective gear. That can be a sight to see, and I admit there have been a few chuckles among the rest of us beekeepers.
The health benefits of honey: Raw honey is loaded with antioxidants to protect your body from cell damage due to free radicals. Honey has been long known as a folk remedy to help heal burns and wounds due to its antibacterial and antifungal properties. Honey is also very well known to soothe a sore throat. Try taking a spoonful of honey and add it to hot tea if you feel like you have a cold. Honey can also help as a cough suppressant.
Favorite honey snack: Florida oranges peeled and drizzled with Sweet Bee Honey Farm's Orange Blossom honey.
---
Sweet Bee Honey Farm
26356 County Road 46A, Sorrento
352.406.0949
sweetbeehoneyfarm.business.site
---
Originally from Anderson, Ind., Theresa worked for The Herald-Bulletin for many years. After experiencing a winter with 53 inches of snow, her late husband asked her to get a job in Florida, and they headed south. Well known in the area, Theresa worked with The Daily Sun and The Daily Commercial prior to joining Akers.
Share This Story!