In the Kitchen: Farm-fresh goodness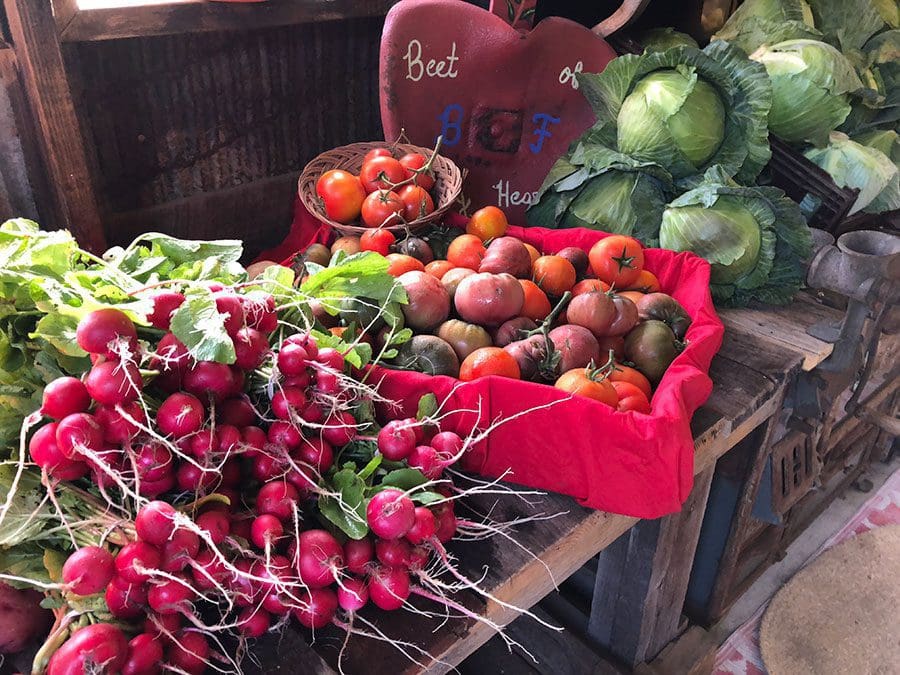 Local farms offer wholesome, flavorful produce picked at peak times.
Bursting with the freshest flavor and wholesome vitamins, produce grown and picked from local community farms is a healthy treat and provides sustainable agriculture for farmers.
"Good ingredients speak for themselves," says chef Jack Braton, of Turners Kitchen + Bar in downtown Leesburg.
He proudly notes that a majority of Turners' fresh, organic produce comes from Gareth and Jessica Gentry at Bountiful Farms in Okahumpka; Chet Blackmon at Yalaha Farms; and Aquaponic Lynx, also in Yalaha. 
"I love being able to support the community, and people want to know that their dollars make a difference," adds chef Ze' Carter, who runs the Kitchen Café and Cooking School in Leesburg with her daughter, Joy Williams.
The mother-and-daughter duo whips up soups, salads, sandwiches and rice bowls using farm-fresh ingredients in season from Dirty Dog Organics, a farm at 2026 Lewis Road in Leesburg.
There's a difference in the quality of produce picked at peak freshness compared to vegetables and fruits shipped from other parts of the country or around the world. Produce traveling from long distances often is picked before it's ripe, and the end result is a bland taste. 
Dirty Dog Organics is on the farmland that has been in owner Aubrey Cash's family since the 1940s. Through May, Dirty Dog Organics expects to grow and harvest up to 70 crops, including melons, summer squash, tomatoes, cucumber, peppers, scallions, kale, collard greens, arugula, beans and field peas.
The farm's cooperative-based store is fully stocked with local, pasture-raised meats, dairy, breads, coffee, pasta, sauces, dressings, dried spice blends, pantry items, teas, home and body care items, and art from local artisans and growers in the community—"so it's a one-stop shop," Aubrey says. 
The farm grows vegetables not often found in grocery stores.
"Instead of red watermelons, we typically have orange watermelons or sorbet-colored watermelons," Aubrey says. "We also have black radishes over your traditional red, and we do that to expose people to all the colors of the rainbow that are essential to health."
The farm's goal is to help people eat better while strengthening the local food economy. Dirty Dog Organics participates in Community Support Agriculture (CSA), which allows people to buy a farm share, select items from the farm's store at wholesale prices and eat fresh, organic produce from a community-based, family farm. CSA support is crucial to small farms' success. 
The Gentrys' Bountiful Farms and Bistro, at 27314 County Road 33 in Okahumpka, also keeps busy to provide a fresh weekly bounty of vegetables, fruits and herbs to CSA members, residents and restaurants.
Among the different staples available from November to May at the farm are Cherokee purple and Brandywine heirloom tomatoes, cabbage, kale, several varieties of lettuce, broccoli, carrots, bok choy, sprouts, onions and peppers.
​The Gentrys grow blueberries, blackberries and strawberries, too, depending on the season, and they have fresh eggs, honey on tap, and tinctures made with pure, organic items—all at the store on their property.
Long & Scott Farms, 26216 County Road 448A in Mount Dora, also offers fresh produce from the field right to its country store and the adjoining Scott's Country Cafe. 
"Once people taste for themselves, they realize fresh tastes a whole lot better," says Rebecca Tyndall, whose late father, Frank Scott, started the farm in 1963 with his childhood friend Billy Long. 
"People just love the food because it's fresh and they love how it's fixed," Rebecca says. "They probably haven't had it like that before or haven't realized how much better it tastes when food is fresh off the farm."
The store's most popular produce is its trademarked Scott's Zellwood Triple-Sweet Gourmet Corn. The cafe also has drawn raves for its most popular signature dish, Scott's Zellwood sweet corn chowder, made from the farm's sweet corn, potatoes, onions, red pepper and bacon.  
---
Arugula salad with beets and goat cheese
Salad ingredients
2 medium beets, cooked or raw-peeled, diced into bite-size pieces
2 handfuls of fresh arugula
4 tablespoons goat cheese
1/4 cup roughly chopped toasted walnuts
Dressing ingredients
3 tablespoons extra virgin olive oil
1 1/2 tablespoons lemon juice
1/4 teaspoon dry powdered mustard
1/2 teaspoon raw sugar or honey
1/2 teaspoon salt
1/4 teaspoon pepper
Directions
Prep time: 10 minutes. Cooking the beets time: 1 hour.
To make the vinaigrette: Place dressing ingredients in a jar and shake to emulsify. Adjust ingredients to taste.
Assemble the salad according to how much you want. Compose each dish with a handful of arugula leaves, a few cooked chopped beets, crumbled goat cheese and chopped toasted walnuts. Drizzle the salad with vinaigrette.
Recipe courtesy of Dirty Dog Organics
---
Scott's Zellwood sweet corn chowder
Ingredients
4 slices bacon, diced small
1/2 cup diced onion
1/2 cup diced red pepper

 

2 cups Scott's sweet corn, cut from the cob (reserve cobs for additional flavor when soup cooks)
3 tablespoons flour

 

3 cups chicken or vegetable stock
1 cup medium diced russet potatoes

 

1 cup heavy cream
Coarse ground salt and pepper
1 tablespoon chopped fresh parsley
Directions
Cook bacon until crisp, add onion, peppers and corn, stirring for 2 minutes. Add flour, stirring 1 minute. Add stock and stir until smooth. Bring to boil and add potatoes and the corn cobs. Simmer 25-30 minutes or until chowder reaches desired consistency. Remove corn cobs, add cream and simmer 2 minutes. Season to taste with parsley, salt and pepper. Serves 6. 
Recipe courtesy of Long & Scott Farms
---
Swiss chard with onion and garlic
Ingredients
2 tablespoons olive oil
2 medium onions, chopped
6 garlic cloves, sliced
1/2 cup white balsamic vinegar
2 bunches Swiss chard, coarsely chopped (about 16 cups)
1/2 cup walnut halves, toasted
1/4 teaspoon salt
1/4 teaspoon pepper
Directions
In a 6-quart stockpot, heat oil over medium-high heat. Add onions; cook and stir until tender. Add garlic; cook 1 minute longer. Add vinegar, stirring to loosen any browned bits from pot. Add remaining ingredients; cook 4-6 minutes or until chard is tender, stirring occasionally.
Recipe courtesy of Dirty Dog Organics
---
So, what does it taste like?
Aubrey Cash, of Dirty Dog Organics, says Swiss chard is basically a milder version of spinach with a slight hint of bitterness, but not as pronounced as in Brussels sprouts or kale. The stem of the chard, on the other hand, has a sweet and crunchy flavor. The texture most closely resembles a bok choy stem.
Originally from Anderson, Ind., Theresa worked for The Herald-Bulletin for many years. After experiencing a winter with 53 inches of snow, her late husband asked her to get a job in Florida, and they headed south. Well known in the area, Theresa worked with The Daily Sun and The Daily Commercial prior to joining Akers.
Share This Story!