In the Kitchen: Pasta-tively Amazing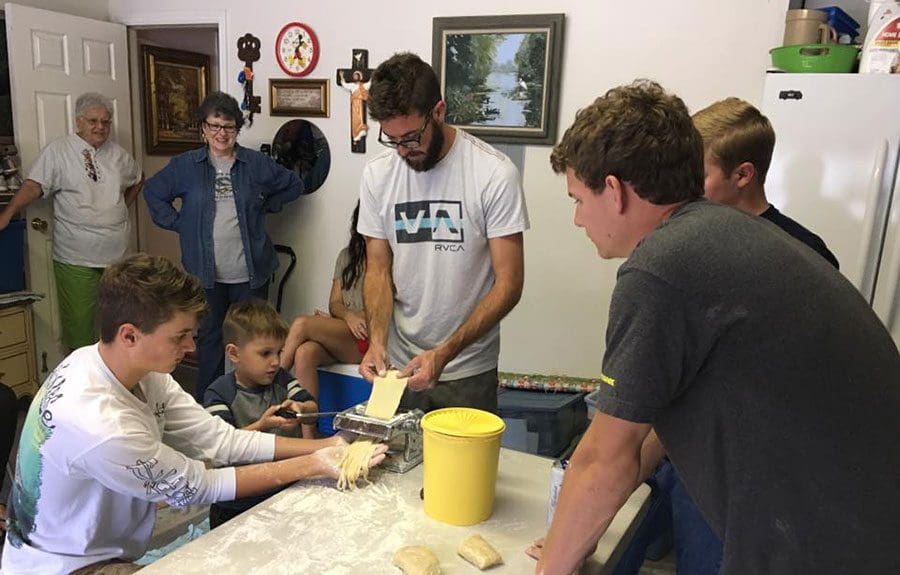 Bernie Germeroth keeps family tradition alive each Christmas by making homemade noodles with her kids and grandkids.
Photos: Provided by Bernie Germeroth
Bernie Germeroth recalls the tradition of making noodles for Christmas starting about 20 years ago, in the garage. Now, Bernie, lovingly called "Mom Mom," with assistance from her husband, "Pop Pop," their three children and nine grandchildren, makes 10 pounds of noodles every year to share with family and friends. While they all enjoy eating their yummy creations, it's the tradition and time spent together they most appreciate.
"It's a tradition carried on three generations from Mom Mom's Italian family to ours," says Bernie's daughter, Lori. Bernie used to make noodles several times a year, and still uses her father's fettuccine noodle machine today. While noodles are her specialty, you can't have them without her tasty meatballs in tomato sauce, made with four meats: chicken, pork, beef and sausage.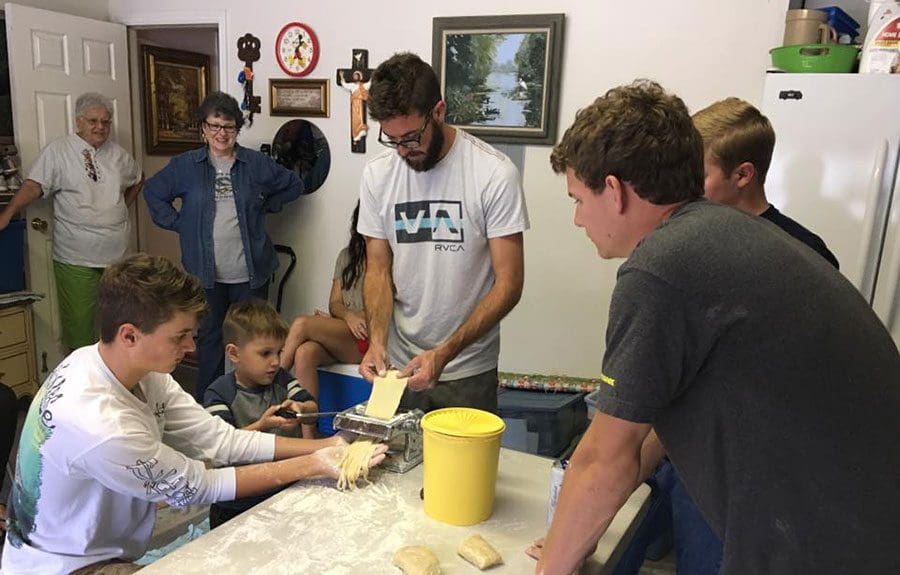 Bernie loves this noodle-making tradition, as it is a time to get ready for the celebration of Jesus's birth, and she appreciates the blessing of family time when everyone's lives are so busy. "We all make noodles. Even the little great grandchildren have their own dough to work with and get flour all over their faces," she says.
"Every year it is a tradition a few days before Christmas Eve to gather and make the noodles," says Bernie's granddaughter, Aubrey. The family's Christmas Eve menu (made to serve 40) typically consists of homemade noodles with sauce and meatballs, two large pans of lasagna, a large Italian salad, and garlic and cheese bread. On Christmas Day they also enjoy homemade Maryland crab soup, ham and other sides.
"Noodle night has always been my favorite family tradition," says grandson Christian. "All the family gathered in the garage, listening to old records, sharing laughter and of course making noodles. Growing up I looked forward to spending time around hearing stories shared from Mom Mom and Pop Pop. As kids we learned lessons about making pasta, but as we are getting older, I realize there is more to it than just good pasta."
The whole family cherishes this tradition and is reminded of how important it is to spend that time together, especially as the family is getting bigger and there are more obstacles in the way. "You learn just how important it is to have these traditions stay alive," Christian adds.
Another granddaughter, Caitlin, says that tradition to her, means love, comfort and belonging: "It passes on values, responsibility, faith and connection, generation after generation. Tradition is a reminder that while our world is ever changing, the importance of family remains the same. In our family, tradition is vital. The values we inherit, the underlying love and acceptance we have for one another despite the different paths or seasons of life we are in."
Desserts are, of course, an important part of Christmas Eve too. Mom Mom usually features banana pudding, cookies, pies, and another one of Bernie's specialties – her chocolate chip brownies. Everyone brings a dessert, and the family also makes a gingerbread house. After all the cooking is done and messes have been cleaned up, the family can finally sit down and relax with one another. "Then, we enjoy a meal together. What a joy! God is good; all the time, God is good," Bernie says.
---
Lasagna (feeds 25-30)
Ingredients
12 pounds ricotta cheese
8 eggs
Pasta sauce of your choice
Fresh parsley, chopped
3 cups parmesan cheese
2 pounds grated mozzarella cheese
4 boxes oven-ready Barilla lasagna noodles
Pepper to taste
2 9-by-13 baking dishes
Directions
Mix eggs, ricotta, parmesan, parsley and pepper to taste and set aside. Layer sauce, noodles, cheese mixture and mozzarella, and repeat until pans are full. Bake at 350 degrees for 45 minutes. Take out of oven and let rest for 15-20 minutes before serving.
---
Noodles (makes 10 pounds)
Ingredients
5 pounds all-purpose flour
1 dozen eggs at room temperature

Oil
Butter
Directions
Place dough on clean counter. Add eggs to the middle and mix thoroughly. Cut dough into smaller portions. Roll out two or three times so they are thin. Put them through your pasta maker. Hang to dry for one or
two days (depending on the weather). Package in plastic bags. When ready to eat, boil water with some oil and cook noodles
as usual. When al dente, strain and add butter immediately. Serve with sauce
and meatballs.
Originally from Buffalo, NY, Victoria graduated from Canisius College in 2018 with a bachelor's degree in English and Writing. In August of 2019, she relocated to Eustis, Florida, and soon began at Akers Media Group assisting with social media projects. Later that year, she was promoted to a full-time writing position at the company and has since found her niche telling the stories of so many of Lake and Sumter County's awesome people.
Share This Story!