In the Kitchen: Savories and something sweet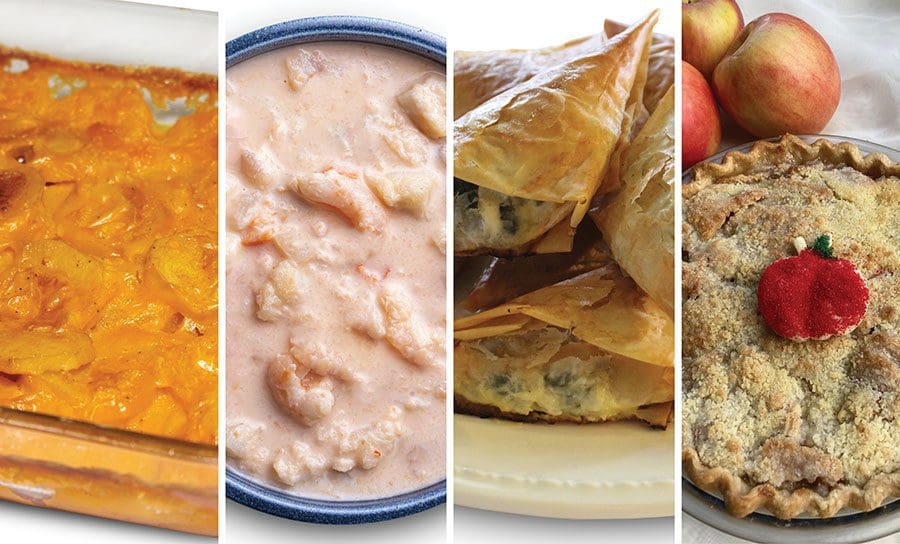 From us to you, Style staffers share cherished family recipes for the holidays.
Savoring enjoyable food is one of life's joys. With that in mind, here are some of our favorite food traditions, just in time for holiday get-togethers. We hope these special "must-have" dishes we and our loved ones crave will become your favorites as well.
We hope you enjoy these recipes as much as we delight in sharing our memories about them.
---
Megan Mericle, Graphic Designer
Holidays in the Mericle household mean making lots of food, baking something sweet, and breaking out additional savory homemade recipes. When I decided to go vegan in 2017, my mother Marsha and I realized we needed to rethink some of our traditional recipes. At first it was trial and error, seeing which substitute worked best to replace ingredients if the recipe called for eggs or dairy. I'm happy to say that the vegan versions actually ended up tasting better than the originals.
One recipe my mother changed to accommodate my vegan lifestyle was her baked cheesy potatoes. This dish was usually for special occasions like Thanksgiving, Christmas or family get-togethers, but I found myself asking for them on random weekends with no other reason than, "They are just that good!" The consistency is even creamier than the dairy version and my mother always knows how to get that satisfying crunchy layer on the top. Using substitute ingredients like vegan cheeses, vegan butter and almond milk, this particular recipe really stands out as one of my favorite homemade vegan dishes.
These potatoes pair well with vegan meat-less balls and a vegetable such as asparagus or broccoli. Some days we make the potatoes the main dish and serve it with a vegetable. Either way, you won't leave the table hungry.
Vegan Cheesy Scalloped Potatoes
Ingredients
3 tablespoons Earth Balance spread (or other vegan butter spread)
2 tablespoons flour
2 1/2 cups almond milk
8 ounces vegan cream cheese
2 cups vegan shredded cheddar cheese
1/4 teaspoon minced garlic
1/4 teaspoon salt
1/4 teaspoon pepper
1/4 teaspoon cayenne pepper
1 pinch nutmeg
5 medium baking potatoes
Directions
Preheat oven to 350 degrees F. Melt Earth Balance (or other vegan butter spread) in a medium saucepan; whisk in flour. Cook 2 or 3 minutes without browning; stirring constantly. Whisk in almond milk. Bring to a boil. Reduce heat, simmer gently for 5 minutes. Add vegan cream cheese, vegan shredded cheese, garlic, salt, pepper, cayenne pepper and nutmeg. Stir until cheese melts. Peel and slice potatoes into 1/4-inch slices. Layer potatoes and sauce alternately in a buttered 9 x 13 casserole dish, pour remaining sauce on top. Bake for 1 1/2 hours uncovered. Let stand for 5 minutes before serving to allow sauce to thicken.
---
Nicole Hamel, Staff Photographer
Some of my earliest memories were of Christmas Eve while growing up in Maine. Each year my family went to my Aunt Jeanne's house. I love spending time with them. We rarely visit now that I live out of state. We would watch movies, talk about various topics, share old stories, and give gifts. She would have lots of different appetizers and desserts to choose from. But what I enjoyed the most was her famous Lobster Stew. It is so delicious! No one can say no to seconds!
Depending on how many you want to serve, purchase lobster by the pound, already picked. It should include tail, claws, knuckles. Approximately 1/2 pound per person. This recipe feeds about 10 people.
Lobster Stew
Ingredients
6 pounds lobster meat
2 quarts of half-and-half

Regular milk as needed

1/2 stick butter
Directions
Separate tail sections into pieces. Pull apart the claws. You want to break up the meaty pieces so every spoonful will have some. Sauté several pieces in butter. This will become the reddish tint to the stew. Combine half-and-half with remaining meat. If needed, use regular milk to cover or to add volume. Add in sauteed butter pieces. Warm through but do not boil.
---
Victoria Schlabig, Staff Writer
We always had Spanakopita at family parties, whether it was a birthday, Christmas, Easter, or, well, any special occasion. At first glance the recipe probably looks complicated, but it's smooth sailing once you know how to fold the triangles. I love this recipe because there's variations of it, like tiropita, which is basically the same but without spinach, and my favorite – which substitutes leeks for spinach.
As a kid, I fondly remember learning to make it, helping mom mix ingredients in our giant "Greek salad" bowl, and then my sisters and I learning to fold the tiny triangles without ripping the ever-so-delicate phyllo dough. It's tough before you get the hang of it because the dough rips so easily, but after the first few triangles, the big bowl of spinach and cheese is gone before you know it. It's a recipe that has been shared among my family members for years, and it's always the first plate to disappear from the buffet table.
Spanakopita
Ingredients
3 pounds spinach, fresh or frozen

1.5 pounds feta cheese, crumbled
1 pound cottage cheese
2 bunches scallions, finely chopped
3-4 sticks butter, melted
1/2 cup fresh parsley

1/2 tsp dry minced dill
9 eggs
Salt to taste
2 boxes phyllo dough sheets
Directions
Steam spinach and squeeze it in a towel to drain moisture. Chop roughly and set aside. Steam chopped scallions and squeeze in a towel to drain moisture. In a large mixing bowl, add cottage cheese, feta, scallions, parsley, dill, eggs, and salt. Mix well, then add spinach and mix until fully combined. Take one phyllo sheet and place on a clean surface. Brush one half with melted butter, then fold in half lengthwise. Place 1-2 tablespoons of spinach mixture on the corner nearest you. Fold the corner over the mixture to make a triangle. Continue folding (like a flag) until the phyllo strip is completely folded over the spinach mixture. Repeat until all filling is used. Place folded triangles seam side down on greased baking sheets and brush tops with melted butter. Bake at 350 degrees or until golden and crispy, about 30-35 minutes.
Easy way: Line a buttered 12×18 pan with 10 phyllo sheets, buttering between each layer. Spread filling evenly over phyllo. Top with 10 phyllo sheets, buttering between each layer. Bake at 350 degrees for 30-35 minutes or until golden and crispy.
---
Theresa Campbell, Staff Writer
As a little girl, I was captivated watching my grandmother roll out pastry dough to make pies, and pie always seemed to be the preferred dessert of special people and loved ones in my life. My Crumb Top Apple Pie was a three-time award winner at the Apple Fest in Frankton, Indiana, in the 1990s, which was a thrill.
To this day, the pie is what my youngest daughter Maria, 27, requests as a Christmas gift. She wants her very own pie, so I use alphabet cookie cutters and spell out her name in extra pastry dough for a personalized, special touch.
"It's the pie I grew up with and loved since I was a kid. I never had an apple pie that tastes better than my mom's," says Maria.
My oldest daughter Julia, 36, feels the same way. Julia once wanted me to bake an apple pie and send it to her home in California, so she could have a contest against an apple pie made by the mother of her boyfriend at the time.
"You would have totally won hands down if that ever happened," Julia declares to this day.
Crumb-Top Apple Pie
Pastry
2 cups all-purpose flour
1 teaspoon salt
2/3 cup butter-flavored Crisco
5-7 tablespoons very cold water
Sift flour and salt together; cut in shortening until pieces are the size of small peas. Sprinkle water over mixture to moisten. Form into a ball; flatten on a lightly floured surface and roll out the dough. Fit into 9-inch pie plate; flute edges. Extra dough may be used later to decorate top of pie.
Filling
2/3 cup sugar
2 tablespoons all-purpose flour
3/4 teaspoon cinnamon
6-8 Fuji apples (or your favorite baking apples) peeled, cored and sliced to make 6 cups worth
Crumb topping
1/2 cup flour
1/2 cup sugar
1/4 cup butter
Directions
Combine first three filling ingredients; stir into apples. Turn into pastry shell. Combine crumb topping ingredients of flour, sugar; cut in butter until topping mixture is crumbly. Sprinkle over apples. Bake at 400 degrees for 45 minutes.