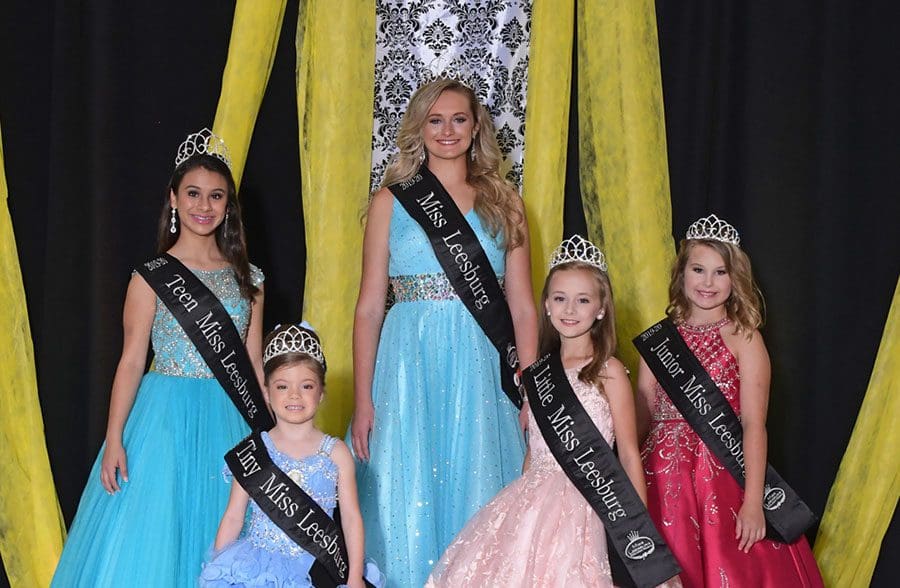 Photo provided by missleesburg.com
The 34th annual Miss Leesburg Scholarship Pageant will be held on Saturday, September 26, at the Leesburg High School auditorium. Invitation for entry is extended to all local girls living or attending school in Leesburg, Yalaha, Fruitland Park, Lady Lake or The Villages. All girls ages 4-19 are welcome to enter, and there will be five age divisions.
The Miss Leesburg Scholarship Program is a nonprofit educational youth organization, originally created by Mrs. Linda Watts, whose mission is to make a positive difference in the lives of young ladies of Leesburg, primarily through a professionally supported volunteer program. The program's goal is to assist girls in the community in achieving their highest potential "as they grow to become confident and caring individuals who show a commitment to volunteer work, leadership and standards of excellence," says the Miss Leesburg website.
Some of the many volunteer programs the girls participate in throughout the year are Share Your Christmas Food Drive, annual Jacket Drive, Leesburg Christmas Stroll, the Downtown Partnership Boo Bash event, School supply drive for needy children, Diaper Drive for the Pregnancy Care Center and local daycares, Leesburg Center for the Arts activities, Relay for Life, American Cancer Society, Head Start projects and volunteering at Brookdale Senior Living and many other projects.
Winners will represent Leesburg at special events, parades and community activities throughout the year. The pageant is also pleased to announce that scholarships will be awarded. The scholarship committee works throughout the year to raise money with fundraisers, donations, and ad sales for the pageant program book. Since 1997, the Miss Leesburg Scholarship has awarded $165,000 to young women of Leesburg. All funds raised are used solely for scholarships, which are paid directly to the student's college of choice.
Miss Leesburg will receive a $5,000 cash scholarship, made payable to the college. The first runner-up receives a $2,000 scholarship and second runner-up receives $1,000. The four younger age group winners receive $500 cash. The students are also recognized by the Mayor, the City of Leesburg, Leesburg Chamber of Commerce, Leesburg Partnership, the Fire Department and Police Chief Rob Hicks.
The application deadline is September 20, and applications can be found at missleesburg.com, or you can call 352.326.4217 for additional information.