Joy is Bloomin': Hospital, police thanked with yard cards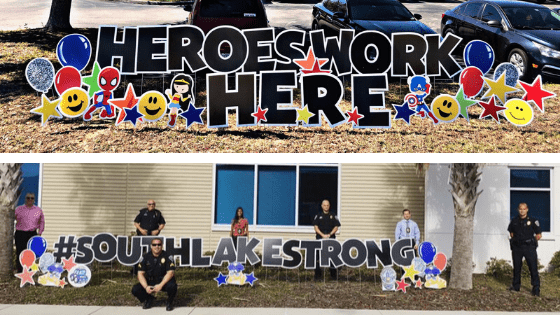 Bloomin' Yard Cards recently led a "Spread the Joy Campaign" to lift the spirits of South Lake County residents and frontline workers dealing with the impacts of the COVID-19 pandemic.
Business owner Carrie Willis decided to design custom yard card greetings and place them throughout the community: Orlando Health South Lake Hospital, Clermont Police Department, Imagine South Lake Charter School, Pine Ridge Elementary School and three businesses, according to a South Lake Chamber of Commerce news release.
Carrie opened her business in September and already has created more than 100 yard displays. Her clients have ordered signs for birthday parties, anniversaries, charity events, real estate events, school events, military sendoffs, graduations and baby announcements. She says Bloomin' Yard Cards is an ideal business for a stay-at-home mom who loves to help people celebrate special occasions—and spread a little joy to folks who deserve it.
For more information, visit bloominyardcards.com or its Facebook page.