Fork on the Road: Just like home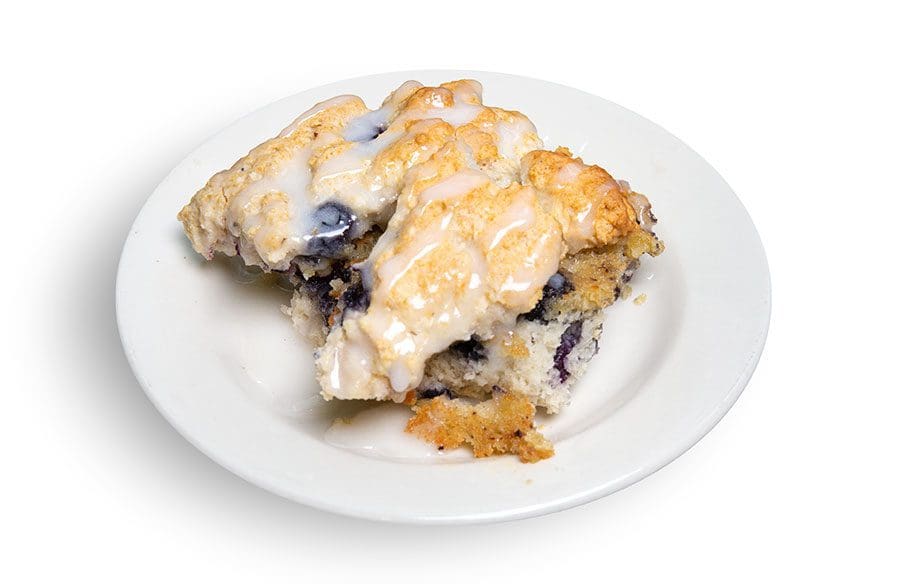 Popular Rae Rae's serves fresh comfort foods to a cast of regulars.
When Christine Rohan was growing up in New England, her grandmother used to bribe the kids to go pick blueberries by telling them, "If you pick this bucket of blueberries, Grammy will make you blueberry biscuits."
"The berries were so tiny, and it would take us hours to pick a bucket of blueberries because we'd end up eating them, too," Christine says. "She'd say, 'Yeah, I think you ate more than you picked, but I'll still make you some blueberry biscuits.'" 
Today, blueberry biscuit squares are among the most popular items at Rae Rae's Restaurant, owned and operated since 2012 by Christine and her husband, Tim. The Fruitland Park restaurant is a quaint, friendly, downhome kind of place where diners can savor made-from-scratch homestyle foods for breakfast or lunch.
Rae Rae's has generated a following of regulars who crave the specialty treats on the menu. The blueberry biscuit squares are topped with a light, sweet glaze. The batter is spread in large pans, baked, and each pan is cut into 20 squares. The biscuits, and other breakfast items, are worth ordering anytime. 
"If you like the sweet taste, people really love our Banana Foster French Toast," Christine adds. "We take our homemade cinnamon buns that we get delivered fresh from an Orlando bakery and we slice it in three slices, dip it in the French toast batter and grill it. We have a homemade Banana Foster sauce that we smother it in with sliced bananas that have been slightly grilled with whipped cream. It is so incredibly good. We actually sell it as a dessert as well." 
The bustling small diner was named in honor of Tim's sister, Rae, who was the only girl in a household of six brothers. She became a mother hen who learned to cook at an early age, after the sudden death of her father, to help her mother feed the hungry flock of growing boys.
Rae became a special education teacher and whenever she visits Rae Rae's from her Gainesville home, her proud brother embarrasses her by making sure diners are aware Rae is in the house. "With Florida being the Sunshine State and Rae being our 'ray of sunshine,' we invite you to sample from our menu inspired by the love of a sister," the menu reads.
Family photos and Florida nature scenes adorn the restaurant's bright aqua-colored walls. Some diners are at the restaurant every morning for breakfast, and others are regulars for lunch or the weekly Fish Fry Friday, the only day when Rae Rae's stays open to 7pm. 
"Fish Fry Friday is our biggest day and it's New England style," says Christine, who grew up in her aunt's restaurant, washing dishes at 11. "As I got older, she started teaching me how to make stuff in the kitchen, and one of those things was cutting potatoes for New England chowder." 
Ron Proodian, of The Villages, dines at Rae Rae's four times a week and loves Fish Fry Fridays. 
"The food is good. It's fresh and it's better than a chain," Ron says, recalling one funny time when he was served a different meal than what he ordered but still found it tasty. He joked that he'll eat whatever the kitchen crew fixes him.
The restaurant doesn't have a microwave, so everything is homemade, fresh and made to order, including hand-cut french fries. 
Christine is proud of the restaurant's Rubenizer, featuring homemade corned beef brisket (not deli meat) for the Reuben sandwich that is piled high with sauerkraut, Reuben dressing and swiss cheese on rye or Texas toast.
"We cook and hand-cut our brisket, and that is what we use to make our Reubens. It's the best ever," she says. 
The Rohans created a tasty breaded pork tenderloin sandwich, which they credit on the menu to Bob, an Indiana native friend. After several requests for the sandwich, the Rohans went to work hand-pounding pork and applying an egg wash and breading before deep-frying the meat to juicy tenderness with a nice, crunchy coating. It's served on a bakery-fresh kaiser roll.
One social media reviewer says Rae Rae's makes diners feel like they're in Mayberry, waiting for the gang from "The Andy Griffith Show" to walk in. But Christine is reminded of a different classic sitcom.
"It's like the show 'Cheers' in here, where everybody knows your name, especially with the regulars in the early morning," she says.
---
Rae Rae's Restaurant: 2468 U.S. Highway 441, Fruitland Park (south of Phillips Buick GMC in Park Central Plaza. / 352.323.1595. Hours: 7am-2pm Tuesday-Thursday; 7am-7pm Friday; 7am-1pm Saturday-Sunday; closed Monday. / facebook.com/raeraesrestaurant.
---
Originally from Anderson, Ind., Theresa worked for The Herald-Bulletin for many years. After experiencing a winter with 53 inches of snow, her late husband asked her to get a job in Florida, and they headed south. Well known in the area, Theresa worked with The Daily Sun and The Daily Commercial prior to joining Akers.
Share This Story!