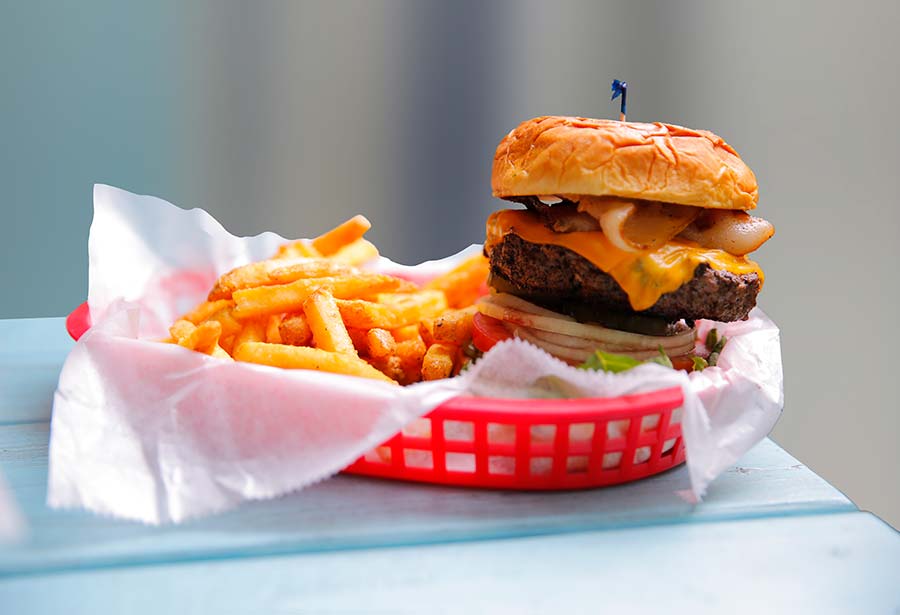 On the beach of Lake Dora
Tasty, casual fare and cool, beachy atmosphere 
There's a great vibe at Kalua Beach Bar on the shore of Lake Dora in Tavares, and in the middle of a hectic workweek, this open-air bar and eatery is a great place to chill out and savor the view and good food. 
There's no reason to be in a hurry here, so plan for a leisurely time. Think of being on vacation and you're bound to enjoy the experience even more. 
Bright-colored picnic tables and Adirondack chairs in the sandy area provide the ideal setting to watch seaplanes fly in, and some say it's even more glorious to watch sunsets at night. 
A group of regulars pulled up to the beach bar in their boats and ordered chicken wings and fried pickles, while the menu offerings of burgers, wraps, salads, quesadillas, and fish tacos piqued my interest. Settling on the taco salad, I loved the hearty serving of tasty, thick chili with melted cheese on top of crisp lettuce, fresh tomatoes, onions, and jalapeños all piled in a deep-fried, golden-brown tortilla shell. It was served with salsa and sour cream on the side. 
My friend raved over her thick Sand Bar Burger, which featured the rich flavor of black angus beef topped with fresh lettuce, tomato, and onion, and it was served with flavorful and nicely seasoned fries. 
Since we enjoyed our lunch, we were eager to share a brownie sundae, the only dessert item listed on the menu, so it was a tad disappointing when it was not available. 
Kalua Beach Bar appears to be one of those great places to take guests, and some say the vibe is exciting at night when there's live music and open mic fun.
Originally from Anderson, Ind., Theresa worked for The Herald-Bulletin for many years. After experiencing a winter with 53 inches of snow, her late husband asked her to get a job in Florida, and they headed south. Well known in the area, Theresa worked with The Daily Sun and The Daily Commercial prior to joining Akers.
Share This Story!