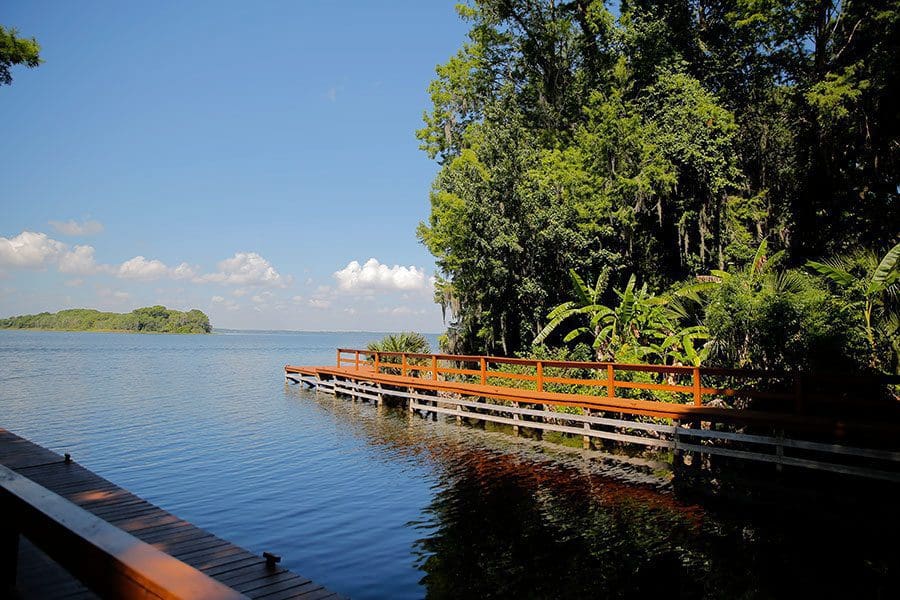 We were afraid a place called Lake Harris Hideaway would be difficult to find, but it's right off Lane Park Road in Tavares and easily accessible by car, boat, or seaplane. And whatever you do, don't worry about parking. There's room for everyone in the huge parking lot across the street from the restaurant.
Though we went inside the restaurant, we learned there was plenty of seating on the big deck outside. It was a beautiful, clear day with lovely cool breezes swishing among the cypress trees. We found the perfect spot to view the water and enjoy our meal.
My friend and I had a difficult time choosing what we wanted from the extensive menu.
I picked the sirloin tender sandwich, which is extra-tender sirloin medallions in bite-size pieces on a hoagie roll. It had mayonnaise, lettuce, tomato, onion, and delightfully sweet and crisp bread and butter pickles. It came with cole slaw or chips, so I took the slaw and added a side of fries.
My friend had the nacho basket, which had tortilla chips smothered with homemade chili and topped with diced onions, tomatoes, shredded cheese, and lettuce, with salsa, sour cream, and jalapeño peppers on the side.
We both pronounced our meals excellent as we always share a taste.
Lake Harris Hideaway // 11912 Lane Park Road, Tavares // 352.343.3585
Leigh Neely began her writing career with a weekly newspaper in the Florida panhandle, where she not only did the writing, but delivered the papers to the post office and dispensers. She has been writing ever since for a variety of newspapers and magazines from New Jersey to Leesburg. With her writing partner, Jan Powell, Leigh has published two novels as Neely Powell.
Share This Story!