Lake Minneola Football's Ethon Cole is Purdue Bound!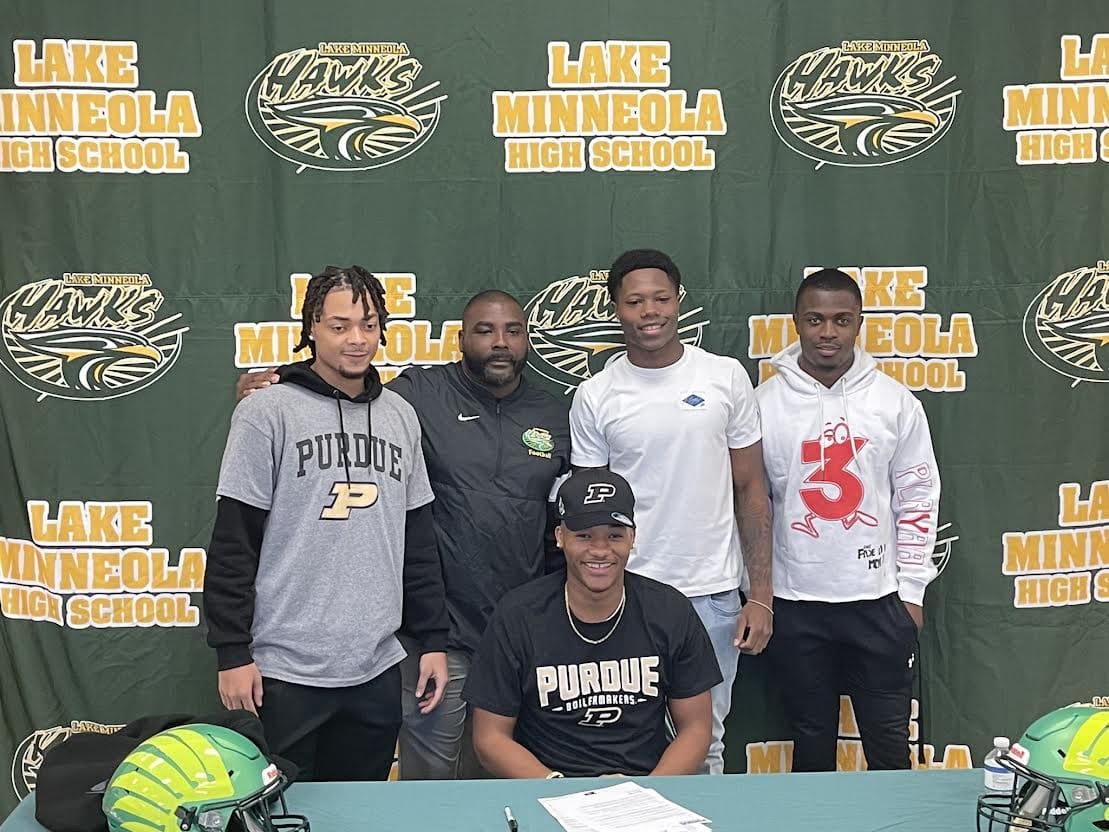 Ethon Cole Is Headed To Purdue University!
In a signing ceremony that took place this past week, Lake Minneola High School Football player Ethon Cole signed his commitment letter of intent to play for Purdue University. Today he Signed his letter to play for Purdue. This is a massive opportunity for Cole who had a terrific senior season for the Hawks. His defensive prowess took the Hawks to the Regional Finals where the Hawks nearly made the State Semi Finals this year ultimately losing to Lakeland who went on to win the State Super Bowl.
For Cole it was the biggest letter he has ever signed in his life. The 6″2 190lb Linebacker had an amazing season this year. Cole assisted the Hawks on their way to the playoffs this year. He compiled 36 total tackles with 22 of those solo tackles. He is a force out there on the defense. He levels offensive players and just absolutely decimated opponents this year. The tape doesn't lie, when you see Cole play defense he just has the IT factor that will do him well at the next level.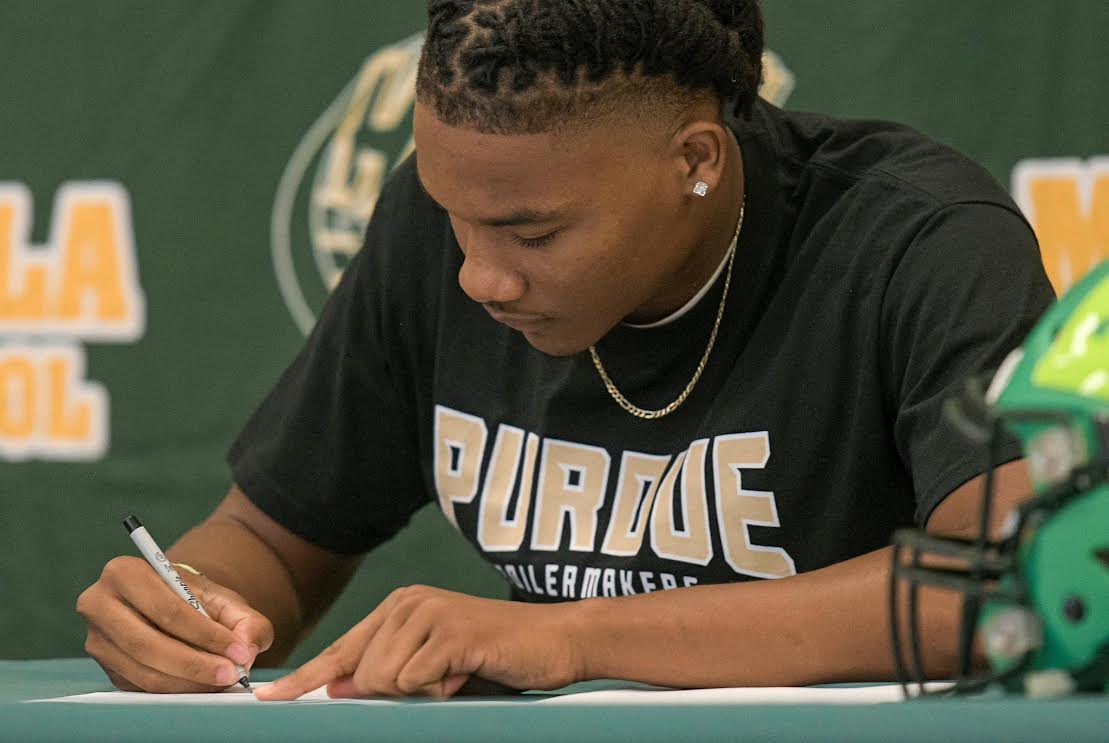 The commitment to The Boilermakers is exciting. The Big 10 are looking for athletes who embody the physical attributes that Cole possesses. He is built like a rock, when you stand near him you just know he's ready to deliver some punishing blows to opponents. Coach Walter banks has built an awesome program. The Hawks are always a good football team every season. This year in particular this unit excelled.
Of course we can't mention the defense without mentioning Miles Mitchell and Andrew Bowles who both had great years respectively. While Andrew Bowles is just a junior and certainly on the radar of many division 1 colleges, Miles Mitchell hopefully will get a chance at the next level as well. Although we do not know his status as of yet he has visited with FSU earlier this year so we will see what transpires there in the next few weeks.
As for Cole we are excited for what he is going to bring to the Purdue Defense. Purdue has a lot of things going for them. They made the Big 10 Championship game this season and the program is just missing a few key pieces especially at the defensive side of the ball. This was highly evident as we saw Purdue get dismantled by LSU during the Citrus Bowl yesterday. We think this will be a great fit for Cole who will bring with him freakish abilities. He reminds us a bit of Jerod Mayo and Lawrence Taylor and Bobby Wagner who all laid their bodies on the line every play.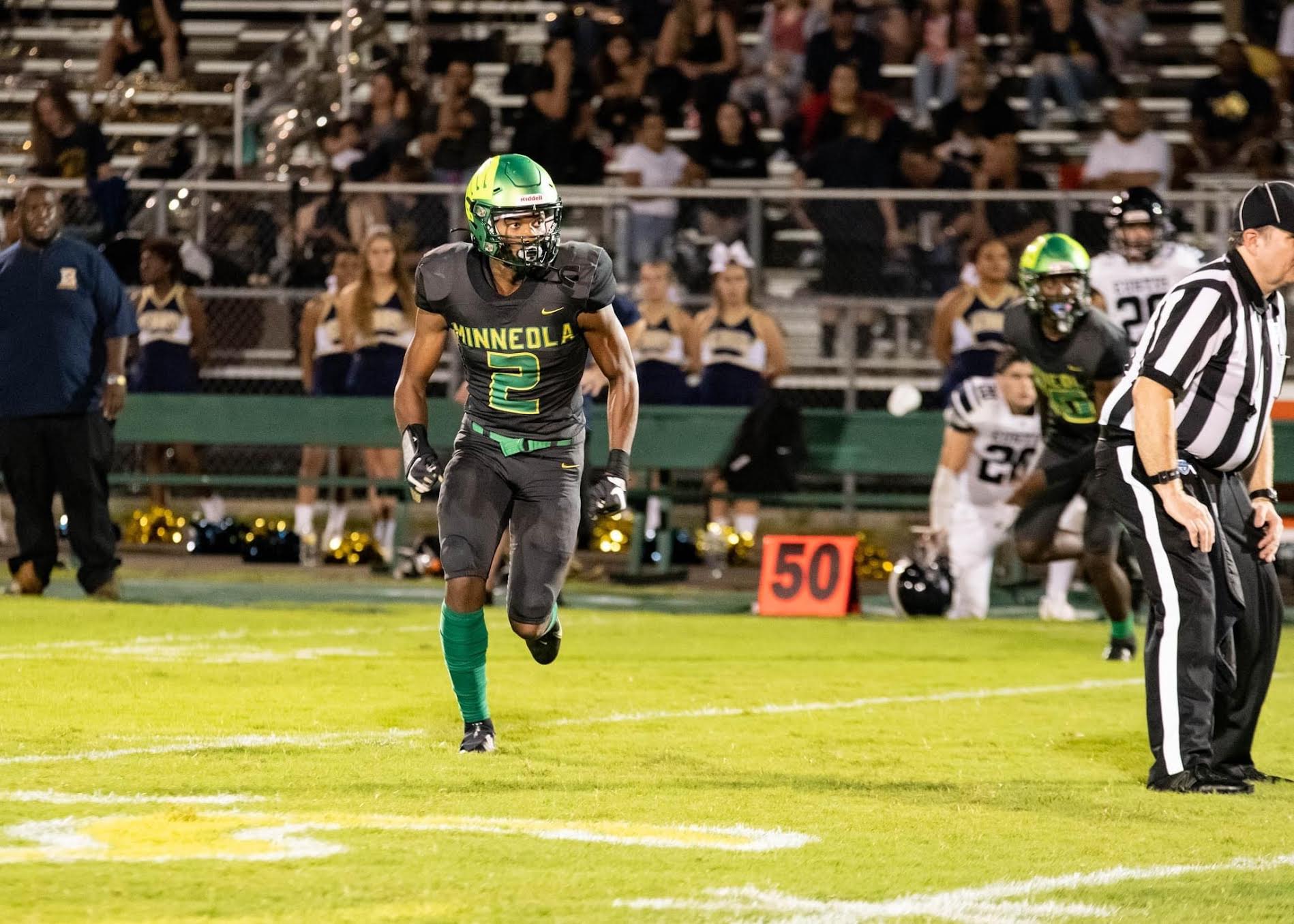 The best has yet to come for Cole. He will certainly have a great deal of work ahead of him. The BIG 10 will challenge him but we know he is up for the task. We are excited to watch him take on this opportunity and we would like to congratulate Ethon Cole, his friends and family on this big decision! Good luck Ethon!
Photos Courtesy Of
Lake Minneola Twitter Page
Ethon Cole Twitter Page
Lake Minneola Facebook Page
Kyle Coppola was born in Newton, Massachusetts and received his Bachelor of Fine Arts in Communications from Curry College in 2016. After traveling to Florida on a family vacation, he decided he could not get enough of the warm weather and made the move from snowy Massachusetts to central Florida 8 years ago.
For the last decade Kyle has gained valuable experience in social media content creation, marketing and sales, writing, video production, sports announcing and even broadcasting for local radio stations, such as FM 102.9 in The Villages and FM 91.5 in Massachusetts. Every year he volunteers at The Villages Charter High School as a play-by-play sports announcer for the football games as well as a public address announcer for the basketball games, including the annual Battle at The Villages Tournament.
Outside the office Kyle is a husband and father to two beautiful girls along with their cat. In his spare time he likes to spend time with his family, travel, play golf and swim. He is also a huge sports junkie and even bigger motorsports fan and loves to attend racing events when he can.
Share This Story!