Lake offers distance learning while schools are closed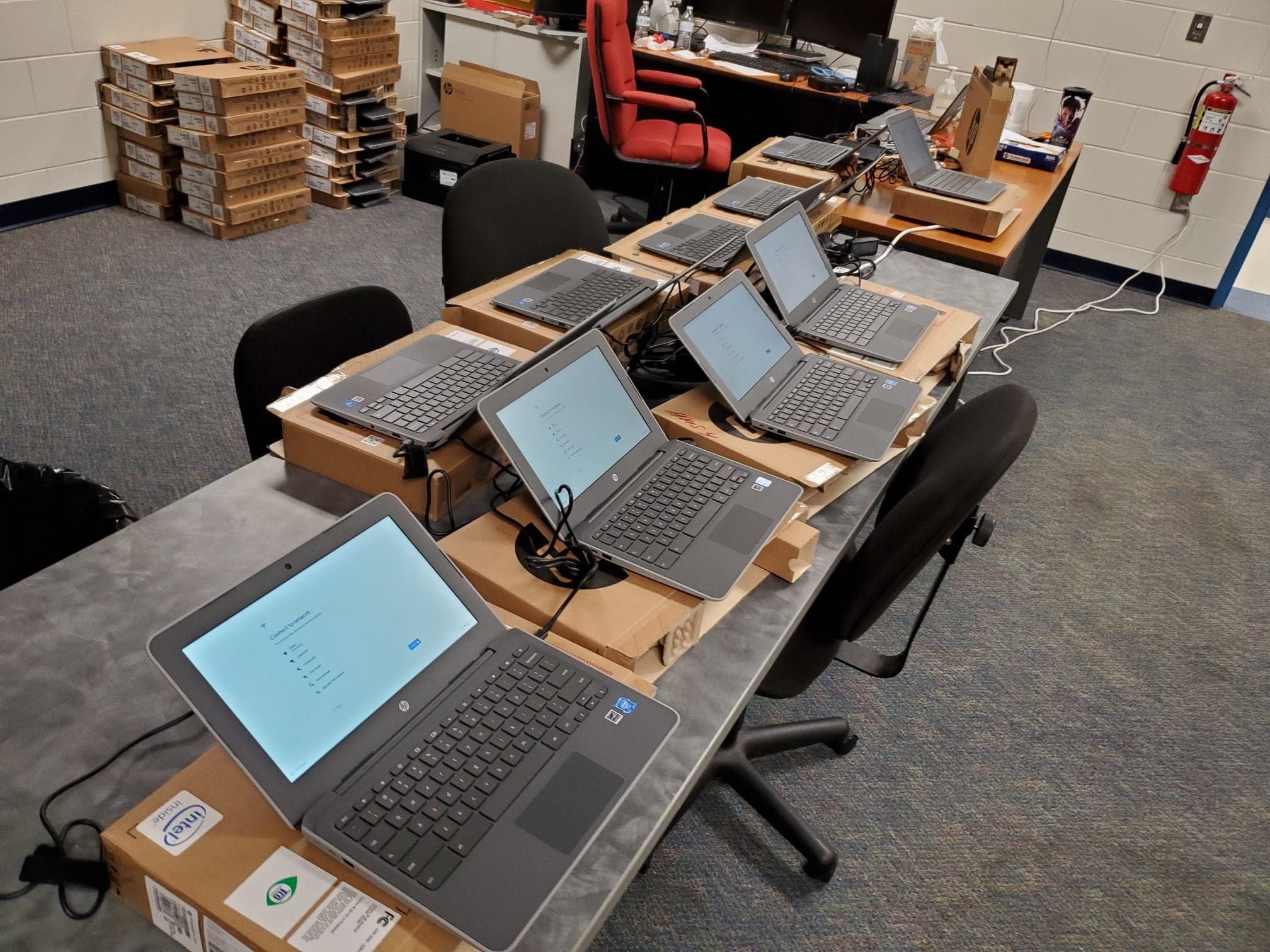 District leaders Monday night provided School Board members with a full overview of the distance learning plan that will launch for Lake County students and teachers on March 30 and will remain in place while schools are closed in an effort to slow the spread of the COVID-19 coronavirus, according to a press release.
Acknowledging the anxiety some students and parents are feeling, Superintendent Diane Kornegay offered words of reassurance. "We will get through this," she said during the meeting. "It's a whole new way of learning for all of us and it will come with its challenges.  We have a great team here to support this effort. Our campuses are closed, but learning will continue here in Lake."
The district's plan is designed for non-charter schools. Charter schools have developed their own plans and will communicate those details directly to their students' families.
The district's plan involves the use of two major platforms – Edgenuity/Odysseyware and Google Classrooms – to present lessons to students. I-Ready Math and I-Ready Reading will be used as well. Teachers will also have access to supplemental resources such as PBS Learning, Khan Academy and Rosetta Stone.
But Emily Weiskopf, Assistant Superintendent for Teaching, Learning and Leadership, said teachers will be cautioned against overloading students with too many assignments, because many students are likely to be sharing computer devices with siblings and other family members.
The district has issued an online form for parents to complete, notifying staff of their students' need for computer devices. The district has received more than 10,000 responses so far. Parents who have not completed the form and need a device are asked to do so this week.
Lake County Schools has about 31,500 Chromebook devices — 3,500 of which arrived on Monday (pictured above) — that can be used for distance learning. Every high school student has already been issued a device as part of a five-year plan to distribute Chromebooks districtwide. The remaining devices will be distributed to students in Pre-K, elementary and middle schools.
But there may not be enough for every individual student to receive one. To help the supply stretch farther, district leaders have said that if families have a device in the home that students can use for schoolwork, they should allow students to do so. This will help ensure students without a device will receive one.
"You don't have to have a Chromebook to participate in online learning," Duane Weeks, instructional technology director, told the School Board. "Chrome works fine on a Windows device, a Mac device… an iPad may be a little tougher because it doesn't have a keyboard, but it does work."
As for the district's Chromebooks, siblings will initially be asked to share. Once every household has at least one device, the district will reassess the need and fill that need based on the number of devices that remain.
Distribution of the devices will begin Thursday. Schools will use the responses on the online form to make appointments for parents to pick up the devices drive-through style at their child's school. Parents will be contacted by phone with a recorded message including the details.
Parents without internet access are urged to contact local providers, many of whom are offering free access to students during this time.
Because of the likelihood of students sharing devices, distance learning lessons will be presented in a way that allows families flexibility.
"We don't want to place a large burden on families," Weiskopf said.
Students will rarely be required to sit in front of the screen at a given time. There will be no large-group Skype-style instruction, though there will be opportunities for small-group instruction and one-on-one conversation between teachers and students and/or parents. Instead, teachers will post assignments, including videos and instructions for hands-on activities, and students will be able to access the work at times convenient for them and their families.
Attendance will be taken based on log-in records and completion of the work, and all work will be graded. When students "skip class" by not logging in regularly and completing the work, teachers will contact parents, and where there are repeated problems guidance counselors, mental health liaisons and other available staff can be brought in for assistance as well.
The plan also addresses the needs of English Language Learners (ELL) and Exceptional Student Education (ESE) students.
The district's plan, resources to support at-home learning and a form to submit questions will be posted on a web page dedicated to the topic this week. Additionally, updates on the district's response to the COVID-19 coronavirus, along with frequently asked questions, can be found at www.lake.k12.fl.us/covid19.
Board members overwhelmingly praised district staff for working through Spring Break to create and communicate a plan that will keep students learning in Lake despite the unusual circumstances — a plan that Weeks said "… made us reimagine everything in a week and a half."
"I appreciate the leadership of our Superintendent and her executive team," Bill Mathias, vice chairman of the board, said at the meeting. "While everyone else was on Spring Break, they were working themselves to death. … I cannot tell you how grateful I am for your leadership."
Board members unanimously echoed the sentiment, with Board Chairman Kristi Burns, Ph.D., encouraging community support for the plan. "Take a deep breath," she said. "We couldn't have better teachers in Lake to pull this off."
Akers Media Group's James Combs has been a staff writer for several local publications since August 2000. He has had the privilege of interviewing some of Lake County's many fascinating residents—from innovative business owners to heroic war veterans—and bringing their stories to life. A resident of Lake County since 1986, James recently embarked on a journey to lead a healthier lifestyle. He has lost 60 pounds and walks nearly five miles a day. In his spare time, he enjoys target shooting, skeet shooting and watching his beloved Kentucky Wildcats!
Share This Story!