Leesburg High School Boys Weightlifting Team Become First Lake County Team To Win State Championship!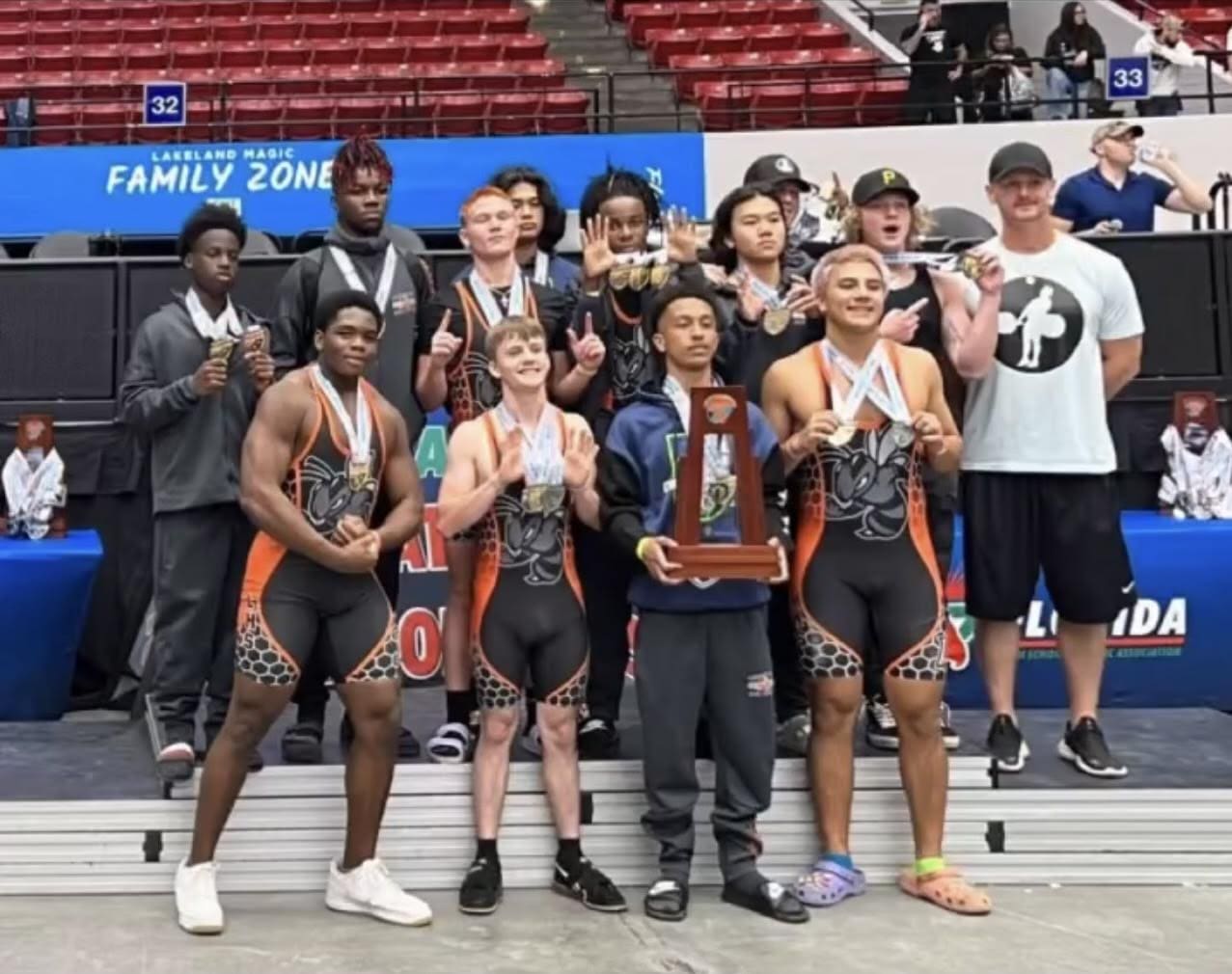 Leesburg High School Boys Weightlifting Team Become First Lake County Team To Win State Championship!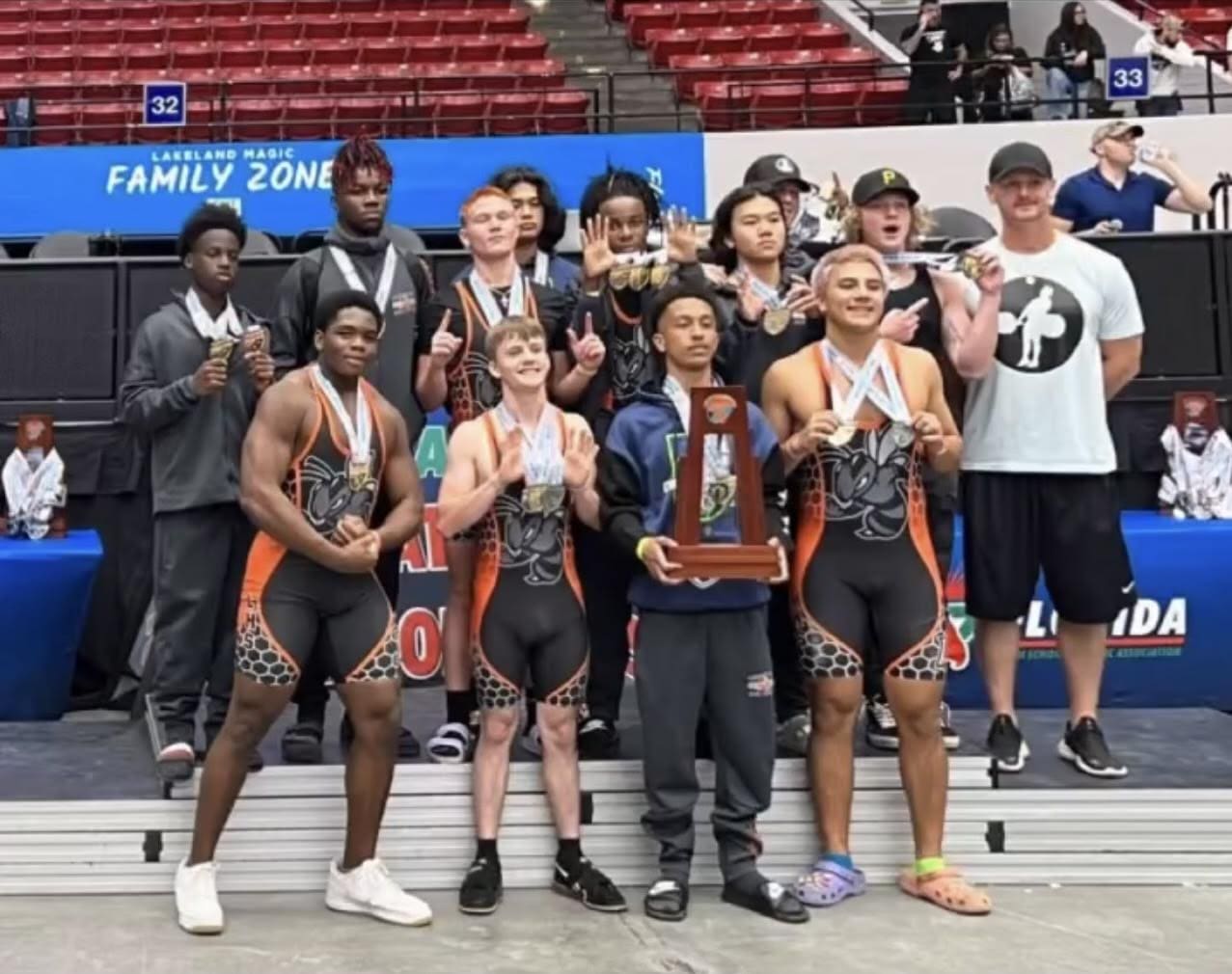 It had never been done before. But now it officially has been! This past week The Leesburg High School Boys Weightlifting team won the Team State Championship in Lakeland Florida! It had been a long time coming, said Spencer Hey, the Athletic Director for The Yellow Jackets. The school prides itself on hard work and a commitment to excellence. The boys delivered on the biggest stage of them all!
This season has been the best ever for the Leesburg Boys Weightlifting Team. This is a team who had won District Championships but they had never lifted a State Championship trophy as a team. In fact no team in Lake County has ever done that feat. But coming into this year things would be different. Coach Boyer who coaches the girls Weightlifting team and the Boys, knew this was a special group.
"A few sessions in I knew we had a special group. By March, the team started to peak and the boys just continued to peak at the right time of the season. It ultimately led to a District Championship and a State Championship and I couldn't be more proud of the boys!" Leesburg High also became the only team in Lake County to win 4 Team State Championships in 3 sports in a 7 year span. Leesburg won 2 state championships with the basketball program during the 2016,2017 seasons.
Leesburg High also won a Bowling State Championship and now the boys weightlifting group has won the State Championship for weightlifting. "It's been an incredible few years," Principal Michael Randolph. It's all thanks to an incredible team effort from the Leesburg Community. Our staff is better than it's ever been and that's due to the hard work and dedication of everyone involved in making it happen."
The team was led by Sylvester Latimore who competed in the 119lb weight class. Boyer says of Latimore "He is phenomenal! He came in a few years ago all skinny, he committed to the program and became one of the most dominant weightlifting athletes ever to come through the program." Latimore won the state championship in  weightlifting classes for individuals. His amazing performance pushed Leesburg to the top of the leaderboard. But there were other contributors as well.
In the 128lb class Josh Chaney was able to win State Runner-Up in his class by lifting a combined total of 470lbs. Meanwhile, in the 154lb class Danny Englerth was also a State Runner-Up by putting up 460lbs of total combined weight. The 183lb class saw Zach Field place 6th and in the 199lb class Logan Thompson also placed 6th. All together the boys were able to secure a 1st place finish in the team category for the first time in Leesburg History!
Coach Boyer attributes the State Championship to the family atmosphere of the team. He would not go into detail but he told us that "Some of these kids have difficult stories man. For them, weightlifting is an escape from what's going on in their life." It sounds like many of the Leesburg teams of the past. Especially the basketball teams of the 16-17 seasons when they won State Championships. Just like the weightlifting team, that group of players had things going on but they used that as fuel and persevered through adversity.
The State Championship signifies that Leesburg is here for the long haul when it comes to weightlifting. The girls and boys teams had the best season's they ever had. This is due to the commitments by the coaching staff including Coach Boyer who has taken the group to the next level in recent years, Spencer Hey and his visions that have certainly helped a ton. Credit is especially put forward to Principal Michael Randolph who has pushed for Leesburg to be a powerhouse as far as athletics are concerned.
Overall this was an enormous victory for the Yellow Jackets. A huge congratulations to everyone who was involved with this terrific team this season. Again Leesburg becomes the first team in Lake County to win a State Championship in Weightlifting which is a tremendous accomplishment! Congratulations Yellow Jackets!
Photos Provided By:
Coach Boyer
Athletic Director Spencer Hey
Leesburg High School
Kyle Coppola was born in Newton, Massachusetts and received his Bachelor of Fine Arts in Communications from Curry College in 2016. After traveling to Florida on a family vacation, he decided he could not get enough of the warm weather and made the move from snowy Massachusetts to central Florida 8 years ago.
For the last decade Kyle has gained valuable experience in social media content creation, marketing and sales, writing, video production, sports announcing and even broadcasting for local radio stations, such as FM 102.9 in The Villages and FM 91.5 in Massachusetts. Every year he volunteers at The Villages Charter High School as a play-by-play sports announcer for the football games as well as a public address announcer for the basketball games, including the annual Battle at The Villages Tournament.
Outside the office Kyle is a husband and father to two beautiful girls along with their cat. In his spare time he likes to spend time with his family, travel, play golf and swim. He is also a huge sports junkie and even bigger motorsports fan and loves to attend racing events when he can.
Share This Story!