Leesburg High School Football Star Kanye Gaines Commits to Western Kentucky University!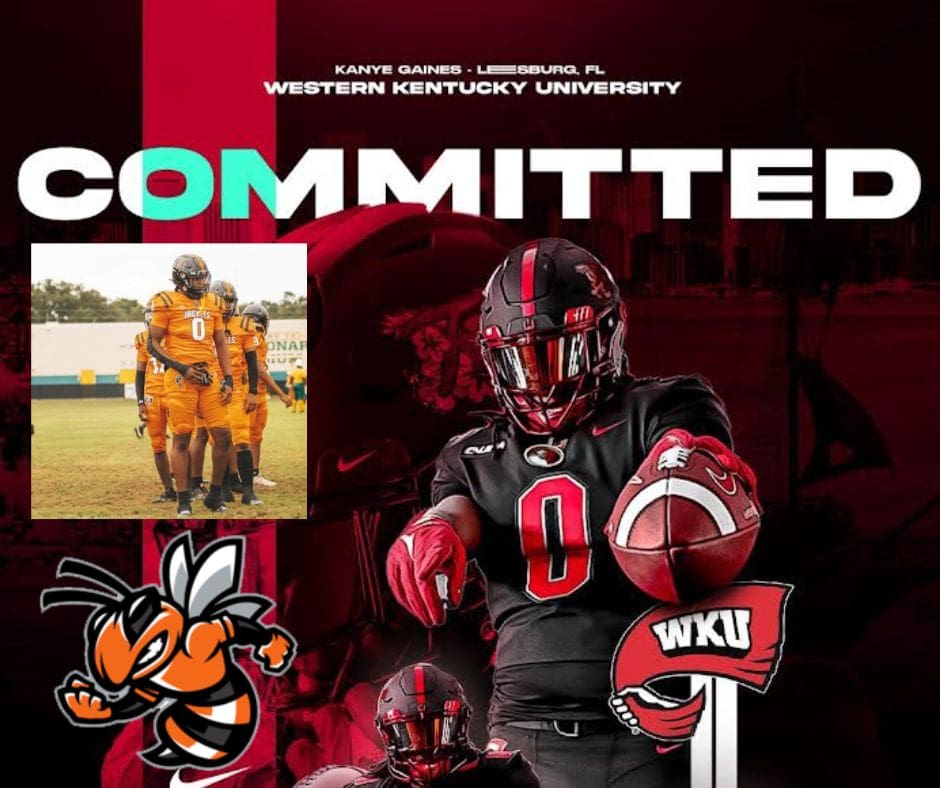 Leesburg High School Football Star Kanye Gaines Commits to Western Kentucky University!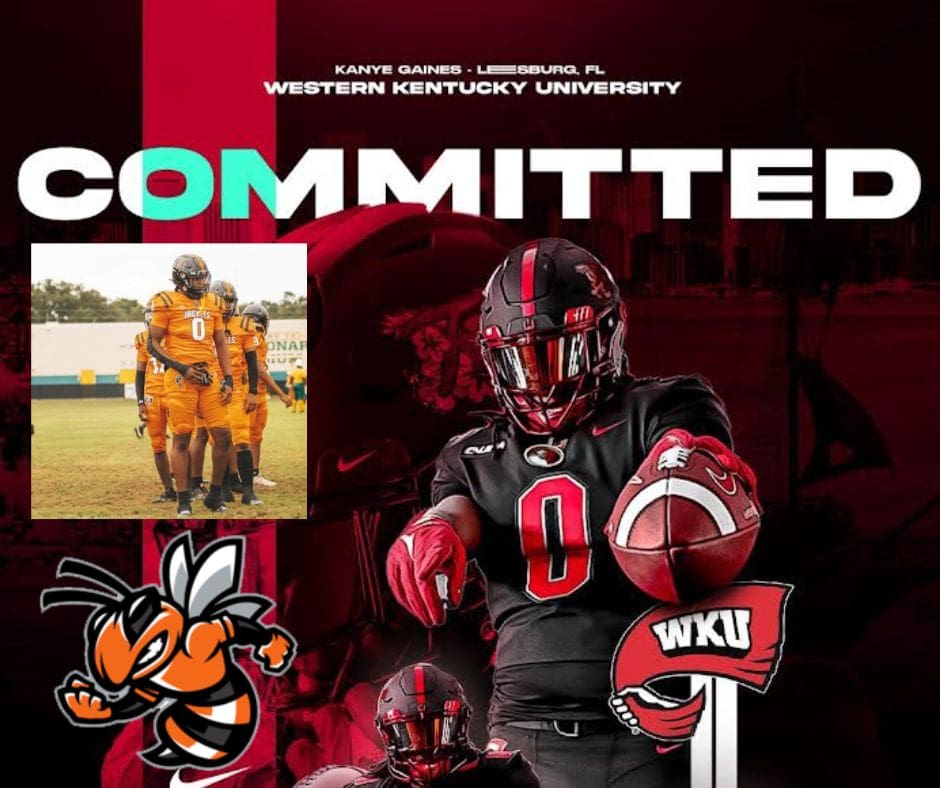 Kanye Gaines the 6"4 215lb Outside Linebacker who plays for Leesburg High School has announced his commitment to play for Western Kentucky University! The Hilltopers are getting an absolute monster of a human being! Gaines massive frame has attributed to some of the most destructive hits we have seen on opposing offensive players in a long time at Leesburg.
The Yellow Jackets didnt have a great year in 2022 but that looks to change in 2023. Gaines is one of the best linebackers in Lake & Sumter County. Leesburg is led by former UCF quarterback Steven Moffett. The team and the city are very excited about the possibilities this year. After a year in which Leesburg won only 2 games in 2022, Kanye Gaines was one of the standouts of that season.
The Senior came into 2023 with offers from UT Martin, North Alabama, Florida Atlantic and Western Kentucky. WKU should be a great fit for Gaines. He continues to improve every year, and WKU is the perfect place for him to develop into a star at that program.
LHS Athletic Director Spencer Hey said "Gaines is an absolute stud. He excels in so many different ways and he just has a natural talent for the OLB position." Last year Gaines made some amazing hits that you could hear up in the booth. I was there for a few of those games and let me tell you this kid is not afraid to level anyone to the ground.
Gaines loves it when teams run the ball. That is where he shines most is having the smarts to be able to know what hole the running back will choose. No matter where they go, Gaines is usually the one waiting on the other side of the offensive line.
WKU is part of Conference USA. They are located in Bowling Green, Kentucky. The Hilltoppers are coached by Tyson Helton who has been at the helm of WKU since 2019.
We should be humbled that we get to see Kanye Gaines play one more year at Leesburg. The program hasnt had this much excitment in a long time! Gaines will continue to be a force on Defense and we look forward to seeing what he can do in 2023.
Congratulations to Kanye Gaines, the Leesburg Coaching Staff, friends and family on this big decision! We look forward to watching Gaines go to work during Friday Night Light Football games this year!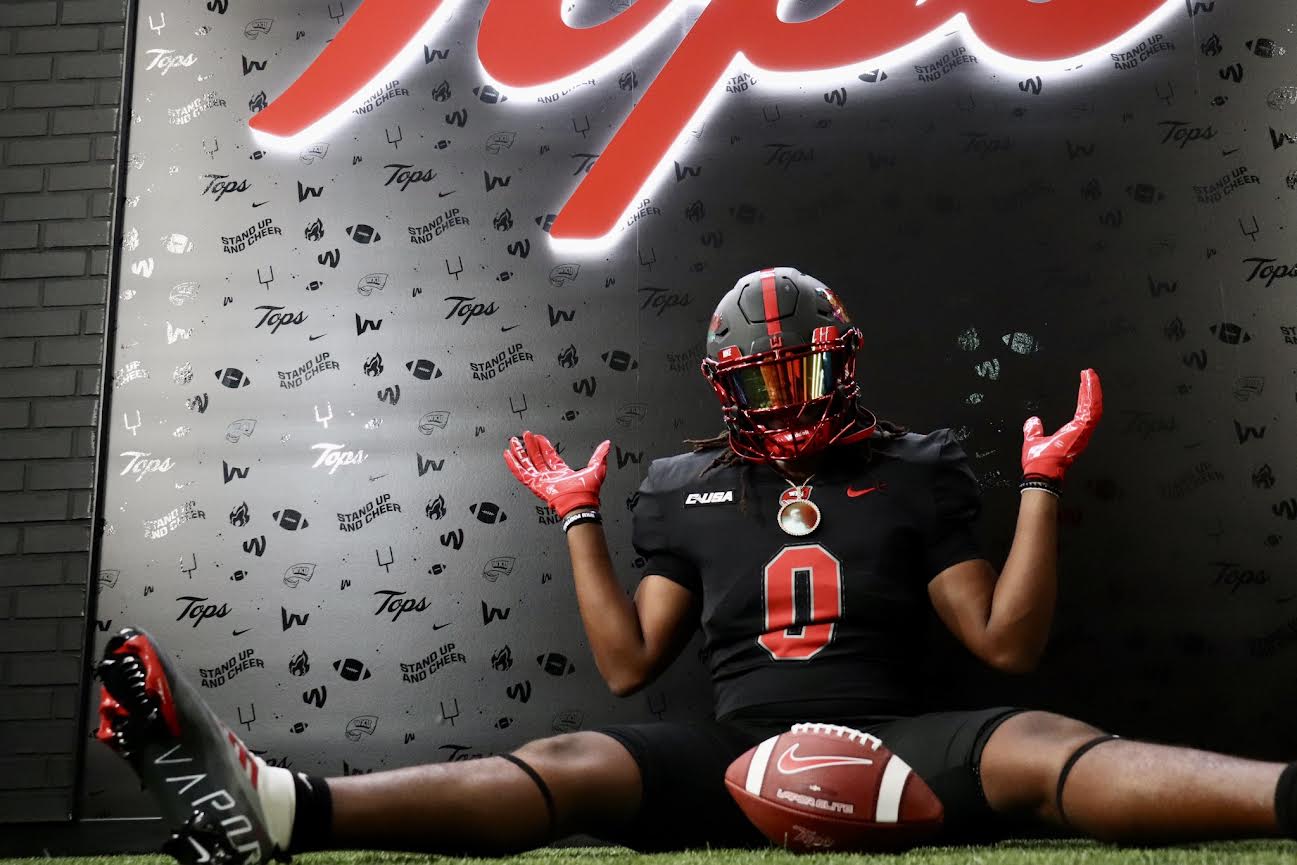 Photos Provided By:
Twitter
Leesburg Facebook
Kanye Gaines
Kyle Coppola was born in Newton, Massachusetts and received his Bachelor of Fine Arts in Communications from Curry College in 2016. After traveling to Florida on a family vacation, he decided he could not get enough of the warm weather and made the move from snowy Massachusetts to central Florida 8 years ago.
For the last decade Kyle has gained valuable experience in social media content creation, marketing and sales, writing, video production, sports announcing and even broadcasting for local radio stations, such as FM 102.9 in The Villages and FM 91.5 in Massachusetts. Every year he volunteers at The Villages Charter High School as a play-by-play sports announcer for the football games as well as a public address announcer for the basketball games, including the annual Battle at The Villages Tournament.
Outside the office Kyle is a husband and father to two beautiful girls along with their cat. In his spare time he likes to spend time with his family, travel, play golf and swim. He is also a huge sports junkie and even bigger motorsports fan and loves to attend racing events when he can.
Share This Story!