Local distillery brews up hand sanitizer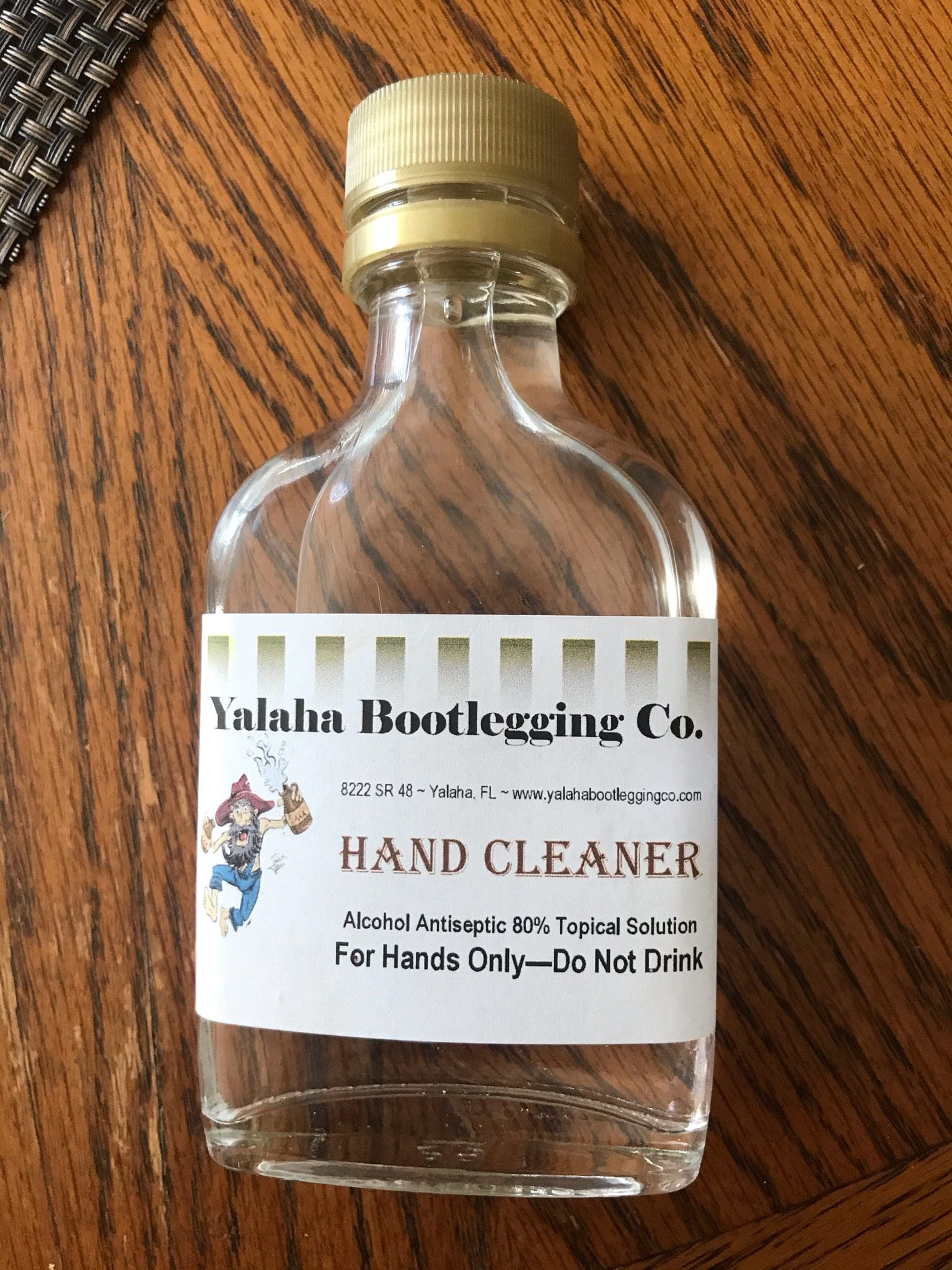 It's not last call for alcohol at Yalaha Bootlegging Co. The shelves are still stocked with homemade, award-winning moonshine.
But recently, owner Doug McCormack changed his business model to produce something desperately needed to fight the coronavirus: hand sanitizer. Because hand sanitizer has flown off the shelves of local supermarkets and pharmacies, residents of Lake and Sumter counties have been scrambling to find the cleaner. Doug has joined other distillers in a nationwide effort to manufacture hand sanitizer.
An email sent two weeks ago from the federal Alcohol and Tobacco Tax and Trade Bureau convinced him to rally to the cause. The organization issued emergency regulations allowing distilleries to immediately start producing hand sanitizer. Additionally, the U.S. Food and Drug Administration eased restrictions on making and distributing the product.
"When I realized that, I ordered bottles and ingredients and got to work," Doug says.
He produces hand sanitizer in 3.38-ounce bottles using a combination of alcohol, hydrogen peroxide and vegetable-grade glycerin. The glycerin helps keep hands moist, and at 80 percent alcohol, his product exceeds the content recommended by the Centers for Disease Control.
"The virus has a layer of fat that protects it," he says. "The high alcohol content helps tear through that layer of fat, so the virus cannot survive."
In order to make his sanitizer more accessible to the community, Doug only sells two bottles to each customer.  He has personally delivered his product to a UPS office in Leesburg, as well as local police and fire departments.
"I want to take care of those who come in direct contact with people on a daily basis," Doug says. "People are very appreciative of this. It's nice being a smaller company because I can change my focus in a heartbeat. The coronavirus is very serious stuff. We're fulfilling a big need."
His hand sanitizer costs $5 per bottle and is only being sold at his store, located at 8222 County Road 48 in Yalaha. For more information, call 352.304.4069.
Akers Media Group's James Combs has been a staff writer for several local publications since August 2000. He has had the privilege of interviewing some of Lake County's many fascinating residents—from innovative business owners to heroic war veterans—and bringing their stories to life. A resident of Lake County since 1986, James recently embarked on a journey to lead a healthier lifestyle. He has lost 60 pounds and walks nearly five miles a day. In his spare time, he enjoys target shooting, skeet shooting and watching his beloved Kentucky Wildcats!
Share This Story!