Local Talent: Dream weaver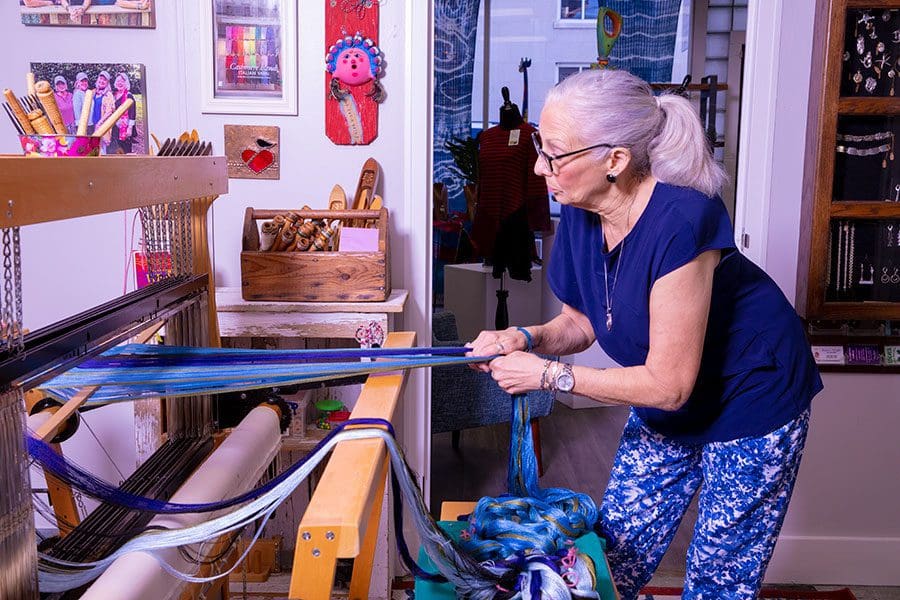 Toni Stokes Marshall creates uncommon artwork at her Leesburg studio.
Photos: Nicole Hamel
Textiles always fascinated Toni Stokes Marshall, but it wasn't until her retirement from the health-care field that she was able to wrap herself in textiles as an art form.
Toni went back to school at age 58, enrolling in a professional fiber arts program in North Carolina. She had created mixed media art over the years but fulfilled a dream by learning to weave, dye, design and paint on fabric.
"I've always had an attachment to textiles," Toni says. "Textiles is one of the first things that touch us when we're born. They wrap us in a blanket and put a knit cap on our head."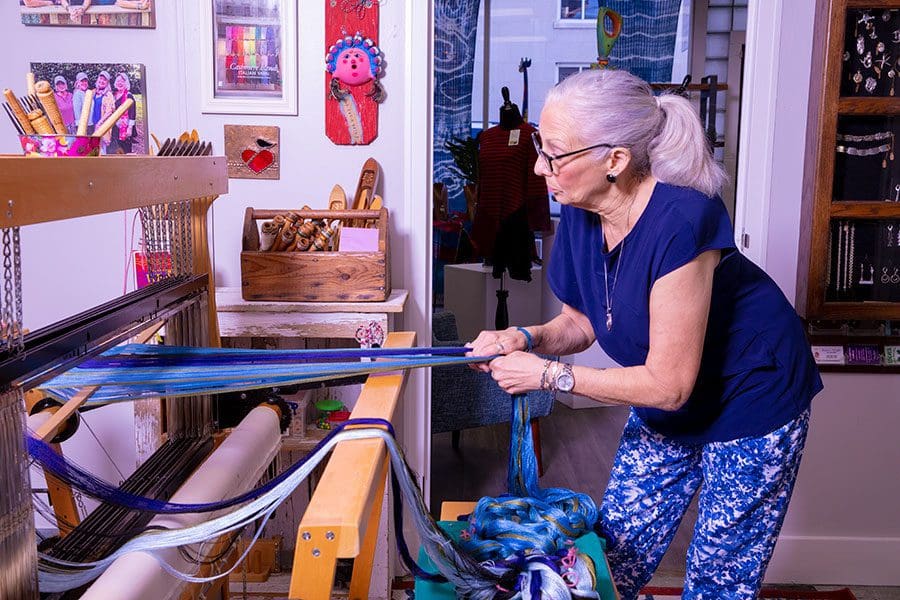 Ten years later, Toni uses a loom to create wearable art, wall hangings and home goods at Uncommon on Sixth, a studio and gallery at 103 S. 6th St. in downtown Leesburg. The eclectic gallery, which opened in December, features the work of 19 artists in mediums including pottery, basketry, jewelry, painting and metalwork. Visitors also can see art being created in the working studio.
Toni's sister, Lauren Stokes McClurg, makes baskets that are displayed at the gallery. Their family started Stokes Fish Co. in Leesburg, where Toni was born and raised by a "tribe of women" who were designers, knitters, seamstresses and florists.
She lived in Texas, North Carolina and North Florida for 42 years before returning home in 2019 to be closer to her family. North Carolina is an area that keeps weaving alive, she says.
"It's been kind of a lost art," Toni says.
The feel of the fibers inspires her creations, which she describes as multi-layered studies of color, pattern, light and texture that form a bridge across time, people, places and cultures.
"I am more concerned with evoking a feeling when people look at my work," she says.
Toni is on the board of the Leesburg Center of the Arts, which will organize the Leesburg Art Fest scheduled for Oct. 24-25. The city has an emerging arts scene, she says, and she wants to host artist demonstrations at her studio and continue to serve as an encourager of artists.
"I feel like part of my job as an artist and a gallery owner is to help educate people," Toni says. "I have helped some people find their way back to their art, and it's my hope that downtown Leesburg will be more supportive of artists."