Local Talent: In touch with art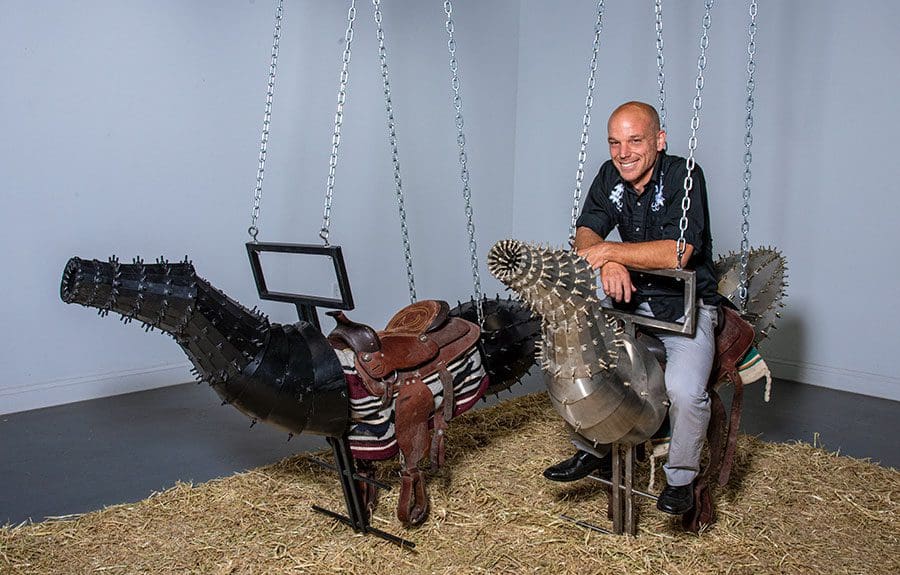 Russell Bellamy creates hands-on sculptures.
Photos: Nicole Hamel
Leesburg sculptor Russell Bellamy believes many people would be surprised to learn that he was in his third year of college before he discovered art.
"I mostly went to college to play soccer," he says.
Russell started out at Georgetown College in Kentucky as an economics major. He switched to history, then communications before graduating with a bachelor's degree in fine arts. He went on to earn a master's of fine arts with a concentration in sculpture from the University of Cincinnati in 2005.
He now shares his passion for art at Beacon College, where he is an associate professor and chairman of the Art and Studio Arts Department. The nonprofit liberal arts school primarily serves students with learning disabilities, ADHD, dyslexia and other learning differences.
Russell is going into his 10th year at the downtown Leesburg school.
As an artist, he delights in creating artwork that "incorporates life into the product." A perfect example is his swinging bird sculptures that people can ride.
"I have always preferred making interactive artwork," Russell says. "This creates an excitement in the viewer that is not generally present in the gallery or museum setting. I never really cared for the stale environment that discouraged touching or (kept people from) truly enjoying the creative experience."
Many of his works are in personal, corporate and government collections throughout the United States and Europe.
"I consider sculpture to be object-based philosophy," Russell says. "What I enjoy most about being a sculptor is the creative problem-solving. How can I get people to think about a certain topic? How can I get people to behave a certain way? Then I have to figure out how to construct things. It's like being a metaphysical engineer."
Matthew Barney's Cremaster series and Xu Bing's "A Book from the Sky" have been inspirational to him.
"These pieces epitomize the balance between the aesthetic and the conceptual," he says. "Each tells a powerful cultural narrative paired with a visual that creates intrigue and encourages critical dialogue."
To his Beacon art students, Russell says his main message is simply: "Be observant and be passionate about everything you do. Observation is the foundation for growth and expression, while passion is contagious."
To see more of Russell's interactive art, go to russellbellamy.com.
Originally from Anderson, Ind., Theresa worked for The Herald-Bulletin for many years. After experiencing a winter with 53 inches of snow, her late husband asked her to get a job in Florida, and they headed south. Well known in the area, Theresa worked with The Daily Sun and The Daily Commercial prior to joining Akers.
Share This Story!