Local Talent: Living a 'Wonderful Life'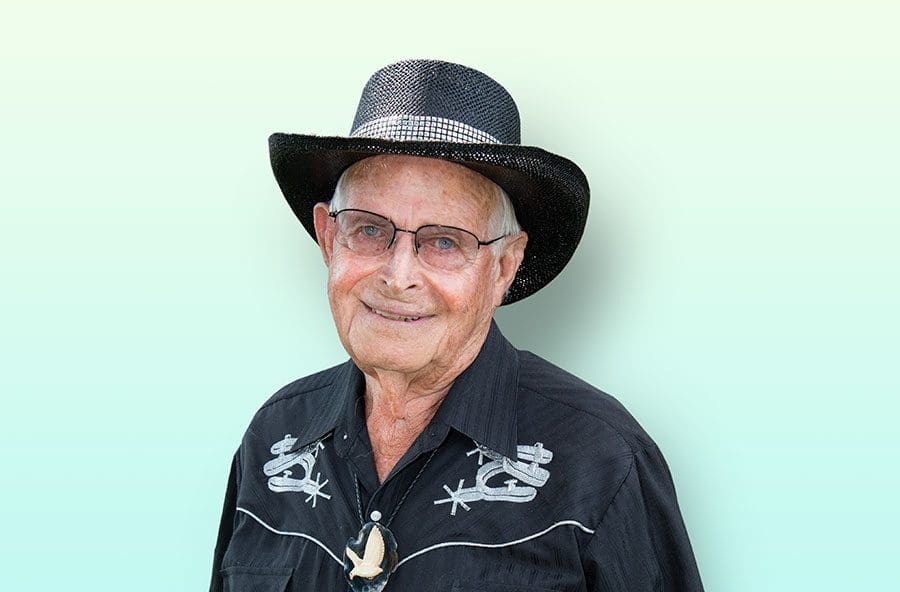 Nonagenarian Bill Van Riper delights by crooning on stage at venues around The Villages.
Bill Van Riper, 91, proudly takes credit for being the oldest singer on stage when he performs at Barb's Barn Country Music in Oxford, Orange Blossom Opry in Weirsdale, or Morgan's Music Junction in Summerfield.
"Every time I sing, I break the record again," says the New Jersey native who has lived at Spruce Creek South, near The Villages, for 25 years.
He was 85 the first time he publicly sang "You Are My Sunshine" in a duet with Suzanne Morgan at Orange Blossom Opry. "My children were shocked," he says.
Since then, Bill has been a weekly regular singing and dancing at Barb's Barn. Once COVID-19 restrictions began easing up, he has been invited to perform at other area venues, churches and was even asked to sing a cappella at small funerals.
His most requested song is Louis Armstrong's "What a Wonderful World."
"They can tell that I feel it. I'm not just singing words," Bill says as he breaks out singing some of the lyrics: "The colors of the rainbow, so pretty in the sky, are also on the faces of people going by. I see friends shaking hands, saying how do you do. They're really saying 'I love you.' I hear babies cry, I watch them grow. They'll learn much more than I'll ever know, and I think to myself, What a wonderful world. Yes, I think to myself, What a wonderful world."
Bill is amazed by his longevity, especially since his parents died at 37 from pneumonia during the Great Depression. He was raised in a foster home for 10 years before joining the Army at 17. The World War II veteran served in Panama.
"I met my first wife doing the play 'Born Yesterday.' She played Judy Holiday and I played William Holden. We had one kissing scene that we had to practice over and over, and it worked. We got married the following year," he says, grinning.
The retired life insurance agent who outlived two wives had six children, 15 grandchildren, and seven great-grandchildren.
"I've been called Romeo," he says, quickly noting that in his case, the name is an acronym for "retired old man entertaining others."
In all seriousness, Bill is thankful to wake up each day.
"The Lord has blessed me with good health, no heart problems, no stents, no diabetes. Doctors predict I'll live to be 100, but 92 is my next goal," he says, in anticipation of his June 5 birthday.
Most days, Bill says he feels like he's 75. In addition to singing, he keeps active as a volunteer at The Villages Regional Hospital, delivers 14 meals to the homebound in Fruitland Park, serves on the Spruce Creek advisory board, sprays and pulls weeds for neighbors, serves as visitation minister at Community United Methodist Church in Fruitland Park, and even carpools a 100-year-old friend to the Opry.
He has been named Rotarian of the Year twice. He also has been physically active throughout his life by swimming, bowling and playing tennis for 72 years. Five years ago, he won a gold medal in The Villages Senior Games with a 90-year-old tennis partner.
"I've done a zipline, toured Europe, and I'm just happy doing what I'm doing and keeping busy," says Bill.
As a hospital volunteer, he looks forward to the day when more COVID-19 restrictions are lifted, and he'll be allowed to deliver flowers to patients' rooms again. "I always sang, 'Somebody loves you. I wonder who? I wonder who it could be?'" says Bill, adding it was a joy for him to do.
"I like to make people smile," he says.
Originally from Anderson, Ind., Theresa worked for The Herald-Bulletin for many years. After experiencing a winter with 53 inches of snow, her late husband asked her to get a job in Florida, and they headed south. Well known in the area, Theresa worked with The Daily Sun and The Daily Commercial prior to joining Akers.
Share This Story!