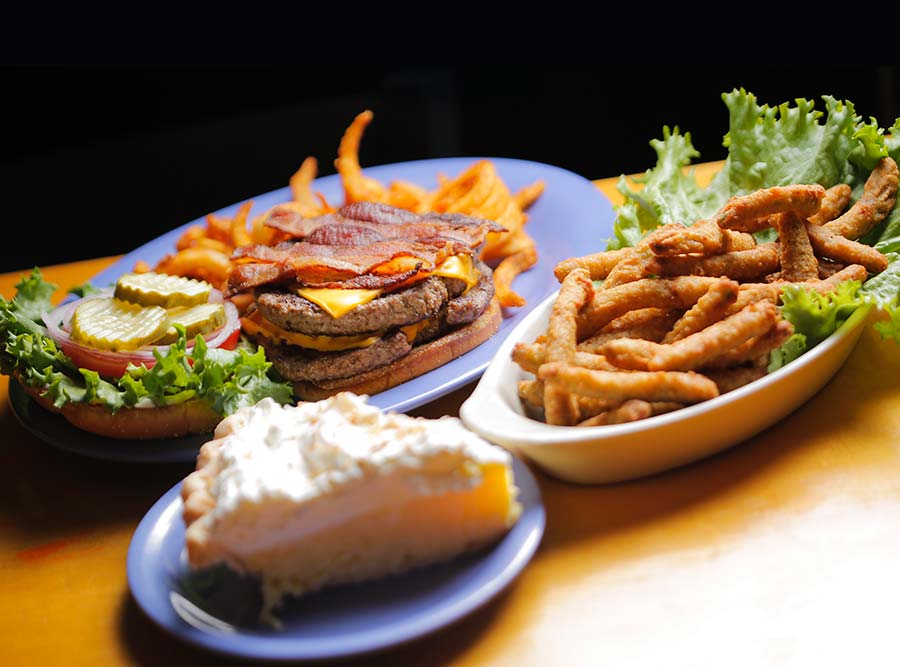 Hidden gem for great eats 
Mary's Kountry Kitchen is out in the boonies on County Road 448 in Tavares, and it's an eatery that would be easy to miss if it weren't for the packed parking lot—a sign this is a place where the locals go for hearty meals and delicious homemade desserts.
My friend and I began our lunch with an appetizer of fried green beans, mainly because she was interested in finding out if she'd like green beans better this way. Of course, she did! She's naturally drawn to foods dipped in batter and fried to golden brown goodness.
For the main meal, I debated over the chef salad or Mary's Bacon Double Cheeseburger with crinkle-cut fries. Our server, Sara, convinced me to go the burger route, and it was the thickest, bacon cheeseburger I've had, one where I tasted more beef than bun.
My friend found her club wrap to be a tasty treat, and it came with a choice of roast beef, ham, or turkey with bacon, cheese, lettuce, tomatoes, and mayo. It also was served with fries, and both of our entrees were reasonably priced.
Diners at Mary's should try to save room for one of the delicious pies, cakes, or other homemade treats. We chose to split a slice of coconut cream pie and found it to be absolutely heavenly! I must confess after having won grand prize for my pies back in Indiana, I never thought I'd taste a better crust, but Mary has me beat. Her luscious, flaky pie crust features melt-in-your-mouth goodness along with the perfect coconut cream filling and airy topping.
Mary won us over. We'll be back for more pie.
Mary's Kountry Kitchen // 15945 County Road 448, Tavares  // 352.343.6823
Originally from Anderson, Ind., Theresa worked for The Herald-Bulletin for many years. After experiencing a winter with 53 inches of snow, her late husband asked her to get a job in Florida, and they headed south. Well known in the area, Theresa worked with The Daily Sun and The Daily Commercial prior to joining Akers.
Share This Story!