Meet a Villager: B.J. Durkin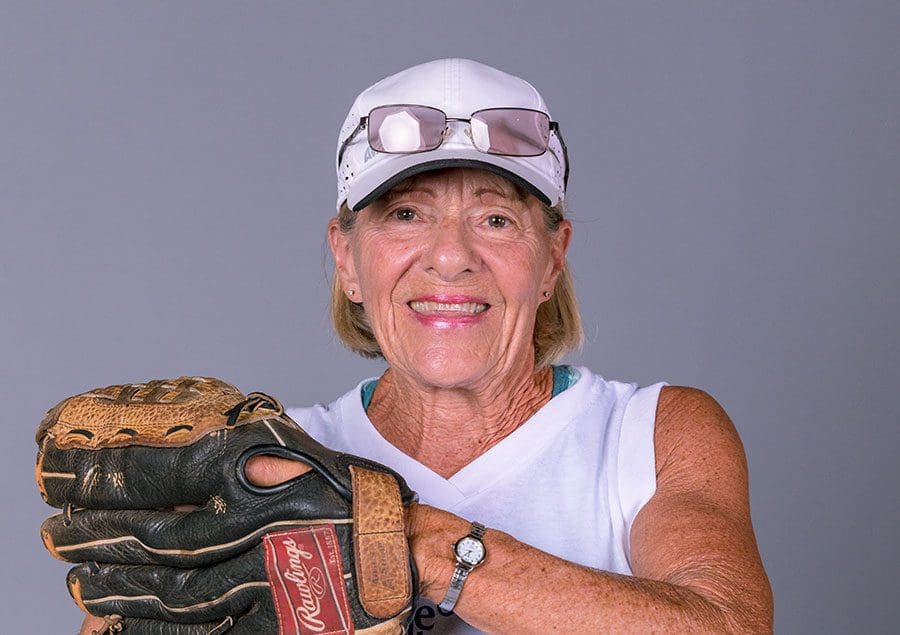 "Down time" isn't a concept she's familiar with.
---
Vital Stats:
Originally from Ohio.
77 years old.
Lives in the Village of Palo Alto.
A mixed family, BJ and her husband, Mike, have a total of 6 sons, 12 grandchildren and 11 great-grandchildren.
---
Photos provided by B.J. Durkin


What are your favorite things to do in The Villages? My husband and I liked to go down to the squares when they were playing the music and all that. If they have anything in the Savannah Center that we're interested in, we'll go to that, too.
You're very active, what are some things you spend time doing each week? I usually go about 8 or 10 miles every day on my bike. I do a two-hour exercise every morning that's kickboxing and weights, and then I play softball four days a week. I'm in a rec league and a neighborhood league. I take walks in the evenings, a mile or more. I love working in my flower beds, and I love to cook. We play cards a lot – we play in 12 different groups with cards – and I play golf twice a week. We keep very busy.
What do you like to cook? Every Christmas, usually there's about 24 of us, and I cook dinner. Our children come in April every year for my birthday and there's about 16 of us so I cook for all of them. I cook lasagna and all the stuff they like.
Favorite dessert? It's called a Chocolate Caramel Turtle Dessert. It's like a chocolate sundae with ice cream and everything.


What's something still on your bucket list? I've always thought hot air balloons would be fun to do.
What's your motto? My motto right now is just everybody stay safe from the virus and everything. But generally, for everybody to be nice to each other. I think sometimes it's difficult nowadays for some people to get along with everyone and to have fun.
Favorite TV show or movie? I like the Hallmark shows and the movies.
Originally from Buffalo, NY, Victoria graduated from Canisius College in 2018 with a bachelor's degree in English and Writing. In August of 2019, she relocated to Eustis, Florida, and soon began at Akers Media Group assisting with social media projects. Later that year, she was promoted to a full-time writing position at the company and has since found her niche telling the stories of so many of Lake and Sumter County's awesome people.
Share This Story!