Meet a Villager: Carol Greenfield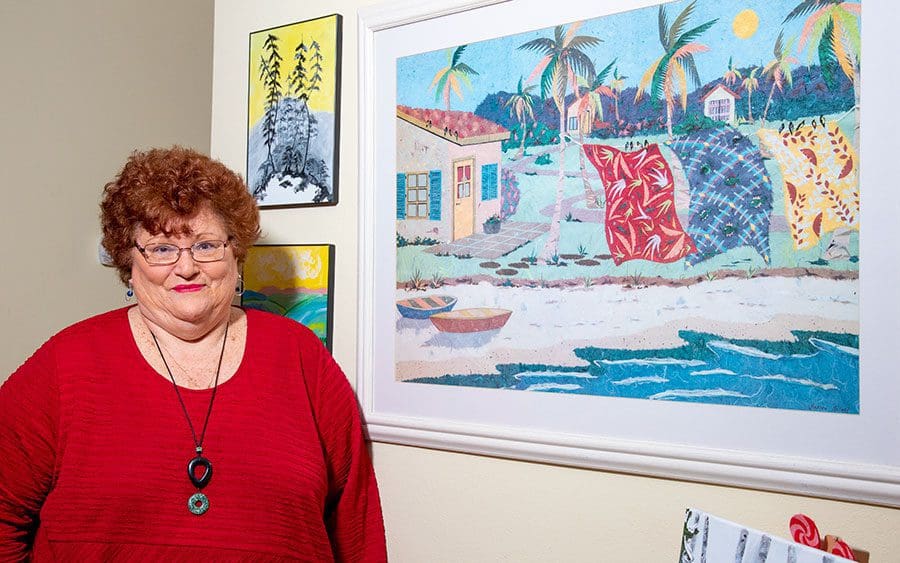 "Tree" grows, branches out in The Villages.
Photos: Nicole Hamel
The Villages Musical Theater Company co-founder Carol Greenfield was directing "The Producers" when the show came to a halt—right before the curtain opened.
"The first show went beautifully, the second show even better, and I knew the third show was going to be a blockbuster," Carol says. But COVID-19 brought down the curtain in March. "We got the call from the bosses that we were to shut down now! We had 30 minutes to get out. People were coming in and management stood in the parking lot and shooed everybody away."
Theatergoers were given refunds and the Savannah Center set was quickly disassembled.
"It was very depressing," says the New York native, who stashed costumes in her garage.
The question of when The Villages' theatrical shows/entertainment will return remains up in the air. Many shows, even ones planned for Christmas, have been canceled. "We're like everybody else, we're in limbo," she says.
Carol's love for theater began as a child, when she portrayed a tree in a first-grade play. She continued in theater from junior high through college. As an elementary teacher for several years, she ran her school's theater program. "The kids loved it."
Carol was thrilled to bring Broadway musicals to the community by forming The Villages Musical Theater Company in 2001. "South Pacific" was the first production in 2002.
She treasures the friendships she's forged through theater. "I have the most wonderful girlfriends here; they are my family," she says of Heather Sawyer, Dawn Gesner, Terri Bleau and Terry Greene. "We call ourselves the three musketeers plus two. They were my rock when I was doing shows."
Carol also works part-time for Community Watch, where her favorite job is doing adult watch, which is when she and others make morning well-being phone call checks on 104 Villagers.
"I love it because you get to talk to Villagers and get to have a relationship with them," she says. "We all have our favorites and they know about me and my dog, Frankie Sinatra."
Carol also adores her one-bedroom home, her wonderful neighbors, and living in The Villages.
"I'm thankful that I am well, healthy and have a great life," she says. "With everything that is going on in the world with the strife and craziness, I feel protected here."
Originally from Anderson, Ind., Theresa worked for The Herald-Bulletin for many years. After experiencing a winter with 53 inches of snow, her late husband asked her to get a job in Florida, and they headed south. Well known in the area, Theresa worked with The Daily Sun and The Daily Commercial prior to joining Akers.
Share This Story!