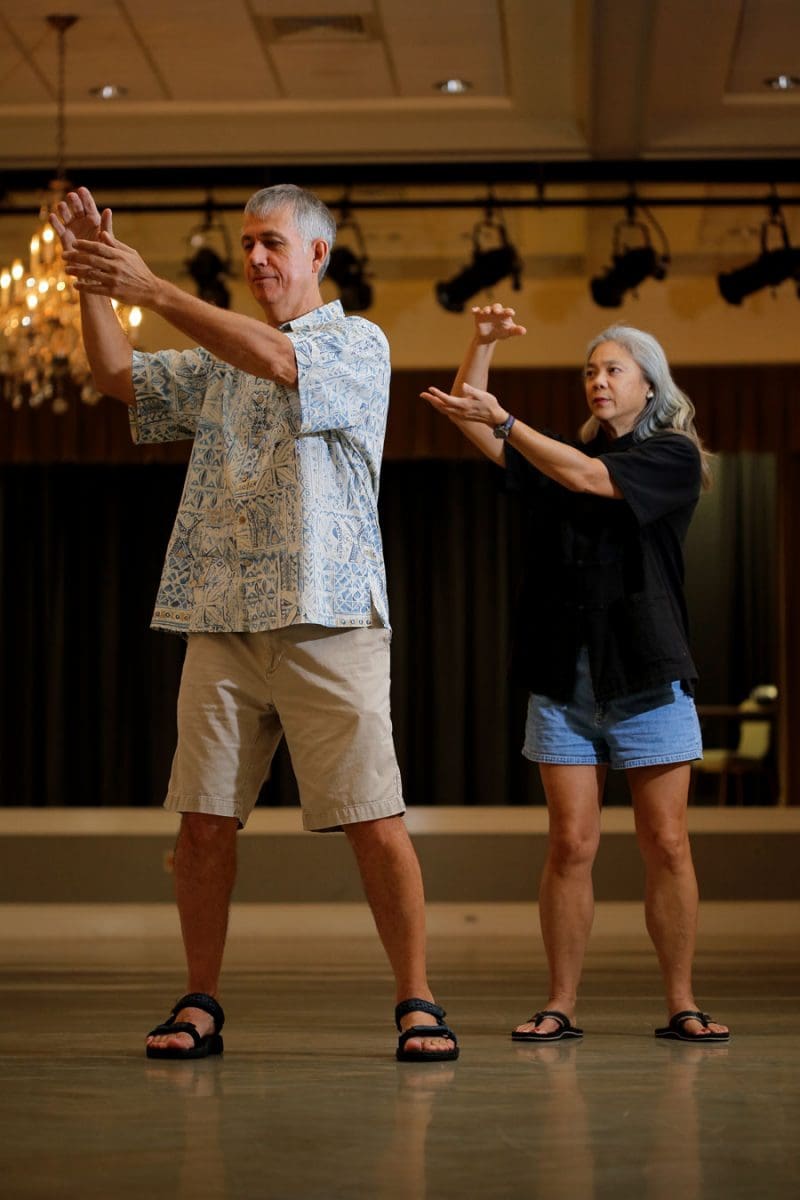 ---
story: Tom Kubala photo: fred lopez
---
You teach an activity named Qigong. What is it about?
Qigong (Chi Kung) is a holistic healing exercise system from China that has evolved for more than 3000 years. It is the art, science, practice, and study of adjusting the body's energy (Qi or Chi) to improve one's health. The objective is to use breathing techniques, gentle movement, and meditation to cleanse, strengthen, and circulate the life energy. It is easy to learn, and is done to rhythmic music. Virtually any age and fitness level can learn. Although it is done standing, people often practice and learn the art from a sitting position, or you can even lie down or walk.
Why is Qigong important?
It is important because it lowers stress and improves the body's function, which can increase longevity. Regular practice leads to better health and vitality, and a tranquil state of mind. People quickly learn a simple, easy-to-do activity with no cost—an activity that reduces stress and allows people to take control of their own health.
How long have you been teaching it?
We had our own studio (which is still going strong) in Bellingham, Washington, for many years and taught Qigong on cruise ships for five years while traveling to more than 25 countries around the world. This is our first year in The Villages.
What do you like most about teaching your classes?
Helping others learn the art and its varied approaches to improving personal health. We look forward to working with Villagers every Monday at noon at Allamanda Recreation Center and at Mulberry Grove Recreation Center Wednesdays at 2:30 p.m. We love the positive feedback from people about increased energy and improved fitness. It is gratifying to know we made some people happier and healthier.
In addition to teaching Qigong and traveling, what do you like to do?
John: We both like the outdoors. We hike, garden, swim, and golf. We also like to read and practice Yoga. Liz has a passion for cooking. She loves to try new things.
What words or phrases best describe each of you?
Liz: I am a happy person who loves to cook foods from many cultures, and always try to be positive. John: I have many interests, am often extemporaneous, and like to stay active and try new things.
What advice would you give to fellow Villagers?
Be flexible in your life's pursuits. Work at minimizing stress. Attend our Qigong classes and possibly experience a life changing activity. As a motto we could say, "Live and let live and…keep smiling!!"
What would you describe as a great accomplishment?
Probably traveling with a big RV and not having any major problems. Since we have been in many countries of this world, we were fortunate to avoid trouble and stay safe.