In the Kitchen: Mostly surf, a little turf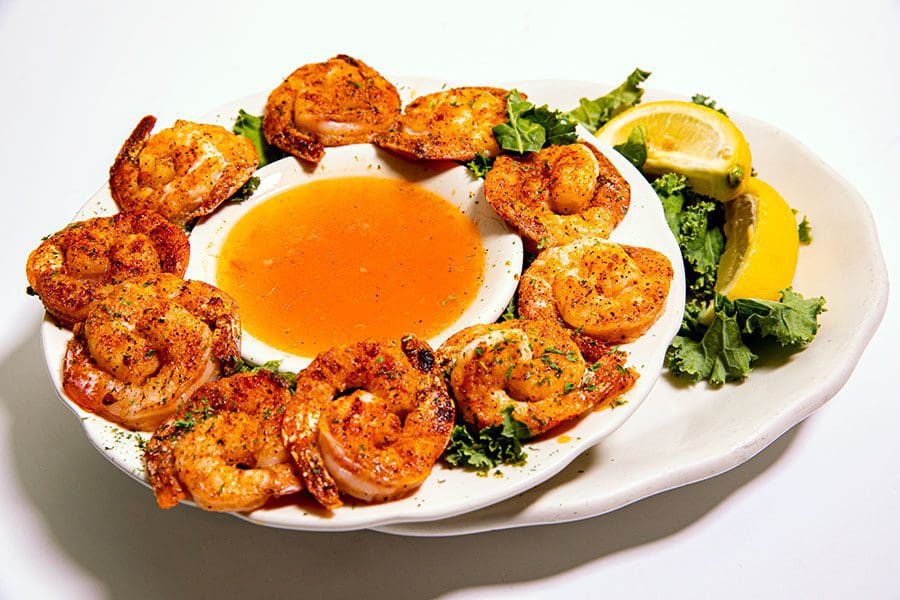 With fish and shellfish galore, seafood lovers won't lack choices at Cedar River Seafood.
Photos: Nicole Hamel
For Cody Yon, Cedar River Seafood was his first experience cooking for more than just his family. The now 23-year-old started at Cedar River, his first restaurant job, in 2016 when he was 19, and has since most enjoyed cooking the lobster, "and steaks, as long as they're not well done," Cody says.
"I've always been sort of good at it (cooking), but like at home. I never cooked for a lot of people before coming here. It was just the family," the Eustis native says. Cody himself enjoys the restaurant's alfredo, burgers and tacos.
Kathy and Roland Bell first opened the doors to Cedar River Seafood in Leesburg 35 years ago. Originally from Jacksonville, the family now lives in Crystal River and runs their eight restaurant locations with the help of their three sons. "The Bells are nice people, they're good to work for," Cody says.
"Over 40 years later and all three of their grown children helping run their life long work and their dream career- here we are… and it's because of our customers that we are allowed the opportunity to continue living this dream together as a family," says Roland and Kathy's son, via the restaurant's Facebook page.
Harry Bell, one of the sons who helps run the restaurants, says that his favorite menu items are the platter for 2, the flounder filet and the shrimp. "Our distributor is out of Jacksonville. They're a mom-and-pop distributor as well, as we are. We get a lot of our stuff locally," Harry says.
The restaurant's most popular menu items consist mainly of their pastas, as well as the many different ways of eating shrimp that they offer. "We do all-you-can-eat sometimes," Cody says. You can try fried shrimp, spicy boiled shrimp, popcorn shrimp or coconut shrimp, as well as their non-traditional scampi.


"They're called 'scallops' but it's just two shrimps together, that's how we do our scampi, and they're really good," says manager Kristin Hassey, who started as a server at Cedar River almost nine years ago. The platters are big sellers as well, Cody says. You can choose from four combo platters, as well as Lobster for One or a Lobster Feast for Two, which includes four lobster tails, shrimp, oysters, scallops and deviled crab.
The platters allow you to choose from shrimp, scallops, oysters, deviled crab, flounder filets, clam strips and calamari. Cedar River also offers a senior menu, kid's menu and lunch platters between 11am-4pm daily.
"A lot of people come for our fried green tomatoes, they're really popular and they're so good," Kristin says. You also may want to try crab-stuffed mushrooms, bell pepper stuffed with crab, or coconut shrimp with a tropical sauce. Kristin also raves about the New England Clam Chowder. Traditional Southern fare also includes fried okra, homestyle baked beans and buttery grits as sides.
For entrees, choose from a huge menu of fish, shellfish, and even "swamp things" like frog legs or gator tail. Every entree comes with two hush puppies and two sides, like coleslaw, a loaded baked potato, garlic mashed potatoes or baby lima beans. Or, you can choose from mashed sweet potatoes, green beans, collard greens, applesauce or a garden salad for an additional charge of $1.49.
If you're in the mood for catfish, you can choose to have it one of three ways; fried, blackened, or broiled. "Also, for upcharges they can get like a combo with shrimp and catfish, clams and catfish, whatever," Cody says. For the breadings on fish and most other items, the cooks use coating with a cornmeal base, rather than panko or a traditional breadcrumb. You can choose catfish filets, or if you're extra hungry, opt for a whole fried catfish.
For diners who prefer turf over surf, you can try New York strip or ribeye steak, chicken pasta with alfredo or marinara sauce, or a one-half pound black angus burger. Other handhelds include a flounder filet sandwich, flounder, shrimp and oyster po-boys and a classic chicken wrap.
Lighter options include a garden salad with chicken, grouper, shrimp or mahi, or three chicken, shrimp or fish tacos. Blackened salmon and grilled chicken with a choice of veggies is also a hearty but healthy choice.
All of the employees rave about Cedar River's fried "xangos," which is their version of fried cheesecake. The cheesecake is sliced, breaded and fried, and you can choose between toppings of fruits and caramel. The restaurant also offers Florida key lime pie, a refreshing treat to finish off your visit.
Cedar River Seafood also has locations in Middleburg, Starke, Callahan, Fernandina, Gainesville, Lake City and Inverness, which you can find out more about at cedarriverseafood.com.
---

Scampi sauce
Ingredients
1 pound butter or 4 sticks
1/4 cup lemon juice
2 tablespoons garlic powder
Directions
Melt butter. Add lemon juice and garlic powder and mix thoroughly. Refrigerate until use.
---

Hush puppies
Ingredients
3/4 cup onions chopped

2.5 teaspoons garlic powder

1 small egg
1.5 tablespoons sour cream

1 pound or 4 cups House-Autry Puppy Mix
3 tablespoons sugar
3 cups warm water
4 cups vegetable or canola oil
Directions
Place onions into a container and add sour cream, garlic powder and egg. Lightly mix ingredients together. Add House-Autry puppy mix and sugar, and stir in warm water. Mix until desired consistency. Heat oil in a pan until it reaches 350 degrees. Scoop dough with a spoon into the oil and hold until puppy slides into oil off the spoon. Once golden brown, flip, and remove from oil and set onto a paper towel once the other side is golden brown.
Originally from Buffalo, NY, Victoria graduated from Canisius College in 2018 with a bachelor's degree in English and Writing. In August of 2019, she relocated to Eustis, Florida, and soon began at Akers Media Group assisting with social media projects. Later that year, she was promoted to a full-time writing position at the company and has since found her niche telling the stories of so many of Lake and Sumter County's awesome people.
Share This Story!