Mount Dora Christian Academy & Children's Home Announces Departure of President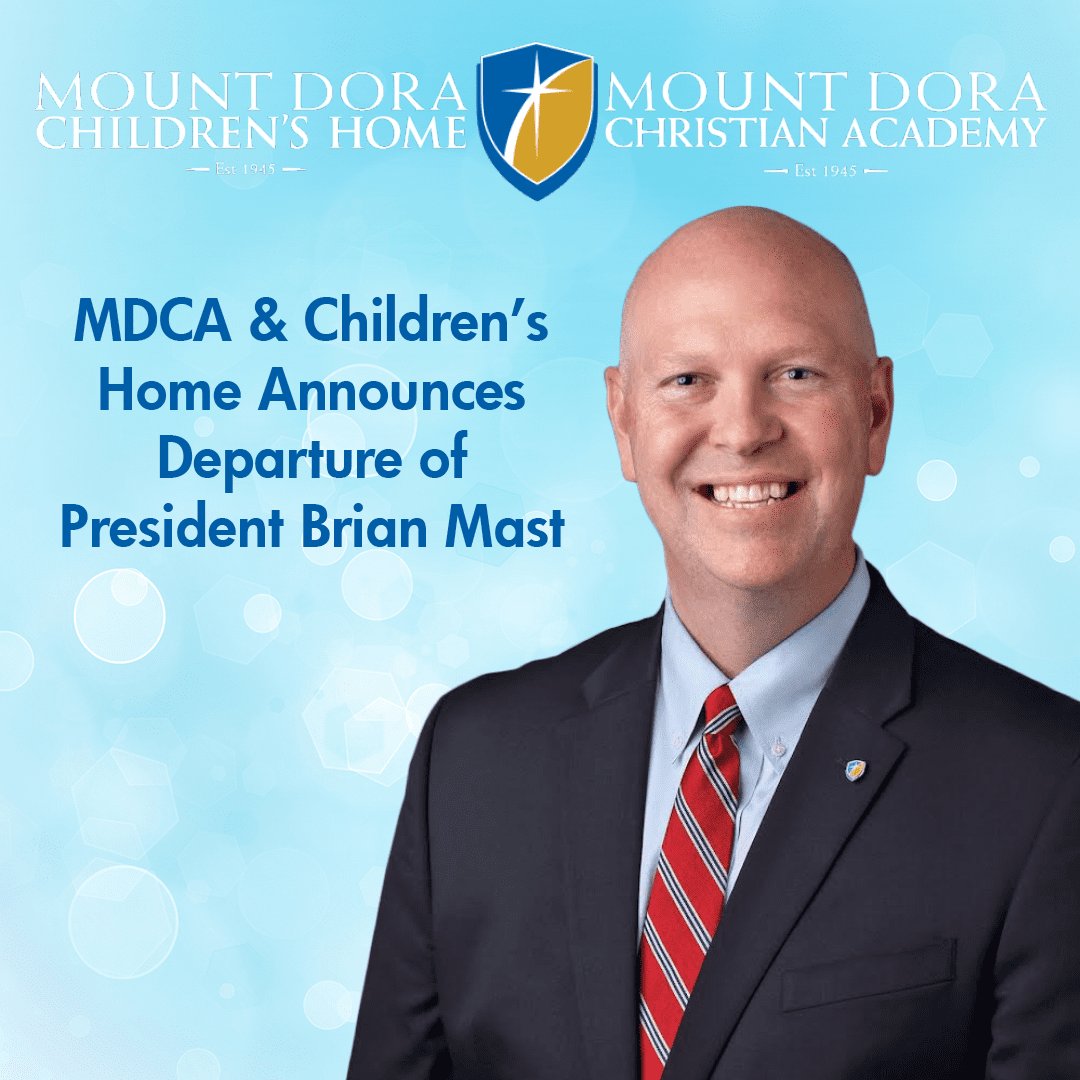 Mount Dora Christian Academy & Children's Home Announces Departure of President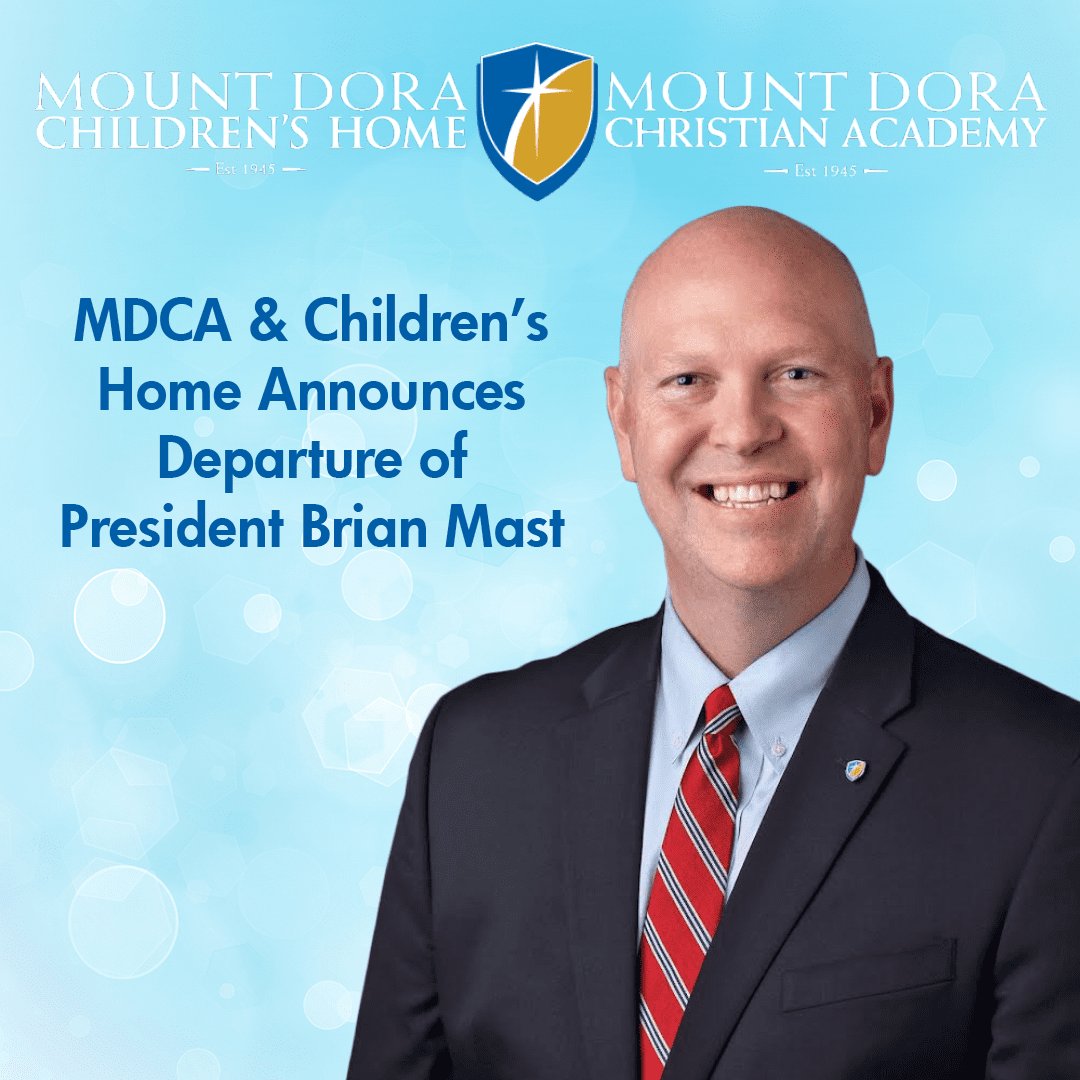 Mount Dora Christian Academy and Children's Home Announces Departure of President
Brian Mast to return to Nashville's Lipscomb University as vice provost
Mount Dora, Florida: Mount Dora Christian Academy and Children's Home announces that Dr. Brian Mast will be stepping down as president, effective Aug. 1. He and his family will be returning to Nashville, Tennessee, where he has accepted the position of vice provost at Lipscomb University. In this role, he will assist with all matters of academic administration, policy, and planning and lead campuswide initiatives at the direction of the provost. He formerly served as associate provost at Lipscomb before stepping into his role as MDCA&CH's sixth president in December 2019.
John Starling, MDCA&CH Board of Trustees Chair, says, "We are so thankful to Brian for his innovative and visionary leadership. Brian and his wife, Lorri, have given their hearts and souls to Mount Dora Christian Academy and Children's Home. This is evidenced by the strong relationships they have built and the impact they have had on our community of faculty, staff, students, and parents. We thank God for sending them our way and wish them the best in their next chapter." 
Mast demonstrated his collaborative leadership approach early on in his tenure. In March 2020, COVID-19 forced schools across the nation to shut down. The Academy, however, continued instruction via online learning for the final quarter of the 2019-2020 school year and was one of the only schools in the area to hold an in-person graduation ceremony for the class of 2020. Under Mast's guidance, the Academy reopened in August 2020, allowing students uninterrupted instruction. 
"Brian successfully navigated the unchartered waters of COVID-19," says Starling. "He and his team were able to keep us safe while providing an in-person experience." 
Vast changes and advancements took place during Mast's time in office. The Academy increased K-12 enrollment by more than 30 percent, reached record retention rates, restructured school leadership,
restructured the business office, implemented continuous enrollment, and created educational summer camps. Additionally, the organization hired an athletic trainer and assistant athletic director to support the growing athletic programs at MDCA. 
The Children's Home added a mental health therapist position, expanded housing to serve more single parents and their children, and remodeled Social Services. Campuswide enhancements included implementation of emergency/crisis management solutions, development of the Wishart Academic Success Center, and creation of an organizational strategic plan. 
"I'm thankful to have played a small role in our organization's history and enjoyed being the spiritual leader of our institution," says Mast. "It has been a joy to see faculty, staff, administration, and families fully support our mission and vision."
Mast became a familiar face, not just across campus, but also in the local community. He is a member of Lake County's economic development organization — Lake 100 — and Rotary Club of Lake County Golden Triangle. He also serves as secretary on the board of directors for Mount Dora Area Chamber of Commerce and was a member of Leadership Lake County Class of 2022. On a broader level, he resides on the board of the National Christian School Association (NCSA) and serves on the Harding University Presidential Council. 
His family — which includes his wife, Lorri, their daughter, Ella, and son, Eli — also embraced the MDCA&CH community. Lorri, an educator for more than 23 years, taught fifth grade, third grade, and middle school English Language Arts. She considers her greatest joy while working at MDCA to be the relationships she built with students and families and the spiritual and academic growth she helped foster in her students. This spring, she was selected 2022-2023 Secondary Teacher of the Year after being nominated by both faculty and students. Lorri will continue developing students academically and spiritually as a teacher at Lipscomb Academy in Nashville, Tennessee. 
Ella ran cross country and track during her junior and senior years. She graduated in 2022 with an AP Capstone Diploma and as an AP Scholar of Distinction, the highest AP honor a graduate can receive. She currently attends Harding University, where she is majoring in cognitive neuroscience and is a member of the cross country/track team. Eli, a high school freshman this fall, played football, soccer, and baseball and excelled academically during his time at MDCA. 
"The last three and a half years have been filled with many wonderful experiences and memories that my wife, my children, and I will carry in our hearts for a lifetime," says Mast. "Thank you for welcoming us and for making us feel a part of your community right from the beginning. It is my hope that MDCA&CH will continue to produce world changers for many years to come."
The MDCA&CH Board of Trustees will announce the selection of an interim president in the coming days. 
About Mount Dora Christian Academy and Children's Home: Established in 1945, MDCA currently serves more than 780 students from PK2 through grade 12, and MDCH serves more than 40 children and families. We believe in the power of a Christ-centered community to cultivate faith-driven world changers. Building on our legacy of faith and service, we educate, equip, and empower our community to love God and others, pursue excellence, and impact our world. The fulfillment of our mission can be seen in our 2023 graduates, who earned $4.8 million worth of scholarships and logged more than 8,500 hours of community service.
Kyle Coppola was born in Newton, Massachusetts and received his Bachelor of Fine Arts in Communications from Curry College in 2016. After traveling to Florida on a family vacation, he decided he could not get enough of the warm weather and made the move from snowy Massachusetts to central Florida 8 years ago.
For the last decade Kyle has gained valuable experience in social media content creation, marketing and sales, writing, video production, sports announcing and even broadcasting for local radio stations, such as FM 102.9 in The Villages and FM 91.5 in Massachusetts. Every year he volunteers at The Villages Charter High School as a play-by-play sports announcer for the football games as well as a public address announcer for the basketball games, including the annual Battle at The Villages Tournament.
Outside the office Kyle is a husband and father to two beautiful girls along with their cat. In his spare time he likes to spend time with his family, travel, play golf and swim. He is also a huge sports junkie and even bigger motorsports fan and loves to attend racing events when he can.
Share This Story!