Local Talent: Moved by the wind and tides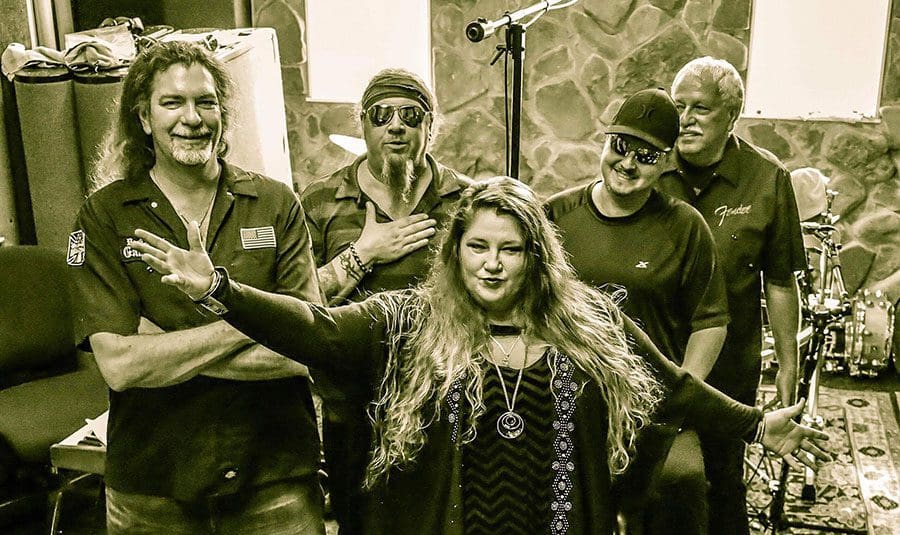 Made of Earth brings nature's elements to the stage through its lyrics.
When three Lake County musicians were trying to name their band, they looked to their Christian faith and the name "Made of Earth" just flowed.
"As Genesis 2:7 says, 'He took the dust from the earth and breathed it in and man was made,' so we're all really made of earth," says Monica Dedmon, lead singer, songwriter and rhythm guitarist for the rock band.
Monica, rhythm and lead guitarist Royce Moreland and lead drummer Bill Bailey started creating lyrics and music as Made of Earth in October 2018, and then met keyboardist Tim Donovan and bassist and background vocalist Steven Schoener.
"We finally cemented a band together that was Made of Earth and it's been the five of us since," Royce says.
An attraction to Earth's elements is the inspiration for their lyrics, all of which were written by Monica for the band's debut album, whose title was being decided before a February release. For future albums, she plans to bring the rest of the band into the writing. Each song has a certain meaning to Monica but different meanings to the other members.
"I don't really like to tell people what this song is about. I like people to come up with their own meaning," Monica says.
"It relates to the personal experience," Bill adds. "For the interpreter to interpret that into their lives, we have to come away with something. It's pretty neat, we have the special gift of doing that."
While recently rehearsing the bluesy "Behold the Moon," Monica was reminiscent of Tina Turner or Nina Simone as she filled the room with a deep, powerful voice and sang: "I see the stars and I behold the moon/I recall your smile and I'll be calling soon/You hold back the tides while the waves wash over me/I cannot think of one time that you did not comfort me."
Monica sang in her church choir and started performing with cover bands at just 15 years old. She has been inspired by Ann Wilson, Chris Cornell, Heart and Soundgarden, and also looks up to Stevie Nicks as a performer. Monica also appreciates Judy Garland in her later years and Etta James because "you can tell they're singing through a life of heartache and from the heart."
While Monica has performed jazz and blues songs, rock 'n' roll is where her heart lies.
"This is my most favorite project. I don't want to call it my baby, because there's five of us, but it's the one I've been most passionate about," she says. "Fortunately, I'm very grateful to have met these fellas because they like my songs."
Most of the band members are Lake County natives, and Monica is a transplant from Jacksonville. All of them had been performing for years in other local bands before they came together. They have day jobs, but just to pay the bills.
"It's a labor of love," Bill says. "We all have our personal lives, we all have other things that we do, but this is who we really are. When we come together, we just feel it in the music because we just take it to a higher level."
"It's a comradery thing and just knowing that they're there. We're just together," Monica adds.
Made of Earth has performed at music festivals such as Ormond Beach Live, DeLand Original Music Festival and, in February, the Daytona Original Live Music Festival, where the band released its album. Made of Earth also is scheduled to appear Saturday, April 11, at the ninth annual DeLandAPalooza festival.
The musicians hope to soon open for national acts and, once they break out, make the studio their home, Bill says. They record at Casa Croftorious Studios in Sorrento with producer Bobby Croft, who has performed internationally with acts such as the Allman Brothers Band, LeAnn Rimes and Derek Trucks. He often helps the band work through their songs during recording sessions.
"Preconceived notions of what you think something should sound like may not be what you necessarily get," Bill says. "You kind of work it. A lot of times, the first and second try are the best ones. If you have to start thinking about the music, you think the feeling out of it."
You can find Made of Earth's album wherever you stream music.
Originally from Buffalo, NY, Victoria graduated from Canisius College in 2018 with a bachelor's degree in English and Writing. In August of 2019, she relocated to Eustis, Florida, and soon began at Akers Media Group assisting with social media projects. Later that year, she was promoted to a full-time writing position at the company and has since found her niche telling the stories of so many of Lake and Sumter County's awesome people.
Share This Story!