My First Time: Chris Weatherman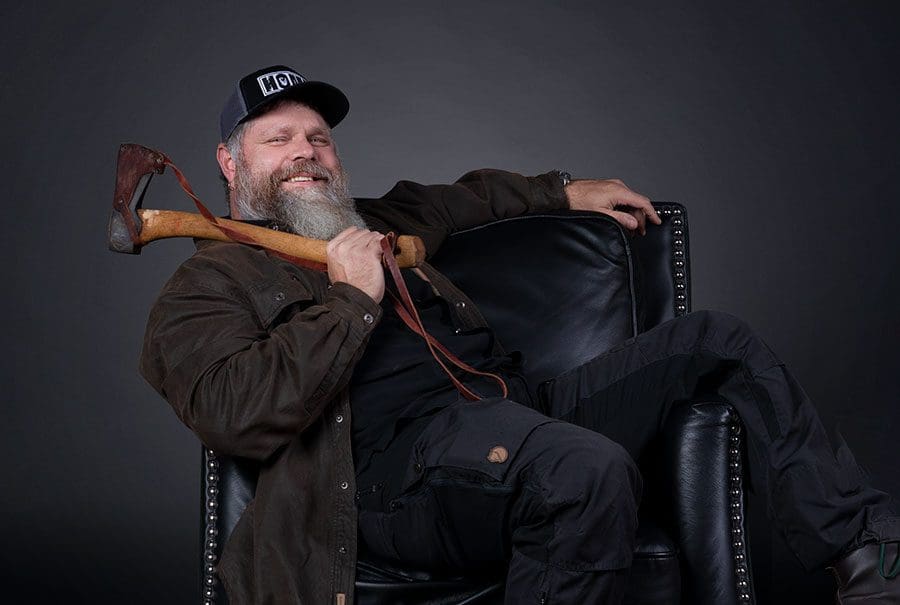 Survival expert recalls experience appearing "Alone" on reality TV
Photo: Nicole Hamel
I started into survival skills in 1990 with primitive skills and medicinal, wildlife trapping and foraging, all that stuff, and just kinda kept moving up through that skill set to include modern survival skills.
So, I wrote a book in 2011, a post-apocalyptic survival story, fiction book set here in Lake County, and I was doing a book signing in Colorado when the History Channel showed up and asked me if I'd do the show.
Alone, particularly the season I was on, which was season 1, so we were the first ones, the concept with the History Channel was you take 10 experienced individuals, allow them to take 10 items from a list of tools and things, drop them in a remote area and leave us to our own devices. We were in the Quatsino Sound on Vancouver Island. We had to film everything we did, and we had to procure our own shelter, food, water, everything.
When we first started, we went through a selection process which to me was a lot of fun. When we arrived on Vancouver Island, they told us that it was a last man standing and there was a half million-dollar prize (for the winner). We had no idea that there was a prize going in. We were all like 'What?!'
I'm born and raised in Florida and it was cold, rainy and wet in November. I thought they started me off at a disadvantage too, because they dropped me off in a seaplane which can only get within 12 feet of shore, and I had to get into waist-deep water to wade to shore, so I started wet, which didn't help matters at all. It was already in the 30's every day, even lower at night, and raining constantly.
Sadly, for me, on the second night out I had a big pack of wolves show up. I have a thing with big dogs, so I left the third day. It took them 14 hours for them to get me from when I called. My only regret is I wasn't able to hang out there longer, but life is what it is. Everybody's got their own thing you just don't know what it will be. And I'm not afraid of the wilderness or being out in the dark or anything like that.
We had one guy take off the very first day because there were too many bears around and he was very afraid of them. I've had numerous bear encounters living in Florida, so bears don't bother me. But for him it was a major thing.
Everybody who went, they're all very experienced people, but wilderness, especially like that, when you're alone, changes the stakes. Anything you do can be life altering.
I had already done a lot of YouTube and stuff like that, and they gave us instruction on better filming techniques. One of the things they told us is that if you don't film it, it didn't happen, so you're expected to always be filming video. So, you're aware of it, but attaching it to 'I'm gonna be on TV' isn't really there.
Me and a lot of the guys from season 1 are still friends. The guy that won, Alan Kay, is my best friend. He was out there for 56 days. He's a survival ninja, that guy.
I liked it all. I didn't really want to come out of there. The first season was different, we had a really good camaraderie. There was no competitive feeling or anything about it. We all knew we were competing against ourselves; we weren't competing against each other. It was a last man standing event, but it was the ultimate way to test yourself. Not something just anybody will do.
Originally from Buffalo, NY, Victoria graduated from Canisius College in 2018 with a bachelor's degree in English and Writing. In August of 2019, she relocated to Eustis, Florida, and soon began at Akers Media Group assisting with social media projects. Later that year, she was promoted to a full-time writing position at the company and has since found her niche telling the stories of so many of Lake and Sumter County's awesome people.
Share This Story!