Naples Italian Restaurant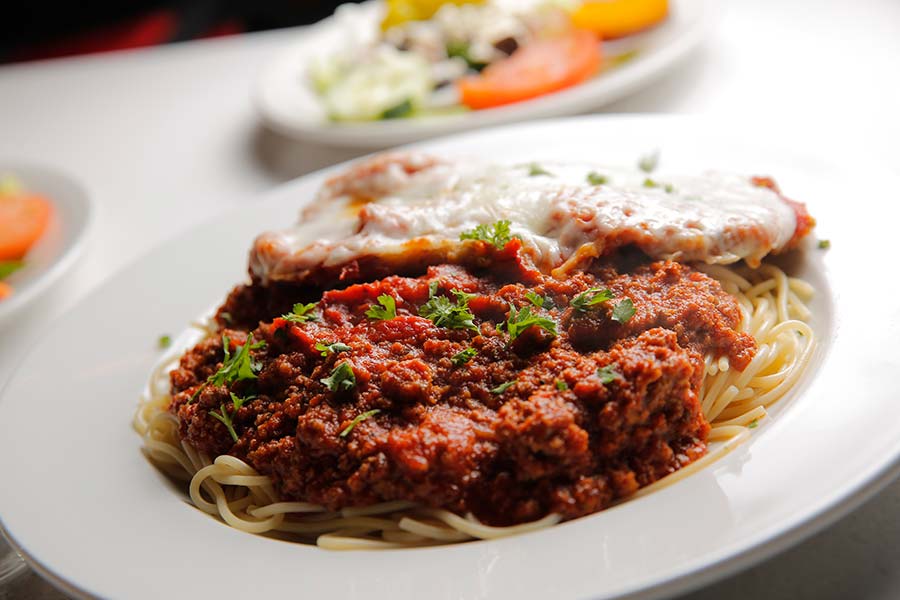 Cucina deliziosa
(English translation: delicious cuisine)
Naples Italian Restaurant, tucked in a Leesburg shopping center strip, has a simple, unpretentious homey atmosphere, yet it has been drawing diners since 1986 with appetizing, made-to-order traditional Italian dishes and pizza.
The restaurant's reasonably priced lunch specials are among the best around, including two slices of cheese pizza with a soft drink for $5.49, or the following dishes for $6.25: ravioli, cheese tortellini, lasagna or lasagna Florentine, eggplant parmesan, spaghetti with mushrooms, baked spaghetti, baked ziti, fettuccine alfredo, stuffed shells, manicotti, and handmade meatballs.
My baked spaghetti was delicious comfort food. It came piping hot with perfectly cooked pasta baked with the right amount of marinara sauce and topped with the goodness of melted mozzarella cheese.
My two dining companions raved over their dishes, too. One friend had veal parmesan and she found the lightly breaded veal cooked to tender perfection and served with spaghetti. My other friend ordered the same pasta with mushrooms and found there was no skimping of sliced mushrooms in the marinara sauce that topped her spaghetti.
We also enjoyed homemade rolls with creamy alfredo sauce, and diners are given a variety of pasta choices besides spaghetti to enjoy, including linguini, fettucine, penne, ziti, and angel hair.
Naples is also known for tasty calzones, Stromboli, pizza, panini subs, and desserts including tiramisu, a variety of cheesecakes, chocolate treats, Italian rum cake, Italian cream cake, cannoli, limoncello mascarpone, and pizzelles or zeppoles (fried dough sprinkled with powdered sugar).
We definitely will return to this delightful restaurant because good Italian cuisine really is "delizioso" and a wonderful treat.
Naples Italian Restaurant // 1107 W. North Blvd., Leesburg // 352.323.1616
Originally from Anderson, Ind., Theresa worked for The Herald-Bulletin for many years. After experiencing a winter with 53 inches of snow, her late husband asked her to get a job in Florida, and they headed south. Well known in the area, Theresa worked with The Daily Sun and The Daily Commercial prior to joining Akers.
Share This Story!