Navin Reddy, M.D., Jennifer Robertson, M.D., Jeremy Spry, D.O. | UF Health Central Florida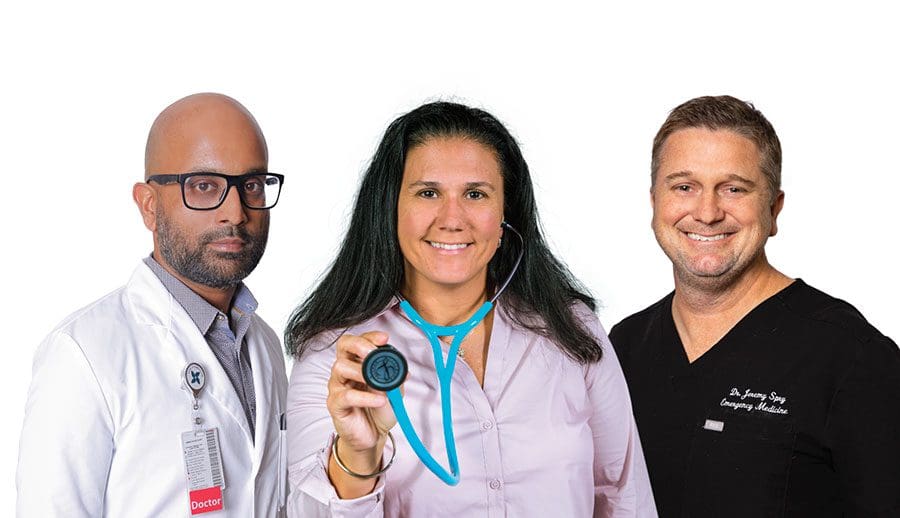 Navin Reddy, M.D., Jennifer Robertson, M.D., Jeremy Spry, D.O. | UF Health Central Florida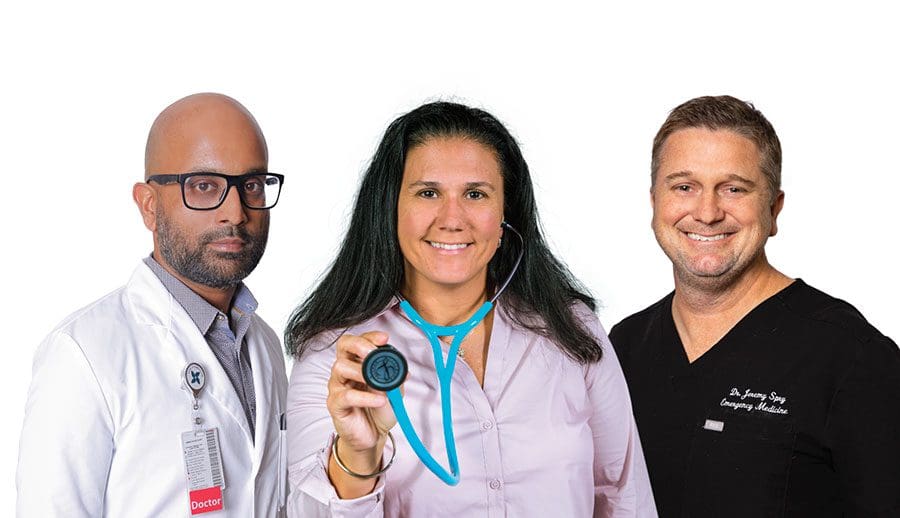 Navin Reddy, M.D.
Q. What sets University of Florida Health Central Florida E.R.s apart from others in the area?
A. I think all of the emergency rooms in our area do a great job following the standard of care, but if I had to say what sets us apart at UF Health Leesburg Hospital, it is our heart. We care about our patients; each other and we care about our community. Most of the people who work here also live here, and have lived here long-term. We're not like big city E.R.s where there's a lot of turnover among our nursing staff. Many of the talented professionals I work with today were on staff during my first shift here 15 years ago. At the end of the day, I just think it's our love for our community that makes our care so special.
Q. What is the most significant improvement in care you have seen in emergency medicine since joining the UF Health Central Florida team?
A. Having the support and resources of a large academic health care system is invaluable. As an example; I trained in New York, and while they were in the midst of the coronavirus, they often struggled to get their COVID-19 tests results in seven days or less. Because we are part of the UF Health system, when we first started seeing community spread of COVID-19, we were able to send our tests to UF Health Shands in Gainesville and receive a result within 24 hours. That provided us with a huge advantage in providing care to these patients as early as possible. Since then, this has evolved to being able to effectively test for COVID-19 and develop effective treatment plans within 1 hour.
---
Jennifer Robertson, M.D.
Q. What are the capabilities of your specific E.R. facility?
A. The UF Health The Villages® Hospital Freestanding E.R. at Brownwood offers everything that a standard emergency department has. Our facility is equipped with the latest diagnostic imaging technologies, including CT and X-ray, state-of-the-art trauma bays, respiratory therapy, laboratory services, a negative air pressure room for isolation, and a full complement of staff including physicians, nurses and patient care technicians. Patients that need to be admitted to a hospital for more complex or specialty care are quickly transported to the nearest hospital by ambulance.
Q. What do you like most about working in the emergency room setting?
A. It is an invigorating experience to be able to provide care for the wide variety of conditions our patients face; there is a lot of variety throughout the day. People who work in emergency care settings are often referred to as a 'Jack of all trades' due to the wide range of conditions we treat on a daily basis. I can go from treating a two-year-old in one room to caring for a 90-year-old in the next, and then have a trauma case a few minutes later. I like the diversity — it is certainly never boring!
Q. What does the future of emergency care delivery look like?
A. I foresee that telemedicine is going to be more prevalent in our area to enhance the availability of efficient, high-quality health care. Telemedicine technology allows freestanding E.R.s such as UF Health The Villages Hospital's Brownwood E.R. to offer specialty care that may not be readily accessible through local providers.
---
Jeremy Spry, D.O.
Q. What kinds of things should patients consider when making the decision to choose between emergency or urgent care?
A. Any sort of minor injury or illness is probably best fit for urgent care, or even your primary care office. But symptoms of a heart attack or stroke, such as chest pain, trouble walking, speaking, and understanding, as well as paralysis or numbness of the face, arm, or leg, and loss of consciousness, are examples of situations that require a visit to an emergency department.
Q. What measures have been put into place to keep patients safe during the coronavirus pandemic?
A. UF Health The Villages® Hospital adheres to a number of measures designed to protect our patients, visitors and staff. All patients and visitors are medically screened upon entering the hospital and visitation is restricted to one visitor per patient for the duration of the patient's stay. In our E.R.s, potential COVID-19-positive patients are separated from patients seeking care for other conditions. Additionally, a hospital-wide policy is in place for face masks to be worn at all times by all employees, patients and visitors.
---
UF Health Central Florida
CentralFloridaHealth.org