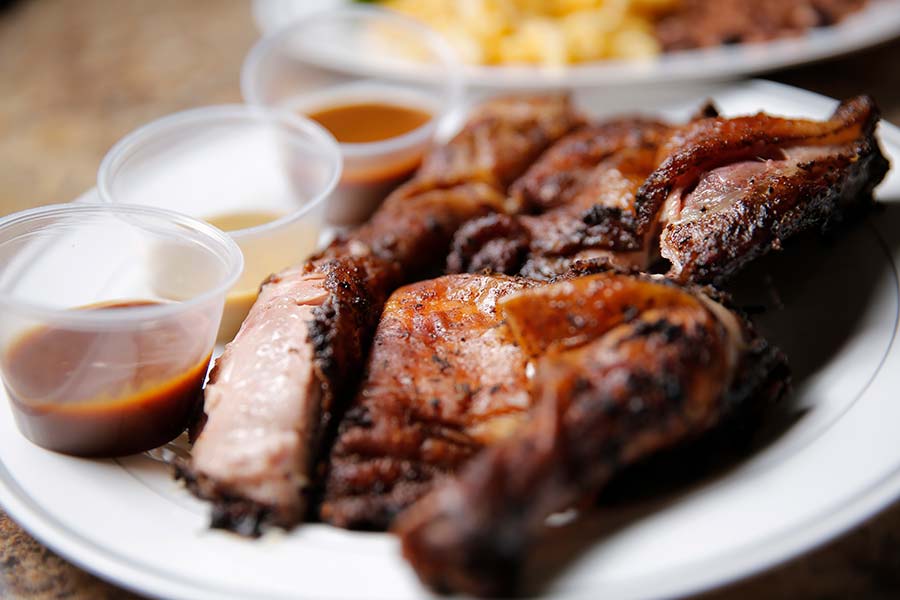 Story: Theresa Campbell
It's always good to be pleasantly surprised by delicious foods, and the colorful Night Owl Caribbean Cuisine Restaurant does just that—treats diners to the flavors of Jamaica right in the heart of Eustis.
The $5.99 Tuesday-to-Friday lunch special is a hearty bargain, where diners choose from curry chicken, fried tilapia, jerk chicken, fried chicken, or brown stew chicken, each served with rice and peas or white rice and one side item, ranging from mac and cheese, collard, greens, sweet cornbread, green beans, baked beans, steamed vegetables, or plantains.
Since jerk—referring to the spicy or wet rub applied to chicken and other meats—is regarded among the Caribbean's most popular cuisines, I couldn't resist trying the jerk chicken with the spice rub being a half mixture of spicy and sweet barbecue.
From the first bite into the meat, I felt I was in culinary paradise. It was the most tender, moist, and delicious chicken, complemented by tasty macaroni and cheese and fresh green beans.
My friend raved about the fried tilapia, collard greens, rice, and sweet cornbread, and she was right. Each was delicious from the samples she shared.
We're eager to return with a friend whose father is from Jamaica, and we may have to try Night Owl's other dishes, like Manish water (goat soup), coco bread (Jamaican sweet bread), curry goat, oxtails, or Jamaican Escovitch fish. Of course we'll have to save room for dessert, since sweet potato pie, coconut cake, pound cake, chocolate cake, and carrot cake are on the menu.
The restaurant's food, served in takeout containers, ranges from $6 to $13.
Night Owl Caribbean // 929 S. Bay St., Eustis // 352.589.0256
Originally from Anderson, Ind., Theresa worked for The Herald-Bulletin for many years. After experiencing a winter with 53 inches of snow, her late husband asked her to get a job in Florida, and they headed south. Well known in the area, Theresa worked with The Daily Sun and The Daily Commercial prior to joining Akers.
Share This Story!