old time diner dine back in time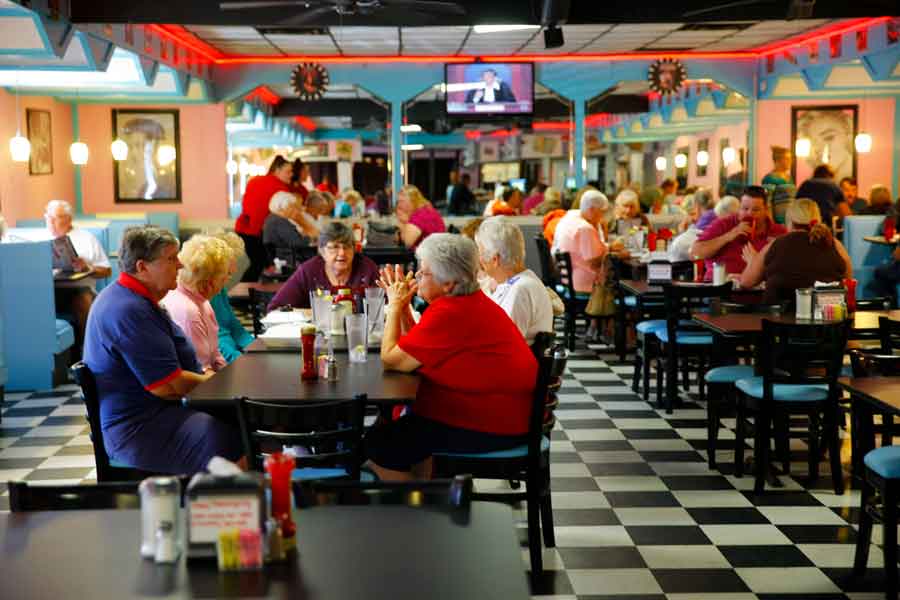 ---
Story: leigh neely photos: fred lopez
---
Open the door to the Old Time Diner in Leesburg and step back into the world of Elvis, Marilyn Monroe, and skinny Frank Sinatra. Black and white photos line the walls of these wonderful stars of the 50s along with many others. The familiar black-and-white tiled floor reminds you of "Happy Days" and their favorite hangout.
When we had lunch, the place was hopping but things were bopping along with ease. The servers are friendly and helpful. I ordered the Reuben sandwich with fries and my friend enjoyed a salad along with spaghetti and meatballs with toasty garlic bread.
Our server recommended the gyros because the owner is Greek, and it's one of his specialties. The burgers were also highly recommended because they're made with fresh meat and made into patties by hand. We'll definitely try those at some point.
The meals were delicious, though I have to say the sandwich was not piled with meat like one normally expects from a deli sandwich, but that did not take away from the great flavor of the meat and sauerkraut with the sweetness of the sauce. The fries were hot and crispy and delicious.
Though she may have planned to take part of her meal home for dinner, I must admit my companion enjoyed all of her tasty spaghetti.
She gave me a bit of the sauce, and it's obviously made fresh. We didn't opt for dessert, though the ice cream and milkshakes were tempting. The prices are very reasonable. The wait for our food wasn't long, and everyone was friendly and courteous. And, if you love Elvis, you'll enjoy all the photos and a lot of good memories about the great stars of the 50s.
On our way out, we met Chef Bono, the owner of the restaurant. He was delightful and obviously enjoying himself in the new restaurant.
With more than 25 years of experience in the restaurant business, he has also had restaurants in Brooklyn, Baltimore, and North Caroline.
With a winning smile and a handshake, he said, "Be sure to tell all your friends about our place. We're excited to be here."
I think I'll be excited to go next time too.
---
Old Time Diner
1350 W N Blvd Leesburg
352.805.4250
Leigh Neely began her writing career with a weekly newspaper in the Florida panhandle, where she not only did the writing, but delivered the papers to the post office and dispensers. She has been writing ever since for a variety of newspapers and magazines from New Jersey to Leesburg. With her writing partner, Jan Powell, Leigh has published two novels as Neely Powell.
Share This Story!