Olive Branch Mediterranean-Italian Grille & Bar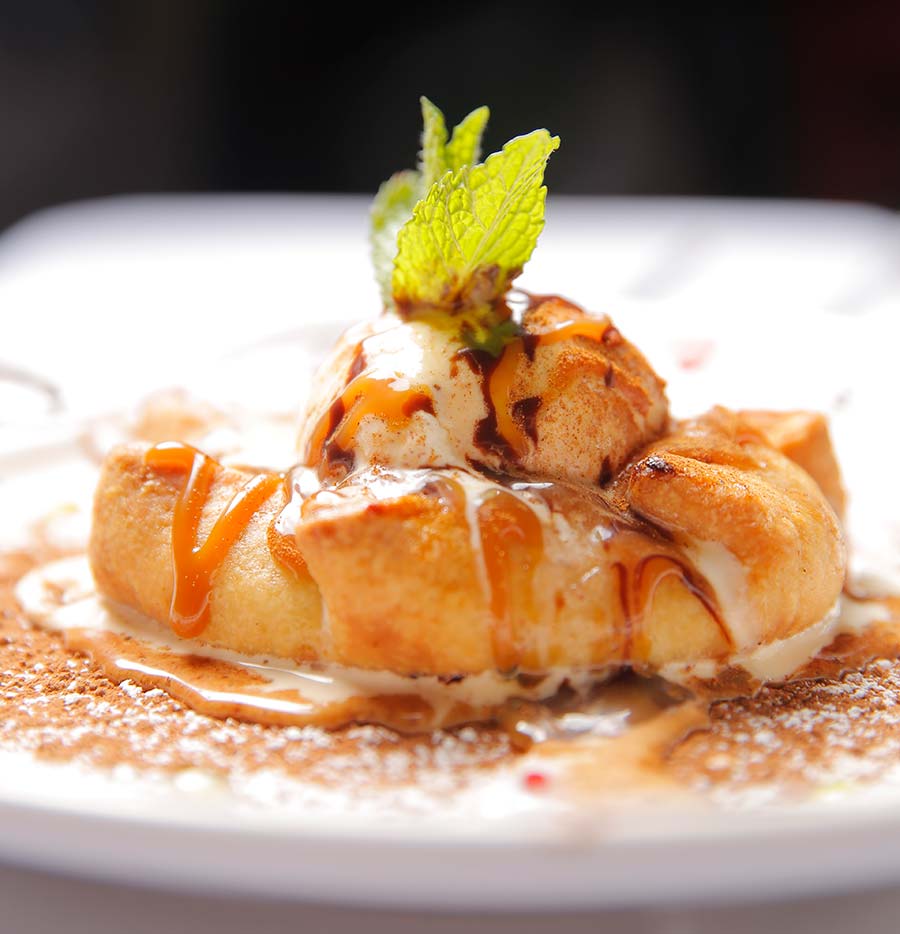 It's not just a meal, it's an experience!
Dining at Olive Branch Mediterranean-Italian Grille & Bar is like eating at Mama's house on Sundays. The food is fresh and delicious, and you absolutely won't go home hungry.
Though the beautiful cloth napkins and tablecloth say fine dining, there's definitely a casual atmosphere in the restaurant. You can eat outside and enjoy the view of beautiful Lake Dora or dine inside and see the same view from most tables.
The food is the star, and each dish is prepared fresh and made to order. Chef Jerry Vejseli, who owns Olive Branch, is dedicated to providing the best food around. Since he opened the restaurant in December 2015, he has made it a family affair because his wife and two young sons often walk around the restaurant and visit diners. Our server, Betty, says he treats staff like family, too.
We enjoyed two appetizers: toasted pita bread with hummus, ajvar, and tzatziki/yogurt sauce, and fried mozzarella with tomato sauce. We pronounced both wonderful. You actually could taste how fresh the tzatziki/yogurt sauce was with the soft but crispy pita bread. The mozzarella was in three triangles, and the red sauce was exceptional.
For lunch, I picked pasta primavera, which had penne sautéed with fresh vegetables in a specially made pink sauce. The wonderful creaminess and
tomato flavor of the pink sauce truly complemented the fresh, slightly crisp vegetables. My two companions had chicken broccoli franchaise (extraordinary flavor) and one of the daily specials—an open-face prime rib sandwich with fries (tender, flavorful meat).
We knew we couldn't leave without dessert, which is prepared by Matt, the restaurant's salad and pastry chef. Not only were they incredible to eat, they were absolutely beautiful. My friend's chocolate ribbon even had a beautiful cameo in the center of the dark chocolate. I enjoyed an apple tart with salted caramel ice cream, and the man in the group had chocolate lava cake.
Chef Jerry came to our table, as did Matt, to see how we enjoyed our food. This is a wonderful place to take the whole family or enjoy an intimate meal with someone you love. Reservations are recommended, especially on weekends.
Olive Branch Mediterranean-Italian Grille & Bar // 115 W. 3rd Ave., Mt. Dora // 352.729.6734 
Leigh Neely began her writing career with a weekly newspaper in the Florida panhandle, where she not only did the writing, but delivered the papers to the post office and dispensers. She has been writing ever since for a variety of newspapers and magazines from New Jersey to Leesburg. With her writing partner, Jan Powell, Leigh has published two novels as Neely Powell.
Share This Story!