Attractions: Orange appeal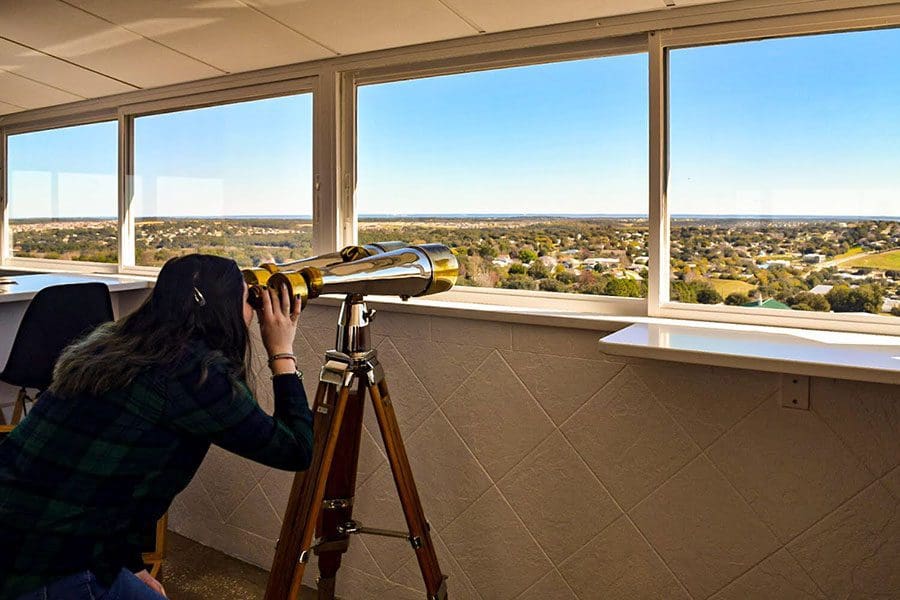 Visitors to Central Florida are still juiced about visiting the Citrus Tower in Clermont.
In a region where screaming roller coasters, killer whales and magical castles reign supreme, a roadside attraction in Clermont still stands tall.
It's 226 feet tall, to be exact.
The Citrus Tower was opened in 1956 to pay homage to the area's once-blossoming citrus industry. The monolithic structure is located at 141 N. U.S. Highway 27, where orderly rows of orange groves used to stretch as far as the eye could see. Tourists receive a bird's-eye view of the landscape by taking an elevator ride to an observation deck and looking out into the vast horizon.
On a recent morning, a visit to this historical attraction serves up a slice of Lake County's agricultural history.
I step through the tower's double glass doors and into a spacious lobby. The lobby is home to Mountaineer Coffee, which serves roasted coffee and homemade pastries. I peek to my left and begin feeling nostalgic as I see an arcade room with some of my favorite childhood games: Pac-Man, Pole Position, air hockey and electronic basketball.
Tempting, but I wasn't here to shoot hoops; I was here for the famous view from the top. I step into the elevator and am immediately distracted. Neatly painted on the elevator door are some interesting factoids that intrigue me.
The Citrus Tower contains 5 million pounds of concrete.

The Citrus Tower contains 149,000 pounds of steel.

The tower is 543 feet above sea level and is equivalent to a 22-story building.

From the observation deck, visitors can see eight counties and more than 2,000 square miles.
I scribble those facts in my notebook and, before I know it, the smooth elevator ride to the top is complete. The door opens. I step into a glass-enclosed observation deck and immediately experience a breathtaking view of Lake Minneola. My fear of heights be damned. I am too immersed in the beautiful landscape to even care.
Helpful signs throughout the 360-degree observation deck inform me about what I can see in each direction. I grab binoculars and feast my eyes on popular natural and structural landmarks. To the west, I see the Clermont Chain of Lakes. Lake Apopka, the state's largest spring-fed lake, and Sugarloaf Mountain, the highest point in peninsular Florida, are to the north. Gazing southward, I see Magic Kingdom's famous castle and Epcot Center's iconic Spaceship Earth. Orlando's skyline can be seen to the east.
After taking in the magnificent views, I walk over to the tower's popular coin drop. I pull out a quarter, place it in a steel tube that runs the full height of the structure and press my ear against the tube. Seconds later … ka-ching! The coin hits a bell at the bottom and makes a chime sound.
Before beginning my descent to the lobby, I take one last glance into the horizon, imagining what the view looked like 50 years ago compared to today. Directly beneath the tower is a landscape peppered with strip malls, large subdivisions, fast-food restaurants and office buildings. The endless acres of orange groves have been replaced by urban sprawl.
Tourists still come
The attraction was built as a tribute to Lake County's famed citrus industry. There was a time when the county boasted 130,000 acres of groves and was the state's second-largest citrus producer.
When the Citrus Tower opened, giant theme parks had not yet found their way to Central Florida. In those days, tourists found thrills through roadside attractions featuring snake handlers, alligator wrestlers and swimming mermaids.
The Citrus Tower was immediately a big hit. Each year, approximately half a million vacationers from around the country would stop in for amazing views and much more. In those days, the attraction also featured a gift shop and soda fountain, a restaurant and cocktail lounge, a glass-blowing studio, a candy-making factory and an exhibit where guests could see the entire handling process for fresh fruit. Visitors received free samples of fresh-squeezed Florida orange juice and loaded up bags of oranges to take back home.
"The Citrus Tower brought many people to Clermont," owner Scott Homan says. "There weren't many things to do in this area at that time, so it was a very popular attraction."
Of course, major freezes in 1983 and 1989 dealt a serious blow to the citrus industry, wiping out the majority of groves. When Orlando became the country's top theme park destination, the popularity of the Citrus Tower waned, and ownership changed hands several times.
Scott's father, Greg Homan, purchased the tower in 1995. Scott grew up around the attraction and has fond childhood memories. One year, when his father held a Christmas party at the tower, Scott dressed as an elf and served as an elevator attendant for visitors going to the observation deck.
Scott and his wife, Heather, took over ownership in 2019 with hopes of restoring the attraction's appeal. The couple added a coffee shop in the lobby and seating and air-conditioning in the observation deck. In addition, guests can now pay a yearly $100 membership fee and have unlimited access to the top.
"Those who purchase a membership can bring as many as four guests a day," Scott says. "Some even use the observation deck as their office, so we added Wi-Fi to convenience them."
---
Going up!
In terms of height, how does the Citrus Tower compare to other iconic structures around the world?
---
Orange nog
Ingredients
3 cups fresh Florida orange juice or 1 6-oz. can frozen Florida orange juice concentrate
4 eggs
2 tablespoons sugar
Nutmeg
Directions
Separate one of the eggs. Reserve white. Add yolk and remaining whole eggs to orange juice. Beat well. Pour into four tall glasses. Beat reserved white until stiff but not dry. Gradually add sugar and beat until very stiff. Top each glass with mixture. Sprinkle with nutmeg. Serves 4.
---
If you go:
Citrus Tower
141 N. U.S. Highway 27, Clermont
Admission: $10 for adults; $9 for seniors; $6 for kids.
Tours: 11am-3pm weekdays and Saturdays.
More information: Visit citrustower.com or call 352.394.4061.
Akers Media Group's James Combs has been a staff writer for several local publications since August 2000. He has had the privilege of interviewing some of Lake County's many fascinating residents—from innovative business owners to heroic war veterans—and bringing their stories to life. A resident of Lake County since 1986, James recently embarked on a journey to lead a healthier lifestyle. He has lost 60 pounds and walks nearly five miles a day. In his spare time, he enjoys target shooting, skeet shooting and watching his beloved Kentucky Wildcats!
Share This Story!