Outstanding Student: Alexandra 'Lexie' Clow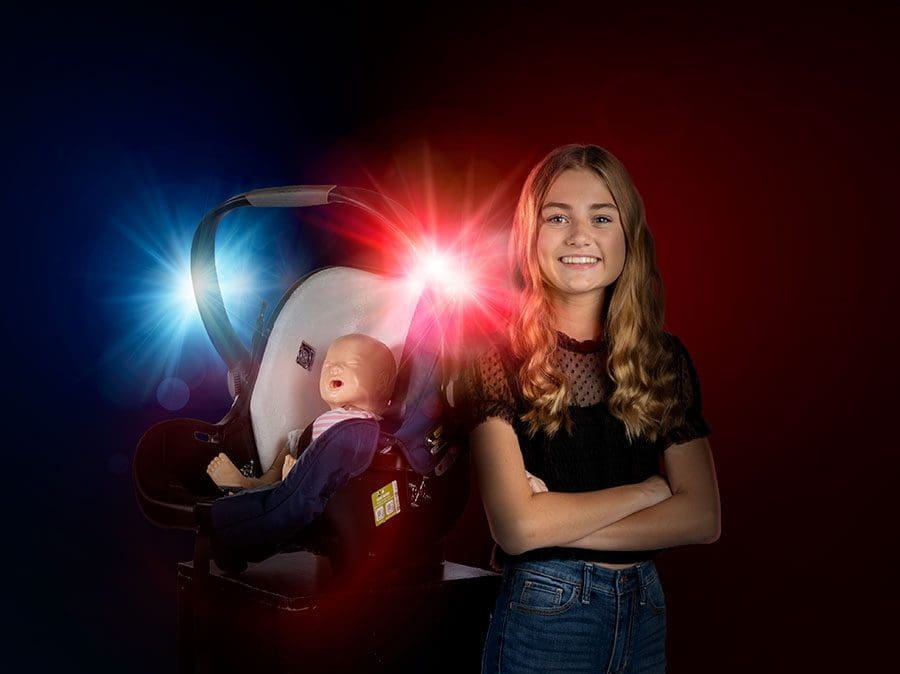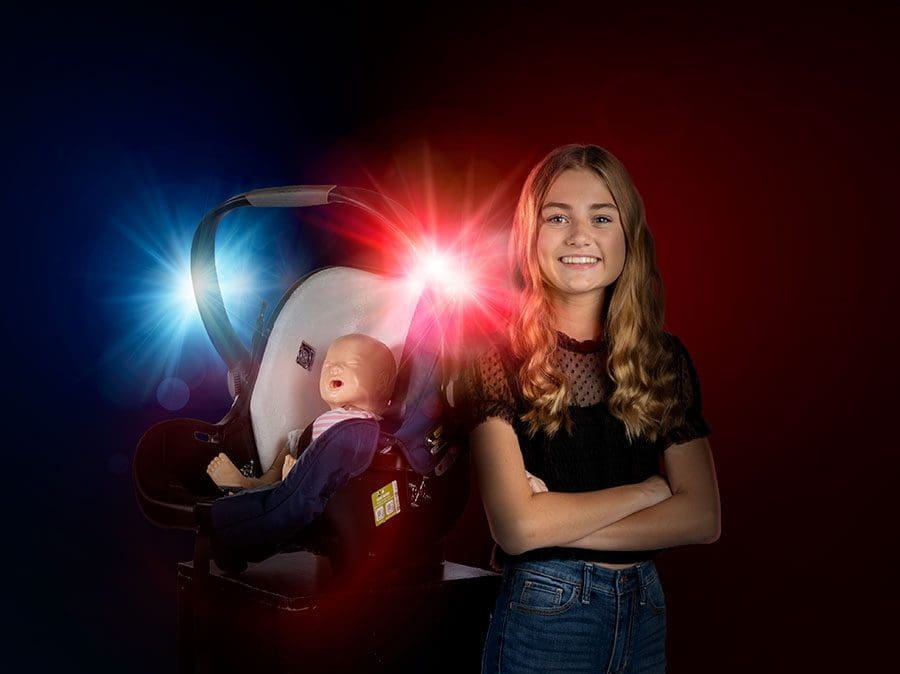 Inventor of the Pediatric Heatstroke Prevention Device.
Interviewer: Victoria Schlabig ≈ Photo: Douglas Tyler
Vital Stats
Born in Stafford Spring, Connecticut.
Seventh grader at Umatilla Middle School.
Won Best in Fair at Florida Science Fair and Lake County Fair.
How I got the idea for my invention:
I realized that on the news there was a lot of talk about children dying because of the carbon monoxide coming from generators that were brought inside the house during Hurricane Irma. I started looking into projects that I could do on this issue and I came upon a link about twins that had been left in a car in Phoenix, Arizona. I then started to juggle designs for both issues, but I slowly found myself becoming more and more interested on the topic of pediatric vehicular heatstroke. I kept researching and found that no one had really been successful in designing something that could save the life of a child in this situation, and I came up with the idea for a pressure-activated car seat with integrated cooling fans and carbon monoxide sensors.
Career goals: I am really into the performing arts and I was a part of the Bay Street Players for almost five years, as well as participating in summer camps at the Orlando Repertory Theatre and the Garden Theatre. More recently, all of my science fair project research has led to interest in meteorology and even possibly becoming a pediatrician. If I were to follow my dreams of getting a performing arts degree, then I want to go to Belmont University in Nashville, Tennessee.
Role model: My biggest role model is anyone who can be brave when no one else is; someone that can take charge in a critical situation and help others, even if that means putting them before themselves. 
Three words to describe you: I would describe myself as intelligent, outgoing and fun. My family, friends and classmates know that I am very ambitious and definitely not shy.
Best advice I've been given: It's from my nana and grandpa, who always say, "Die with memories, not dreams." When I think of that, it reminds me to try just a little harder at everything I do and live life to the very fullest.
Favorite food: Well, I'm actually a vegan, so pretty much anything except meat!
Favorite movie: "The Greatest Showman," probably because of my love for musical theater.
If you could trade places with someone for a day, who would it be? I would want to trade places with a famous actress on Broadway so that I could live out my dream of being in a Broadway musical.
What advice would you give to other kids? That being smart is cool! Also, work hard every day and reach out into your community and help others—every little bit counts.
If you could have any superpower, what would it be? It would be the ability to speak any language in the world. That way I could travel and be able to communicate with anyone!
Additional recognition:
Earned spot in the international BroadCom competition in Washington, D.C.
Won awards at the Lockheed Martin Science Challenge in Orlando.
Member of National Junior Honor Society.
President of the local Kiwanis Builders Club.
Originally from Buffalo, NY, Victoria graduated from Canisius College in 2018 with a bachelor's degree in English and Writing. In August of 2019, she relocated to Eustis, Florida, and soon began at Akers Media Group assisting with social media projects. Later that year, she was promoted to a full-time writing position at the company and has since found her niche telling the stories of so many of Lake and Sumter County's awesome people.
Share This Story!