Outstanding Student: Benjamin Mack-Jackson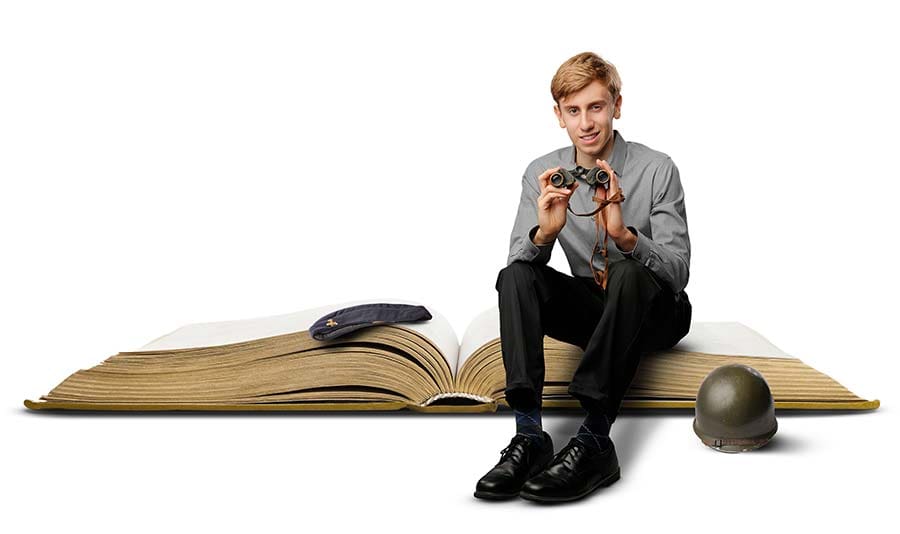 Age 15 // Sophomore at Lake County Virtual School
Vital Stats:
Maintains a 4.45 grade-point average
Has interviewed more than 40 World War II veterans to preserve the history of the war.
2:38:08. His state-record-setting time in the 200-meter long course breaststroke.
Each of these artifacts photographed are from his collection
Tell me about your organization, the World War II Veterans History Project. It is a nonprofit 501(c)(3) organization with two components. First, I interview World War II veterans throughout Florida to preserve their remarkable stories for future generations. The interviews are videoed and put on a website. Second, I have a traveling museum of World War II artifacts donated by veterans and their family members. I show these at schools, community events, club meetings, and local libraries. There's a story behind these uniforms, helmets, and medals.
Why did you form this organization? As a fifth-grade student, I was disappointed there were only two pages about World War II in my history textbook. That motivated me to learn more about the war. I began interviewing veterans in 2015.
Where do you interview these veterans? I do interviews in their homes, apartments, and nursing homes. I've had the privilege of interviewing Tuskegee airmen, prisoners of war, and D-Day survivors. I refer to them as "living textbooks." Since World War II veterans are dying at a high rate, it's important to record their information now so their stories are not lost. The website to see the videos is WW2VeteransHistoryProject.com.
Favorite war movies? I enjoy older war movies such as "The Longest Day," "A Bridge Too Far," and "Tora! Tora! Tora!"
Favorite type of music? I like 1940s big band music. Two of my favorite performers are Frank Sinatra and Glenn Miller.
Favorite historical figures? I have lots of respect for Franklin Delano Roosevelt and Winston Churchill. Both were important figures during the World War II era and were instrumental in helping the world triumph over tyranny.
What's your sport? I have been a competitive swimmer since age 5. I currently compete with the Southwest Stars, a traveling swim team, and hold two Florida records in the breaststroke. In 2015, I broke the Florida Swimming 11-12 Boys 200-meter long course record. In January 2017, I broke the Florida Swimming 11-12 Boys 200-meter short course record.
Future plans? I want to earn a doctorate degree in military history and continue working on my nonprofit organization. I hope to work in a military history field…whatever that may be.