Outstanding Student: Paws-itively professional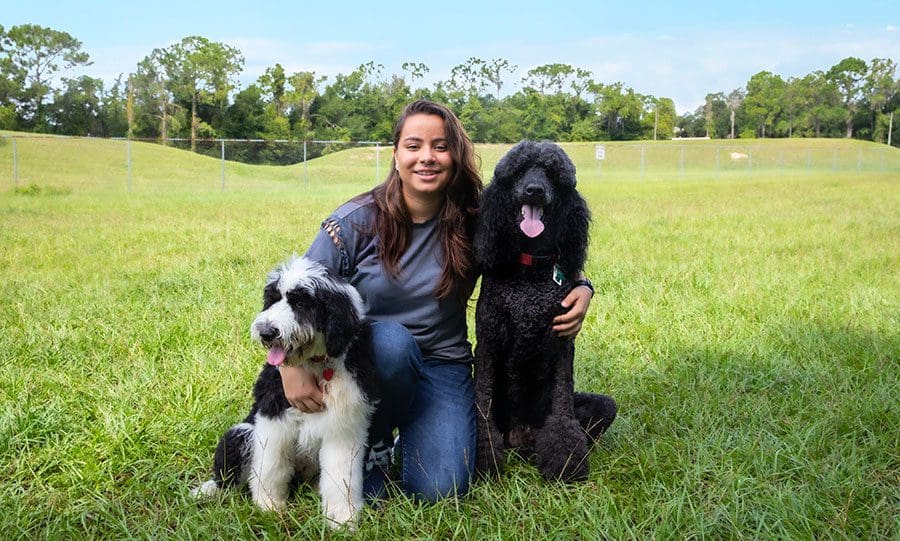 Teen owns doggone trustworthy pet-sitting company.
Photos: Nicole Hamel
It's the little things Sofia Prieto-Rodriguez does for her clients that count.
A gentle rub on the head. A tickle on the belly. A treat for good behavior.
Sofia is a 15-year-old who turned her love of dogs into a thriving business. Her pet sitting company, Sofia's Pet Emporium, operates out of Harbor Hills in Lady Lake. More than 30 clients in the retirement community have given Sofia their garage codes and house keys so she can come into their homes and care for their furry friends when they're gone.
"They like the fact that their pets can stay in their houses, have their own food and stay on the same schedule," Sofia says.
She started her company in March 2019. Like any successful entrepreneur, she began spreading brand awareness by making business cards and passing them out to neighbors. Word of mouth has also been helpful. Clients such as Paul McHugh readily offer up glowing praise for Sofia, who watches his two dogs, Lana and Archer, every Thursday when he's golfing.
"I pay her a month in advance because I trust her so much," Paul says. "And earning trust with me isn't easy because I was a cop in California for 27 years. She's very professional, very polite and always arrives 10 minutes early."
Sofia performs different duties for each client. Some only require her to feed their dogs and take them outside for a bathroom break. Others have her administer medications such as arthritis pills, topical skin drops, and eye drops. There's also the occasional overnight stay.
"I had one client who had me stay at her home for two straight nights so her dogs wouldn't feel alone while she was gone," Sofia says.
It's a demanding, seven-days-a-week job. Some mornings she's up at 5 a.m. But Sofia doesn't mind if it cuts into her time being a teenager. She's just happy to give pet owners peace of mind while they're away from home.
"When pet owners are gone for more than a day, I text them a photo of their dog so they know everything is OK," she says.
That's why Harbor Hills resident Bill Smith doesn't have to worry about his poodle, Bentley, when he's on vacation or going on a cruise.
"My dog loves Sofia," Bill says. "As a pet owner, it is very important to me that they have such a strong bond."
Sofia feels her pet sitting experience will ultimately springboard her to a gainful career. She plans on operating a pet hotel inside a veterinary office.
Akers Media Group's James Combs has been a staff writer for several local publications since August 2000. He has had the privilege of interviewing some of Lake County's many fascinating residents—from innovative business owners to heroic war veterans—and bringing their stories to life. A resident of Lake County since 1986, James recently embarked on a journey to lead a healthier lifestyle. He has lost 60 pounds and walks nearly five miles a day. In his spare time, he enjoys target shooting, skeet shooting and watching his beloved Kentucky Wildcats!
Share This Story!