Outstanding Student: Timothy Rodriquez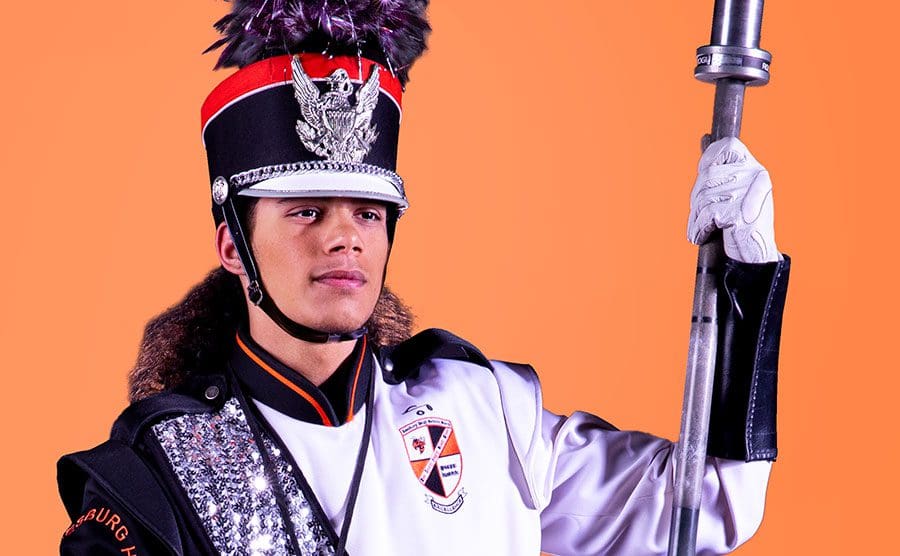 Leesburg High drum major led Macy's Parade marching band.
Photo: Nicole Hamel

---
Vital Stats:
2020 graduate of Leesburg High School.
Holds all three weightlifting records for his weight class at Leesburg High.
---
How did you find out you'd be leading the marching band in the Macy's Thanksgiving Parade? I was going throughout my day when I received an email from Barry Houser, the director of Smith-Walbridge Clinics, the camp that high school drum majors attend every summer and are evaluated as contenders to be drum majors for the Macy's Great American Marching Band. After months of waiting and hoping, the email I received was to announce that I, along with a friend of mine, were both chosen as drum majors to lead the 14th edition of the MGAMB in New York City on Thanksgiving. The experience in and of itself, once the time came, was indescribable—truly a once-in-a-lifetime opportunity that I will never forget.
If you could have dinner with anyone living or dead, who would it be? Jacob Collier. Jacob is an English singer, arranger, composer, producer and multi-instrumentalist from London, and the smartest man alive when it comes to music, music competition and everything music related.
Future plans? I plan on attending Florida State University to earn a bachelor's degree or higher in instrumental music education. My goal is to be a band director and have a band program of my own.
Motto or favorite quote? "If you can really picture the nothingness that awaits you, then what is there to be afraid of?"
Role model? Lu Xiaojun. Lu is a 35-year-old Chinese weightlifter, five-time world champion and Olympic record holder.
Interests outside music? I am also a state contender for weightlifting. I have been Olympic lifting for three years. I also earned a spot at the state championship for the high school team, winning both the district and regional championships.
Originally from Buffalo, NY, Victoria graduated from Canisius College in 2018 with a bachelor's degree in English and Writing. In August of 2019, she relocated to Eustis, Florida, and soon began at Akers Media Group assisting with social media projects. Later that year, she was promoted to a full-time writing position at the company and has since found her niche telling the stories of so many of Lake and Sumter County's awesome people.
Share This Story!