PALMER LEGENDS COUNTRY CLUB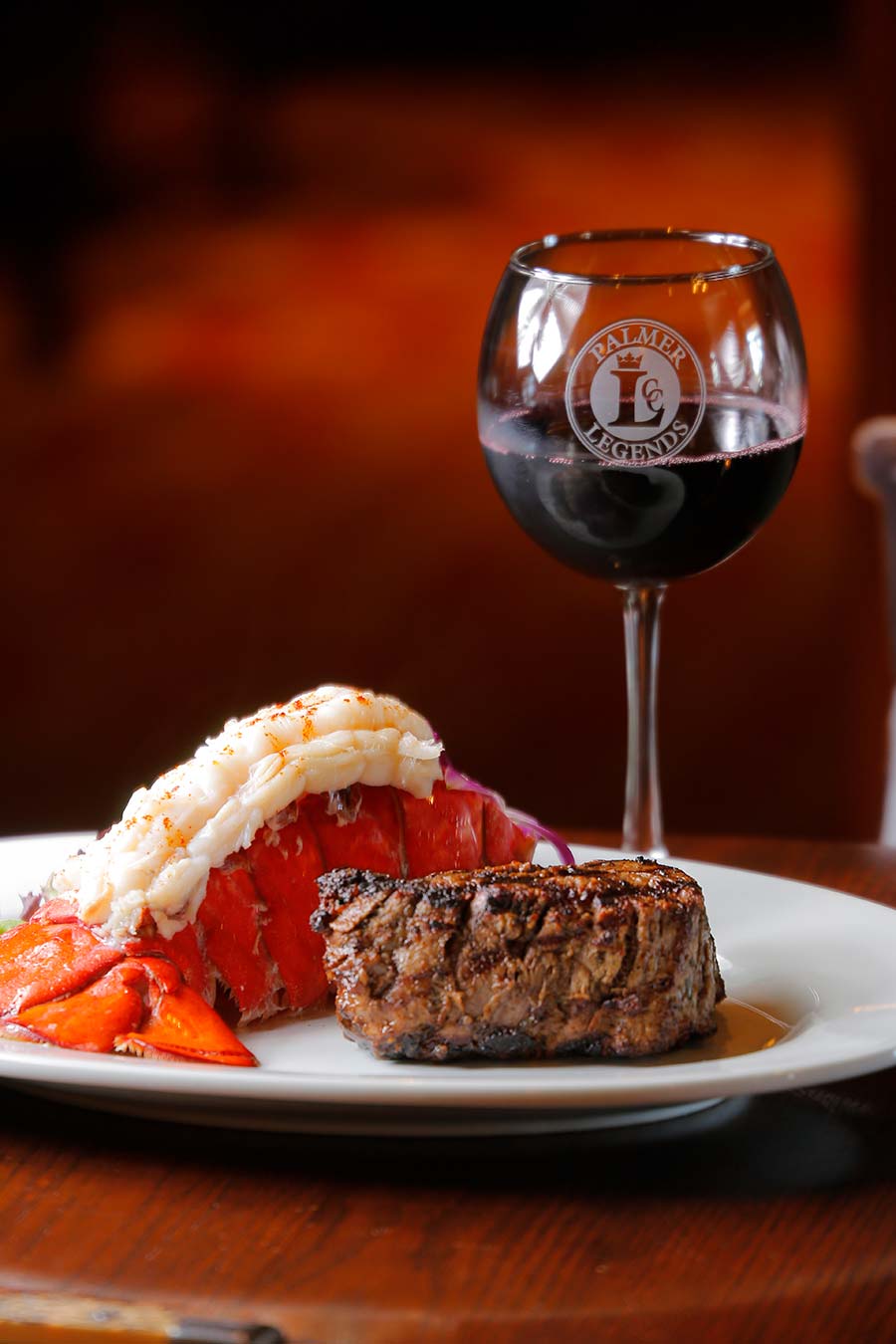 Writer: Theresa Campbell // Photo: Fred Lopez
---
Warm, handsome décor of rich dark leather and a burning fireplace offer old-world ambiance at Palmer Legends Country Club in The Villages, where a spectacular view of the golf course makes this a "must" for fine dining and a delicious meal. Palmer Legends does not disappoint.
The proof was when a friend and I noticed a large overflow of people willing to wait two hours for a table—on a Monday night!—and soon we understood why: Succulent Maine lobster cooked to perfection was the day's special well into the night.
After our server Amanda arrived carrying a warm loaf of bread with tasty herb butter, we chose a Surf and Turf meal of 7-ounces of bacon-wrapped filet mignon and Maine lobster tail—both featuring melt-in-your-mouth tender goodness—accompanied by fresh green beans and potatoes.
My friend ordered the baked potato—served with the wonderful herb butter—and I had garlic red-skinned mashed potatoes.
Our perfect dinner was capped off with delectable desserts of Bourbon Pecan Pie served warm and a la mode with vanilla bean ice cream and sweet bourbon drizzle, and Chocolate Trilogy, featuring stacked layers of white milk and dark chocolate mousse.
Palmer Legends is definitely the place to impress visitors, and casual attire is accepted.
The country club's large windows and spacious outdoor patio allow guests to watch golfers practice on the driving range, and there are photographs of the club's namesake, late legendary golfer Arnold Palmer, to view up close.
Two lunch menu sandwiches are named in his honor, including the Palmer Melt, with melted cheddar cheese, grilled onions and thousand island dressing on marbled rye.
A Sunday brunch from 11am-2pm sounds inviting, and once again, the Maine lobster at Palmer Legends is a real treat—topping the lobster I once enjoyed at Martha's Vineyard.
---
Palmer Legends Club // 1635 Palmer Way, The Villages // 352.750.4499
Hours: 11 am-9pm daily.