Person of Interest: Pat Caracciolo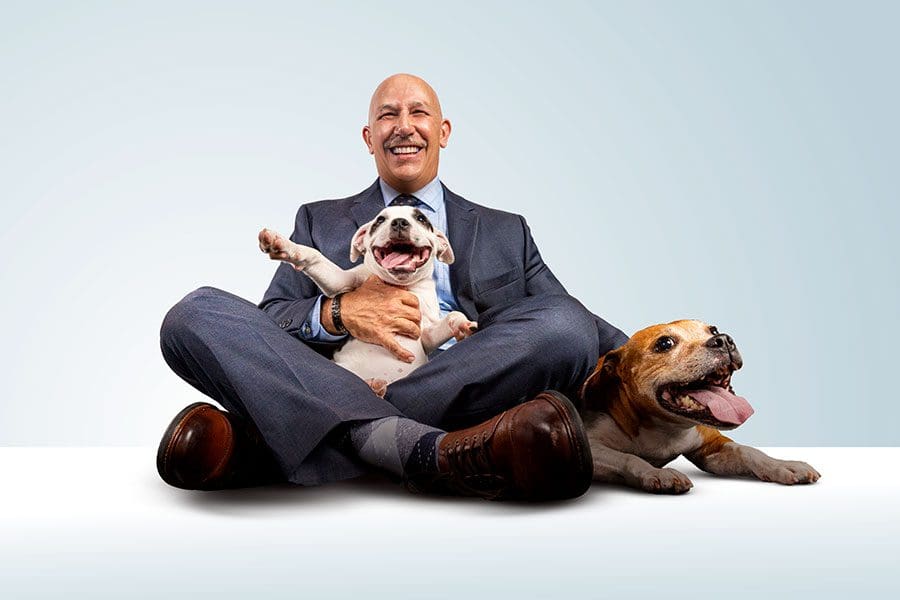 Dog groomer and civic leader.
Interviewer: Chris Gerbasi
Vital Stats
Born in Hudson, Ohio; lives in Clermont.
Studied education at Kent State University.
Owner of Pat the Dog Pet Resort in Groveland.
Vice chairman of South Lake Chamber of Commerce board.
Wife, Toni; daughters, Chelsea and Jana; pets, three Staffordshire bull terriers, two donkeys.
Describe the Project Scholars program that you chair: We have a community event every March in Clermont called Pig on the Pond. March 2020 will be 22 years this event has been held with continued growing fundraising. Each year, this event raises money to fund four $10,000 scholarships for graduating seniors in South Lake County. It is truly an honor to serve as chair and see firsthand the community involvement as well the scholarship recipients making sure to "pay it forward."
Why is it important to you to get involved in schools? From when my own girls were in school, I got involved in the PTA and/or School Advisory Council (SAC). I've always supported the kids and schools. I believe schools are best when supported by the community and active parents. This is such an important time in a child's life, and we can't expect teachers to take on this responsibility alone. My wife and I have worked hard as a team for many years to get to the point to be able to give financial support. I'm honored to be able to also give of my time, as sometimes that is the most important gift.
Are you involved in any other organizations? From 2012-2014, I served as chair of the South Lake Business Leaders. I'm a member of the South Lake Future Farmers of America Alumni. My company, Pat the Dog, helps fund the awards and trophies for the South Lake High School and Gray Middle School annual banquets.
What is your professional background? I started working at SeaWorld of Ohio in 1983 and relocated to SeaWorld Orlando in 1984. I left in 1999 when my wife and I decided I was in the better position to be a "stay-at-home dad." In addition to taking care of my girls, I was able to start a dog training business that started the "Pat the Dog" brand. When my wife was transferred with her job to St. Louis in 2000, I had the opportunity to work as an animal behaviorist for Ralston Purina. This was an exciting job, being responsible for the training and behavior enrichment of 500 dogs and 500 cats. I also continued my private and group class dog training on the side. In 2003, we moved back to Clermont, and I was asked to work part time as a dolphin trainer at Discovery Cove Orlando and stayed until 2008.
What was your job like at SeaWorld? As a professional animal behaviorist at SeaWorld and Discovery Cove, I had the privilege to work with nearly every animal from eagles, sea lions, dolphins, walruses, polar bears, and, of course, killer whales or orcas. I will always treasure my years at SeaWorld since it is where I became the animal trainer and husbandry expert I am today. SeaWorld exemplifies the best-in-class care of the animals, as I saw firsthand the exceptional care. From the daily positive reinforcement behavioral enrichment, SeaWorld's 50-plus years of expertise benefits animals at the parks and in the wild.
Did you have any scary incidents? I never felt in danger with the animals I worked with because we had processes and procedures to prevent incidents as much as possible. Just like your own dog, horse, or other animal, you need to respect any animal and build a positive relationship with them. Probably more funny than scary, however, when a walrus has to sneeze, and you don't get out of the way of the projectile "sneeze stuff," you will regret not moving.
Describe your business: Pat the Dog Pet Resort is a full-service dog boarding, grooming, training, day-care pet resort. We specialize in the right kennel for the right-size dog. We converted a smaller room to geriatric or older dogs' room who appreciate the quieter area. It was my dream to own a pet resort for as long as I can remember. So, when I had the opportunity to buy an existing business in 2012, I did. We changed the name to Pat the Dog Pet Resort and completely remodeled the facility over the first two years we owned it. We are still upgrading constantly to ensure our pet customers the utmost quality, comfort, and care.
Favorite type of animal and why? Let me think…dogs! Why not?
If you could be an animal, what would you be? Again, a dog.
Favorite movie about animals? "Homeward Bound."
Pet peeve? When people don't pay attention to their driving or are just rude. It's too dangerous out there. If only there was a law allowing dogs to drive.