Person of Interest: For the love of pets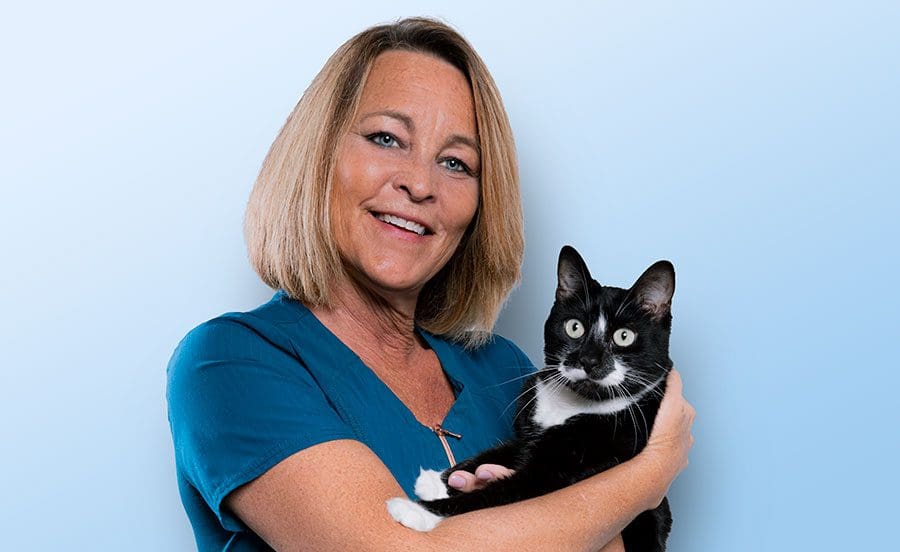 Dr. Tracie Wilson treats every dog and cat with extra dose of TLC at Animal Medical Center in Eustis.
Photo: Douglas Tyler
---
Vital Stats
Grew up in Central Florida.
Owns two dogs: Babe and Rowdy; and cats Dublin and Sun Tzu.

One of few American Animal Hospital Association accredited vets in Lake County.
---
Inspiration for becoming a vet? My Uncle Terry, who is now a retired veterinarian. I was around 8 years old when I went on my first farm call with him and waited in the truck while he worked on a "down horse." I was absolutely inspired when that mare got up and walked away! Uncle Terry is now a retired veterinarian.
Schooling? I started with veterinary technician school at St. Petersburg Junior College where I got my associate degree. I worked in the field for about 10 years before actually going back to college for pre-vet/undergrad studies. I did some undergrad work here in Orlando at UCF. But when it became time to start looking at vet schools, I chose UT Knoxville. The vet school in Gainesville was beautiful and the staff was wonderful, but the city of Gainesville was a bit rough back then. I finished undergrad and then went to vet school in Tennessee.
Did you ever teach? I was actually teaching the art of anesthesia and critical care to third- and fourth- year vet students when I was still a licensed technician and trying to get accepted as a vet student. I worked night shift at the vet school in Knoxville while I was taking classes during the day over on the main campus. I taught there for a little over two years. The most rewarding part about working with vet students is that they still have the enthusiasm and the love for the work that we do.
Most memorable case? There are so many! But there is one case that I can still smile about… a wonderful client rushes in with an injured kitten. She found him beside the road on her way to work. With tears in her eyes she says: "I don't want him to die alone in the ditch. Should we put him down?" I look at this bedraggled, flea-ridden, skin-and-bones, seizing kitten that has a head injury and my heart is torn so I said, "We can try to save him, but don't get your hopes up." But with a little TLC and a lot of work, the little guy made it, and I can smile because he is now about 12 pounds and lives a pampered life in a loving home. This case is on the top of the favorite memories pile, plus he was just in to see me the other day looking fat and happy and just as in love with his owner as she is with him!
Why Eustis? The community is amazing! I love the "old-town" feel when you walk through downtown.
Advice for prospective vets? It is just as important to look at people and listen to people who love their pets as it is to look at and listen to their pets! The art of communication is not being taught in the vet school curriculum, so you have to figure that out on your own. This is something that I still work on every day.
Advice for prospective pet owners? Don't be in a hurry! The little brown eyes, or golden eyes, or black eyes… so cute, so fluffy, so sad. They are all deserving of our love and attention. Take time and share your lap or go for a walk with your prospective housemate. After all, you will share your house, your bedroom, your couch, (and yes, your wallet) and most of all your heart – so choose wisely!
Tell me about the Companions for Courage program? I have been on the Companions for Courage board since day one. The Companions are all about kids… the brave kids who must go where no one can go with them, where no one can hold their hand, where no human can give them the comfort and courage that they desperately need – kids going on the witness stand. The Companions are dogs and cats that are trained to be with a child on the witness stand. The Companions lay quietly at the child's feet and will stay there until their job is done. Having their "Companion for Courage" right where the child can touch them with their hands, or even their feet, helps these kids get through a terrible day. And, maybe they can even smile when they remember the support, love, and comfort that the Companions have to offer. I do not have a courtroom dog myself. I have been the veterinary advisor, and I have helped with the temperament testing for each of the Companions since its inception. It is a privilege to work with both Companions and their handlers.
What other organizations do you belong to or advocate for? I am proud to say that I am a member of American Animal Hospital Association (AAHA.) The (TLC at Animal Medical Center) office is now coming up on our second year of being accredited by AAHA. It means that our office is one of the few veterinary offices that holds to a rigorous standard of patient and client care, with guidelines above and beyond what the state requires. I also support the Golden Retriever Rescue, the Boxer Rescue, Newfoundland Rescue, Pug Rescue, and several more! I am a member of the normal vet associations – American Veterinary Medical Association, and Florida VMA. I am also a member of the Humane Society VMA.
What does your AAHA accreditation mean to patients/clients? We believe in caring for every pet like our own. Because of that, we believe in practicing a higher standard of veterinary medicine. That is why we are so proud of our AAHA accreditation. AAHA accredits veterinary practices who demonstrate a simple benchmark: excellence in everything they do. Because of the rigorous testing, voluntary nature and progressive mission, fewer than 15 percent of veterinary practices are AAHA accredited. For our clients and patients, it means that pets are our passion and we strive to deliver excellent care, because your pets deserve nothing less!
Any pets of your own? I have "Babe," a 3-year-old Staffordshire terrier mix and a 7-year-old Doberman named "Rowdy." My cats are just good old-fashioned domestic shorthair cats – Dublin, 5, and Sun Tzu, 6.
Which are easier? Dogs or cats and why? That is a loaded question! Pets are not usually easy! Some say cats are easier to care for because you do not have to take them out for walks… but the litterbox!
Where are you originally from? I did most of my growing up here in Central Florida.
Tell me something about yourself no one knows: But then everyone would know it!
Hobbies? Besides pets, I love "quiet time" activities like reading, walking on the beach, swimming and spending time with family and friends.
Favorite book or author: Right now, I am spending time with author Craig Alanson, sci-fi adventures!
Family: I have one son, Dustin; my Dad, two brothers here in Florida and my uncle Terry who just retired here.
Top item on your bucket list? I would love to visit every national park in the U.S.
What languages do you speak? Dog, cat, and English!
Originally from Nogales, Arizona, Roxanne worked in the customer service industry while writing independently for years. After moving to Florida in 1999, Roxanne eventually switched her career path to focus more on writing and went on to become an award-winning reporter for The Daily Commercial/South Lake Press newspapers for 16 years prior to coming on board with Akers Media as a staff writer in July 2020 – her dream job come true.
Share This Story!