Person of Interest: Steve Smith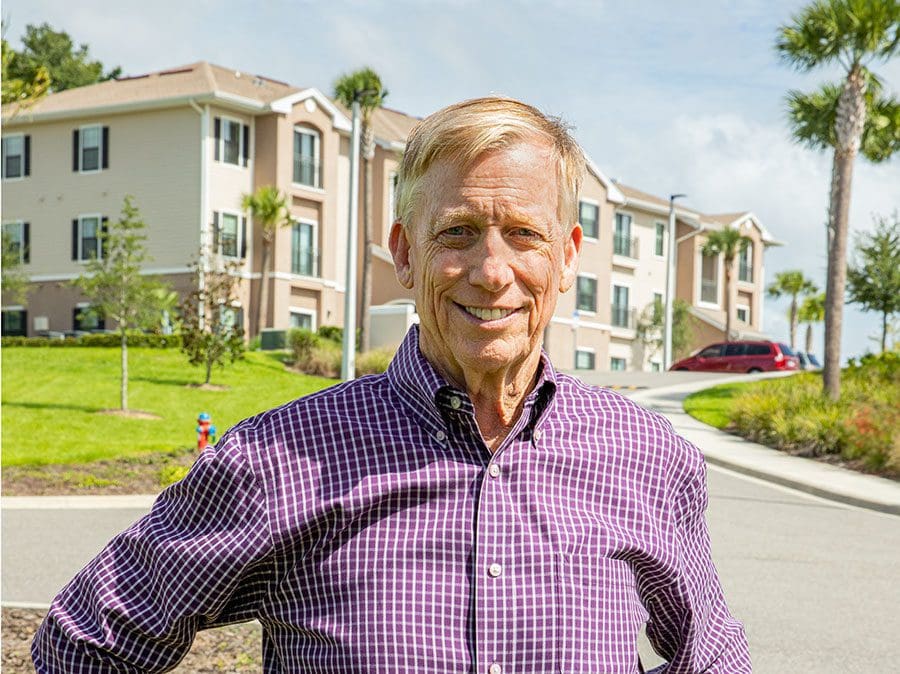 Clermont man has heart for propelling people forward.
Photo: Nicole Hamel
Vital Stats:
Retired from banking industry in Columbus, Ohio.
Moved to Clermont to help care for in-laws.
Steve's family includes wife Linda Smith, four adult children and 11 grandchildren.
---
How did you begin helping the homeless? After coming to Clermont, I started seeing so many people losing their jobs and homes, I formed a faith-based nonprofit homeless service provider called New Beginnings with the intention of helping these struggling families recover from their dire situation. That was in 2007, and over the years since then, this ministry has helped thousands rebuild and transform their lives.
When did you get involved in bringing affordable housing to Lake County? In 2017, I turned over the New Beginnings' executive director role and formed Provident Housing Solutions, a nonprofit housing developer, to focus my time creating more affordable housing to help ease this growing need in Central Florida. Then, in 2018, I created a beautiful 96-unit workforce affordable rental community in Clermont called Woodwinds. The Florida Housing Coalition awarded the Woodwinds community the Sadowski Award for its beauty and I was given the title "Mayor of Woodwinds" at its grand opening ceremony.
Why is affordable housing so important? There are many agencies in Lake County that help those in need, but the lack of affordable housing is the number one problem in this area, which is why it is my number one focus.
What other affordable housing projects are you involved in? We are about to open 70 affordable rental units for seniors in Clermont, with plans to build more housing for seniors in the next few years as the need continues to grow in Clermont.
Also, someone donated land in Lakeland to us, and recently we were awarded funds from Florida Housing Finance Corporation to build another workforce affordable community housing similar to Woodwinds.
I am also in the process of developing a large workforce housing community in the Four Corners area of Lake County, as well as another workforce housing community in Daytona that the city asked me to create like Woodwinds.
What else are you involved in? To bring awareness to the Lake County residents of the growing affordable housing situation, I also helped form Housing For All Lake of County; a nonprofit advocacy group made up of businesses, churches and government leaders who have been meeting regularly to discuss solutions. It capped off last year with a housing forum hosted by the City of Groveland with Jaimie Ross, CEO of the Flordia Housing Coalition, as the keynote speaker.
What motivated you to form these nonprofits? I believe in helping others who are searching for a path forward and I wanted like-minded people to join me on this journey.
Words you live by? TEAM, which stands for "Together Each Accomplishes More."
Biggest success story? My most memorable recent success comes from Woodwinds. It was a long and hard fought six-year challenge from the beginning of my dream to become a reality. I am thanked often from the residents living at Woodwinds as for many it is their first permanent home and for some children it is the first time they have had a bedroom of their own.
What advice do you have for others who want to help those in need? I believe and encourage them to understand this: If you give someone a fish they eat for a day, but if you teach them to fish they eat for a lifetime
Who is your biggest mentor? God is my CEO and has been my mentor for most of my life as I truly believe that with God at your side all things are possible through prayer and petition.
How do you respond to people who are struggling? I first give them hope and encouragement, and after learning of their struggles, I refer them to the appropriate agency that might be able to help.
What word best describes you? PERSISTENCE.
Originally from Nogales, Arizona, Roxanne worked in the customer service industry while writing independently for years. After moving to Florida in 1999, Roxanne eventually switched her career path to focus more on writing and went on to become an award-winning reporter for The Daily Commercial/South Lake Press newspapers for 16 years prior to coming on board with Akers Media as a staff writer in July 2020 – her dream job come true.
Share This Story!