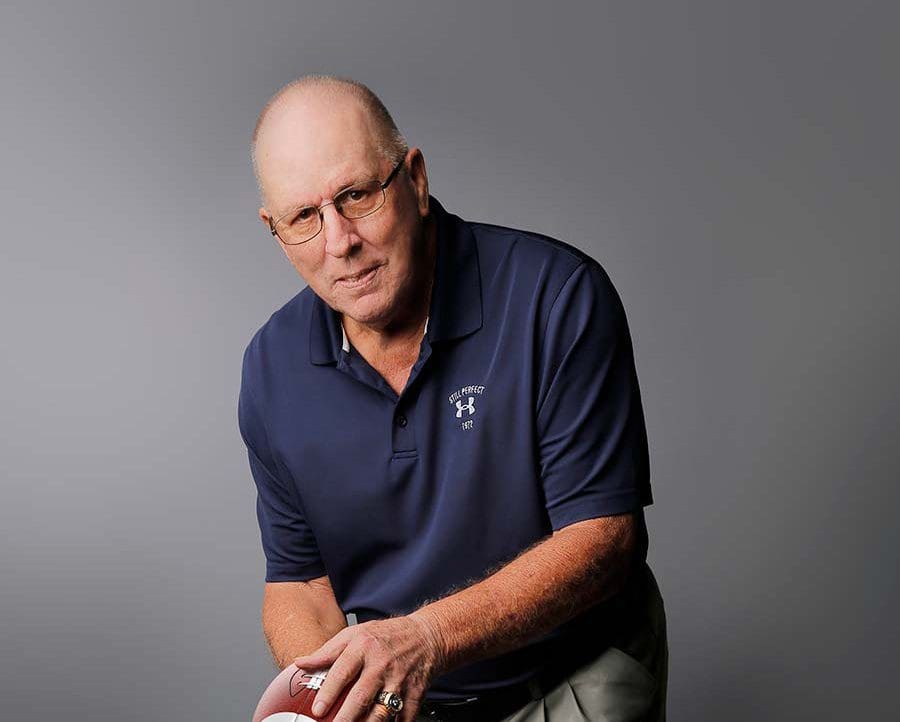 Former NFL punter Larry Seiple gets a kick out of sharing his favorite football memory.
The position of punter receives little glory. Unless, of course, you're Villages resident Larry Seiple, whose heroic play is forever etched in the memories of Miami Dolphins fans.
In 1972, Larry's Dolphins faced Pittsburgh and the "Steel Curtain" defense in the American Football Conference championship game. Trailing 7-0, the Dolphins faced a fourth down in the second quarter. Larry came out to punt.
He made a split-second decision that is part of Dolphins' lore. Rather than kick, he ran a fake punt for 37 yards, setting up a game-tying touchdown and sparking Miami to a 21-17 victory.
"On that play, Pittsburgh bunched players to one side so they could form a wall for the guy returning the punt," he recalls. "That opened a huge gap, so I took off and ran. It was undoubtedly my biggest claim to fame. Coach Don Shula didn't call the play; I made the decision on my own. Thank God it worked."
It did. It may have saved their playoff run and their Super Bowl dreams, and their undefeated season. Two weeks later, Miami beat the Washington Redskins in Super Bowl VII, capping a 17-0 season.
It has been nearly 45 years since the fake punt, but many pigskin fanatics still remember that play. In fact, fans consistently mail Larry old football cards in hopes of getting an autograph.
"I get about 10 cards in the mail each week," says Larry, who played in the NFL from 1967 to 1978. "I'm more than happy to sign the cards and return them as long as the sender includes a self-addressed envelope. Sometimes, they even send me miniature football helmets to autograph."
Then again, it's never easy to keep autograph hounds away from someone who played on the first and only NFL team to achieve a perfect season. He remains somewhat confident that Miami's run to immortality will never be matched.
"Today's teams play two more regular season games than we did in 1972. That gives teams a chance to suffer more injuries to key players," Larry says. "Also, almost every team in the NFL has a roster full of players who are more athletic, bigger, and stronger than we were."
But there's one key ingredient current NFL teams may lack: A punter who can go from zero to hero in a matter of seconds.
Akers Media Group's James Combs has been a staff writer for several local publications since August 2000. He has had the privilege of interviewing some of Lake County's many fascinating residents—from innovative business owners to heroic war veterans—and bringing their stories to life. A resident of Lake County since 1986, James recently embarked on a journey to lead a healthier lifestyle. He has lost 60 pounds and walks nearly five miles a day. In his spare time, he enjoys target shooting, skeet shooting and watching his beloved Kentucky Wildcats!
Share This Story!