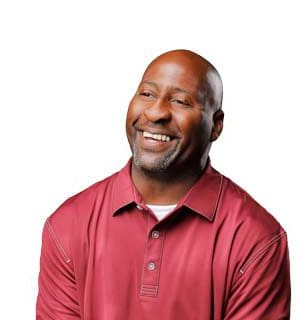 Part-time poet to publish 'Interpretation of Love.' 
Active in football, basketball, and track at Leesburg High School, Hugh Brown took time to show his sensitive side at 16 when he poured out his heart in a poem to his first crush, an older girl who was about to graduate.
"I gave it to her and got a good reaction," Hugh, 48, recalls. "It's a friendship that lasts today."
He has written hundreds of love poems since then, all in free-verse style, and many of his poems are requested as gifts. However, before he pens his poems, Hugh interviews people to learn about the love of their life.
"I take it seriously. I want it to be something you're going to keep for a lifetime," says the poet, who's also manager of Oakwood Smokehouse & Grill in Leesburg.
Hugh writes in his spare time, often in a quiet place with spiritual music for inspiration. There have been times when he quickly scribbles a poem, including one titled, "I Will," that he gave to motivate a cancer patient.
"Six months later, she came to the restaurant, hugged me, saying, 'I beat it! And I still have what you wrote'…That was a great human connectivity," he says.
He's pleased his first book of poetry, "Interpretation of Love," will be released around the Christmas holidays.
The single father's views on love?
"I never rule it out," he says. "Love endures all."
It's All Right to Love Me
By Hugh Brown
As I beheld your heart while you were holding mine and I was holding you, my heart whispered to your heart. "It's all right to love me." But a sixth sense revealed to me the unspoken whisper of your heart: "I'm afraid to love you." 
So I looked deeper, and through my heart the light of my love, I saw and understood. The view of your love revealed to me your distrust, your fear of dishonesty, and disloyalty. So I held you tighter, and whispered from a deeper place in my heart, hoping you would feel truth flowing from my heart to yours. "It's all right to love me." 
Because I only yearn to reside in your temple of love, thereby discovering a resting place for my love and becoming a treasure of love within all. I am in search of the better of you because I am going to give you the better of me. "It's all right to love me."
Originally from Anderson, Ind., Theresa worked for The Herald-Bulletin for many years. After experiencing a winter with 53 inches of snow, her late husband asked her to get a job in Florida, and they headed south. Well known in the area, Theresa worked with The Daily Sun and The Daily Commercial prior to joining Akers.
Share This Story!