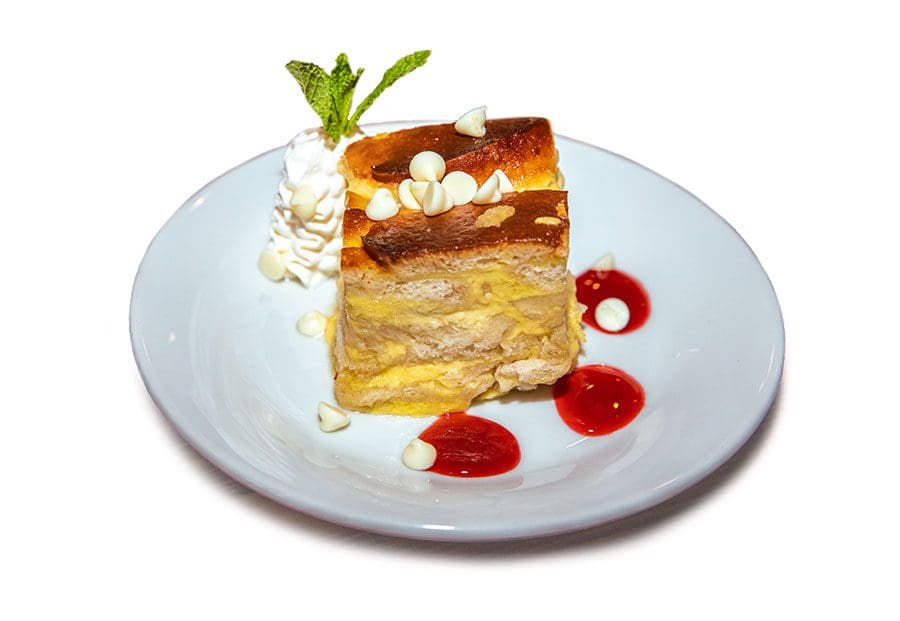 According to recipeland.com, various pudding recipes, especially bread pudding, have been traditional Christmas dishes since the 10th century.
The website goes states that the treat was known as "poor man's pudding" because it was created as a means of salvaging stale bread back in the day. The bread was soaked in milk or water, then sugar, butter, fruit, and/or spices were added, and then it was baked.
Sometimes the mixture was housed in a "sop" – a hollowed-out loaf of bread. Modern bread pudding is made by pouring custard and other flavorings over cubed bread and baking it.
Other types of Christmas puddings include "figgy" pudding famously mentioned in the Christmas carol of "We Wish You A Merry Christmas," the plum pudding Mrs. Cratchit presented during Christmas dinner in Charles Dickens' "A Christmas Carol," rice pudding, and English-style meat puddings.
Many current Christmas traditions, including culinary ones, can be traced back to Victorian era England, where various puddings – including bread pudding – became classic Christmas fare.
If craving some, but baking is not your thing, visit Turners Kitchen+Bar, 114 S. 5th St. in downtown Leesburg for a scrumptious slice of the restaurant's very own White Chocolate Chunk Bread Pudding.
You won't be sorry. The perfectly textured, vanilla custard-filled bread pudding served warm and topped with white chocolate chips, bourbon raspberry sauce, and whipped cream, is reminiscent of something straight out of grandma's kitchen, with its sweet and tempting aroma radiating straight from the plate and into your mouth.
Jack Braton, Turners owner and chef, says he learned how to make bread pudding from an old Gullah woman in South Carolina, where he grew up.
Jack says the woman's recipe was much like the old traditional-style Christmas recipes, right down to the use of stale bread. He took her recipe, changed it a bit and refined it into what he serves at the restaurant. He says his secret is that he uses par-baked French Batard bread he expertly shingles and weaves together with the other ingredients until it is structured into something resembling a cake.
"It has all the flavors and goodness of bread pudding, but it's just more refined in the way it's built. There's no doubt it's bread pudding, but it behaves more like a warm, gooey, piece of warm delicious cake," Jack says, adding that he has been serving the dessert at Turners for the past six years, and before that, for brunch at the Glenview Country Club in The Villages, where he worked previously. "It's a simple recipe, but a very technical process."
Jack takes pride in comments he hears from people about how much they like his bread pudding.
"I love it. I have been making this bread pudding for over 20 years and I never get tired of hearing it," he says.
But perhaps the very best thing about the bread pudding at Turners is that you don't have to wait until Christmas to indulge, since it is available year-round.
It could just become one of those things you start dreaming of after dinner while cozying in front of the television under a blanket or craving for breakfast to complement a fresh cup of hot coffee or tea.
Either way, why not savor a heavenly slice of this White Chocolate Chunk Bread Pudding, then steady yourself for a New Year's Resolution to ween yourself off of your Christmas – and no occasion needed – dessert addiction.