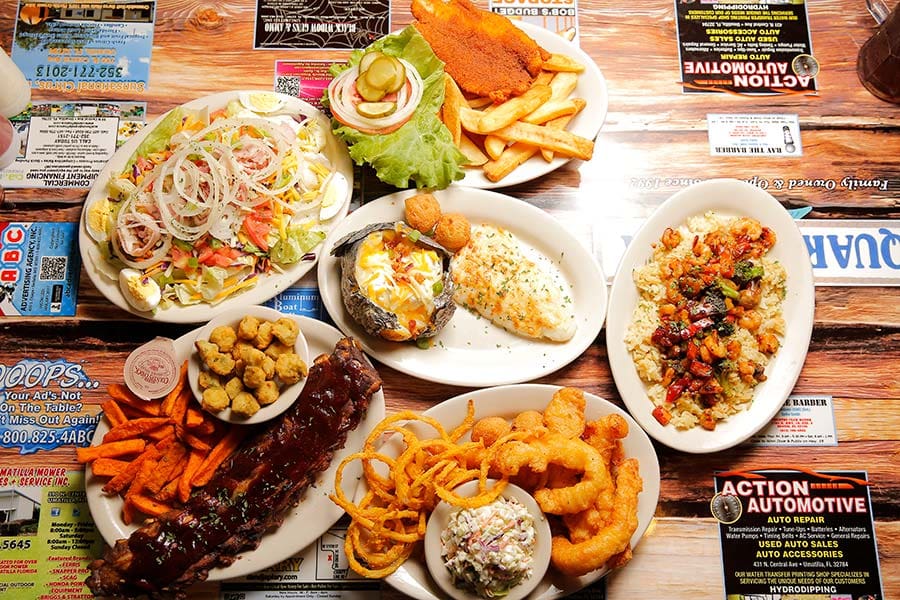 Stellar seafood 
The casual atmosphere of the Quarterdeck in Umatilla features nautical accents and fishing-related décor, which makes it the idyllic setting to savor beer-battered fish, crab legs, fried oysters, spiced shrimp, hush puppies, seafood dishes, and cold beer on tap.
Of course, there are a variety of other tempting menu choices—sandwiches, salads, ribs—which makes it challenging to decide what to order. My friend found the beer-battered fish cooked to perfection. Luckily for me, I enjoyed sampling it, too. The lightly breaded coating was just the right amount to enjoy the delicious flaky white fish. It was served with two sides. She picked the fried okra and coleslaw, and the meal also came with hush puppies filled with corn kernels.
In trying to consume more veggies, I chose the shrimp stir fry, with carrots, broccoli, and popcorn-size shrimp, all tossed in a teriyaki sauce over rice pilaf. The meal also came with a house salad, and it was enjoyable, but I must admit the beer-battered fish really won me over, and that's what I will order on a return visit to the Quarterdeck.
We also enjoyed sharing a slice of coconut cream pie, which was scrumptious with a light graham cracker crust. The dessert was the perfect ending to a nice meal.
The Quarterdeck has daily early bird specials for $5.99, served from 11am-5pm, including a fish basket with fries and slaw, 4-ounce steak and spuds, small grilled chicken salad, or small seafood salad.
The restaurant also has all-you-can-eat specials: whole catfish on Mondays, peel-and-eat spiced shrimp on Tuesdays, ribs on Wednesdays, quail on Thursdays, a fish fry on Fridays, crab legs on Saturdays, and fried chicken on Sundays.
Quarterdeck // 831 S. Central Ave., Umatilla // 352.669.4662
Originally from Anderson, Ind., Theresa worked for The Herald-Bulletin for many years. After experiencing a winter with 53 inches of snow, her late husband asked her to get a job in Florida, and they headed south. Well known in the area, Theresa worked with The Daily Sun and The Daily Commercial prior to joining Akers.
Share This Story!