Quilters across Lake and Sumter are mass-producing face masks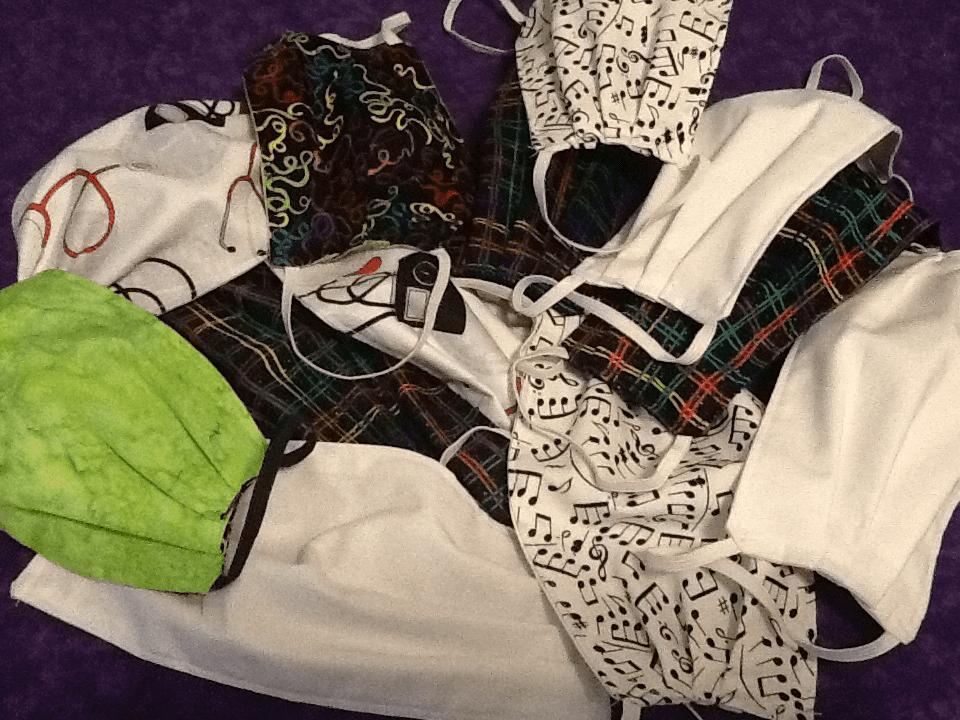 Supplying people with face masks during the COVID-19 outbreak has been a patchwork process, so leave it to quilters to stitch together a project that helps the cause.
From Lady Lake to Clermont, hundreds of quilters are making thousands of cloth masks for health-care workers, first responders, family members, friends, charitable organizations and people in need. The masks, which are free and washable, have been distributed close to home and across the country. UF Health Leesburg Hospital, UF Health The Villages Hospital and AdventHealth Waterman hospital are among the recipients.
The quilters include members of the Quilting Guild of The Villages, which has 23 chapters, and the Quilting Sisters Guild of Leesburg. In The Villages, the Mulberry Quilters Chapter alone has made more than 3,400 masks—"Not bad for some retired ladies," says Linda Cancilla, president of the chapter.
The importance of the task is not lost on the quilters.
"I think about my mother during World War II," says Linda, of the Village of Piedmont. "She worked in a torpedo factory because the men were all at war, so the women had to work. She always talked about that. I think this is the same thing for our generation. People are doing everything they can do as Americans to help, and especially help the frontline workers. I think, other than having my children, this is the most important thing that I've been involved in in my life.
"We just hope that it's saving people's lives," she adds.
GO TO THE STASH
Quilters always have a stash, a variety of fabrics accumulated over the years but never used, says Dale Angione, a Mulberry Quilter who lives in Hacienda North. When the mask idea came up, she grabbed her stash and started creating homemade masks based on YouTube instructional videos.
"Making masks is really very simple," Dale says. "It only requires two 6-inch-by-9-inch pieces of fabric, two 7-inch strips of quarter-inch elastic, a little filling and, voilà, you have a mask."
Dale has made 56 masks. She first distributed them to family members around the country and then friends and neighbors.
"We have some older people who are very concerned and very worried about (the virus), so I made sure that I had some masks for my friends who are older," she says.
The masks aren't just plain white; they're made from all styles of fabric that the quilters have on hand.
"They're fun fabrics, fun colors, so they really kind of take on the personality of their owner," Dale says.
The mask-making project has been an enjoyable experience, she says.
"It's just something that we got involved in, we wanted to do something, and it was a wonderful way to spend some time," Dale says. "It's something that you can do in your own home at your own time, and goodness knows we need different projects at this time to keep our sanity."
PART OF HISTORY
Charity coordinator Althea Walker is credited with coming up with the mask idea for the Mulberry Quilters, one of the first chapters to get involved in the project. She was looking at Facebook one morning and a story about masks popped up.
"I thought, wow, this would be such an incredible opportunity for us to really make an impact," says Althea, of the Village of Chatham.
She likens the women's experience to that of all the "Rosie the Riveters" during WWII.
"It's amazing how this has just blossomed," she says. "I feel like we're taking part in a little bit of history and doing our part."
The masks, of course, aid not just the wearer but everyone that person contacts—patients, nurses, doctors, technicians—and then everyone that those people subsequently contact.
"Think of the number of people that our little group has impacted," Althea says. "That's where we're coming from and that's what keeps me going."
FILLING THE NEED
Connie Czernuch is one of 150-plus members of the Quilting Sisters Guild of Leesburg. All of them are making masks for various groups, including the Lake Sumter Children's Advocacy Center, Lake County Sheriff's Office, doctors' offices and other businesses.
"Wherever the need is, that's where they go," the Leesburg resident says.
Connie has made more than 150 masks, focusing on supplying the downtown Leesburg area. People can request masks at Advanced Medical Uniforms (701 W. Main St., 352.805.4431), but they better be quick because the masks go as fast as Connie makes them. The masks are free, but a food or cash donation to Leesburg Food Bank is appreciated, she says.
"It's rewarding. It's very emotional," Connie says of the effort. "It's sad that we need this, but I'm glad to be a part of it."
COMMUNITY EFFORT
Two women at Harbor Hills Country Club in Lady Lake have helped their fellow residents by making more than 200 free cloth masks. Roseann Cochran and Nancy Flood also have given masks to staff members who interact with the public at the country club. They also have raised about $1,200 for the staff relief fund, which assists employees who are no longer working or receiving tips.
For Roseann, the project started after she posted an ad on an online community billboard.
"I put a notice on Nextdoor that I was willing to make masks for people, and it just evolved from that," she says.
Other Harbor Hills residents have donated materials, such as sheets and elastic, and contributed to the relief fund.
"It's been a real community effort," Roseann says.
The mask makers know their work is much appreciated. Linda, of Mulberry Quilters, says she has received calls from nurses who thanked her through tears of gratitude.
"It's scary for them," Linda says. "We're sitting behind a sewing machine, but these people are right out there, putting their lives in danger. It's an honor to do this."