Social Spotlight: Reel time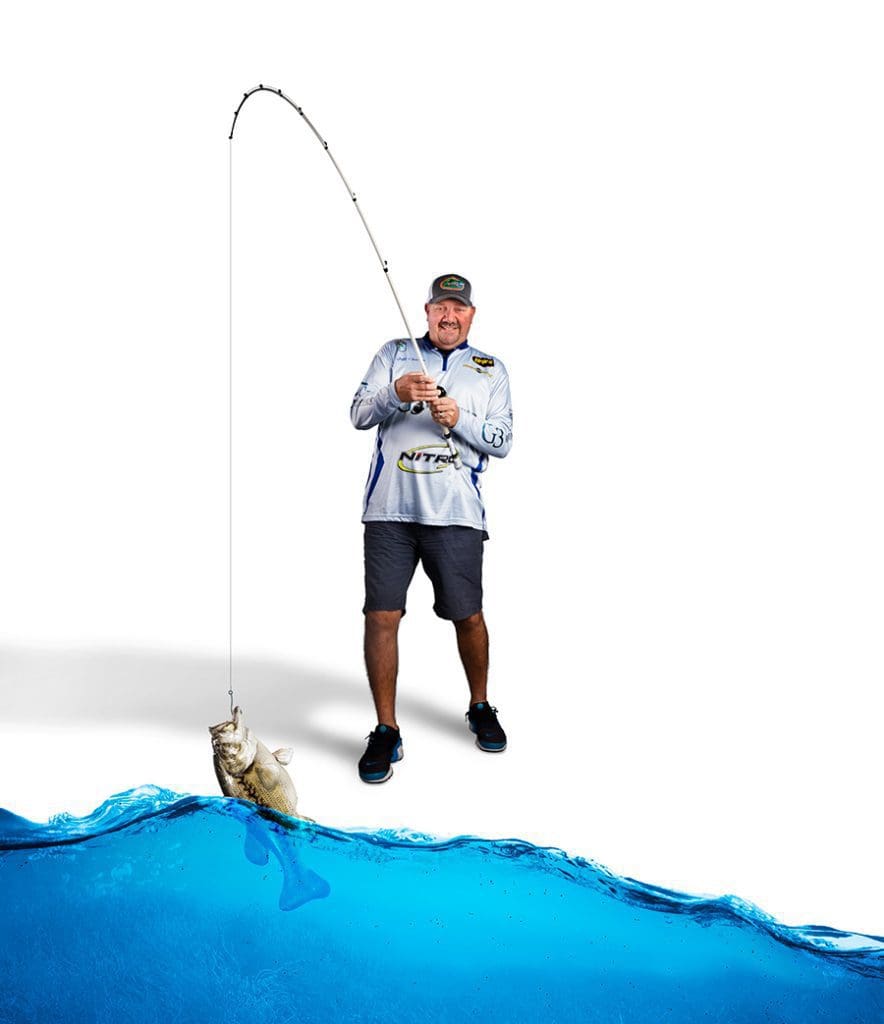 Anglers in the Big Bass Tour are on a mission to go fishing.

Fish tales are intriguing and typically go like this: A fisherman spreads his arms as wide as possible, boasting about the size of the big bass he caught in a far-off place with no witnesses or photographs. Listeners shrug their shoulders, wondering whether he really caught a whopper or is telling a whopper.
However, you can rest assured there's nothing fishy when Jeff Chastain enthusiastically shares a pleasant memory from last year's Big Bass Tour in Lake County. He emerged victorious in two of the tournament's hourly weigh-ins that award $1,000 to the fisherman who catches the biggest bass in a given hour.
One of his bass tipped the scales at 8 pounds, 9 ounces, while the other weighed 8 pounds, 4 ounces. For winning, he reeled in $2,000. A lie-detector test administered by an FBI agent—a standard practice at high-stakes bass tournaments—was proof that he didn't embellish or cheat.
"It was a great feeling," says Jeff, a Tavares resident who typically competes in 20 fishing tournaments each year. "I have a competitive edge, and I love to win."
Jeff hopes for a repeat performance as he tests his fishing skills against other top amateur anglers in the Big Bass Tour, which is making its first stop of 2019 on the Harris Chain of Lakes. During the event, scheduled for Feb. 15-17, hundreds of amateur fishermen will vie for $133,525 in prize money, as well as an opportunity to win a brand-new bass boat.
"This is a great tournament that attracts anglers from all over the country," Jeff says. "You can be a weekend fisherman or a tournament fisherman like myself and still compete in this event. And you don't have to use a bass boat. You can use a pontoon boat as long as you have an aeriated live well to keep fish alive."
During the tournament, competitors can fish on the Harris Chain of Lakes, as well as all rivers, creeks, and canals connected to it. That includes lesser-known bodies of water such as Trout Lake, Horseshoe Lake, and Moss Bluff Lock and Dam on the Oklawaha River. The hourly weigh-ins run from 9am-3pm at Hickory Point Recreation Park in Tavares.
In addition to winning prize money, the angler who catches the biggest bass of the tournament will win a 2019 Nitro Z19 bass boat powered by a 200-horsepower Mercury engine. The boat is valued at $41,945, according to Nitro's website.
Lake County has hosted the Big Bass Tour every year since 2014, and last year's tournament drew 750 anglers representing 21 states. The event receives lots of publicity. Reports from Big Bass Tour officials indicate their Facebook, Instagram, and YouTube pages generated 644,000 social media impressions during the 2018 event.
"We host several fishing tournaments every year, and the Big Bass Tour certainly is one of the larger ones in terms of visitation and economic impact," says Steven Clenney, sports development director for Visit Lake County. "It's an excellent opportunity to showcase not only our lakes but also our attractions, parks, and quaint downtown areas. Without question, our hotels, RV parks, restaurants, and gas stations stay busy when we host tournaments like this one."
Tim Frederick, a professional angler, helped recruit the Big Bass Tour to Lake County. He says the Harris Chain of Lakes is an ideal spot to host tournaments and ranks it as one of Florida's top three bass-fishing destinations, alongside South Florida's Lake Okeechobee and the Kissimmee Chain of Lakes.
To back up that claim, he cited the two-day haul of Kentuckian Matthew Robertson, who in December won the Bassmaster Team Championship on the Harris Chain of Lakes with an impressive total of 57 pounds, 9 ounces.
"I grew up here, and I think it's great to let everyone see what I've known for years—that our bass fishing here is about as good as it gets," says Tim, a Leesburg resident who is in his fourth year as a professional angler. "I've caught plenty of bass over the years that weighed over 10 pounds."
Since the Big Bass Tour is for amateurs only, Tim cannot compete. However,
this will mark the fourth consecutive year that his brother, Tommy Frederick, is fishing in the event. Like Jeff, Tommy has finished in first place in the hourly weigh-ins.
"I live in Inverness, and even though we have a chain of lakes here, there's nothing better than fishing the Harris Chain during wintertime," Tommy says. "Fishing is in my family's blood, and I even take my son and daughter fishing with me during the tournament. It's a very fun time."
For more information, visit bigbasstour.com/tournaments/2019/harris-chain-of-lakes-florida.
Akers Media Group's James Combs has been a staff writer for several local publications since August 2000. He has had the privilege of interviewing some of Lake County's many fascinating residents—from innovative business owners to heroic war veterans—and bringing their stories to life. A resident of Lake County since 1986, James recently embarked on a journey to lead a healthier lifestyle. He has lost 60 pounds and walks nearly five miles a day. In his spare time, he enjoys target shooting, skeet shooting and watching his beloved Kentucky Wildcats!
Share This Story!