Person of Interest: Rob Robbins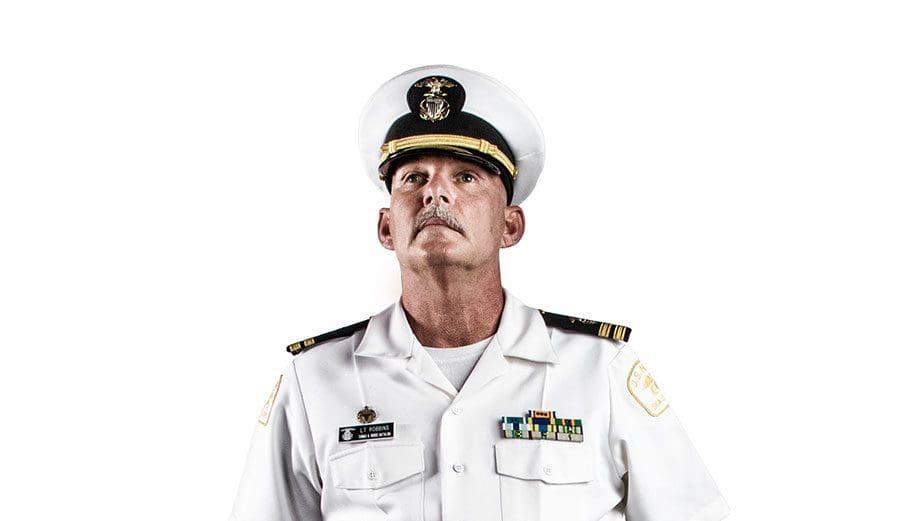 Commanding officer with U.S. Naval Sea Cadet Corps
Interviewer: James Combs // Photo: Nicole Hamel
How long have you been involved with the U.S. Naval Sea Cadet Corps?
I got involved in 2013 through the American Legion Post 219. I sat through a presentation of the U.S. Naval Sea Cadet Corps and thought it was spectacular. Our American Legion post formed a unit, the Thomas R. Norris Battalion, and I became commanding officer.
Tell us about the U.S. Naval Sea Cadet Corps:
We're a national organization that focuses on youth development and leadership development. We instill strong moral character and life skills. We have two programs: Naval Sea Cadet Corps for cadets ages 13 through 18 and the Naval League Cadet Corps for cadets ages 10 to 13. After enrolling, the kids must graduate from a nine- or 14-day recruit training session, depending on the time of year, to advance in rank and participate in advanced training sessions. 
Elaborate on advanced training:
We offer all sorts of training, some of which is onboard ships and some on military installations. There is all sort of training these cadets can enjoy, including flight training, scuba diving, aircraft maintenance, culinary arts, boat safety, and many others. We're not a military recruiting organization. Our main goal is to make young men and women responsible adults who make good decisions and become leaders. We treat them like adults rather than toddlers or kids. If we tell them we want something done, we expect it to get done. 
On being named Officer of the Year:
It was a shocker and says a lot about our staff and cadets. This is certainly not a one-man show. 
Most rewarding aspect of being a commanding officer:
When cadets first join the program, they're scared, have very little confidence, and won't speak up. Within a few months, you begin seeing them feel more comfortable and confident. 
How was USMC boot camp?
It was a tough experience, but it really instills responsibility and discipline. 
Advice for Marines entering boot camp:
Get your head right, get in the game, be physically fit, do what you're told, and try your hardest to be the best you can be. No quitting. 
Hobbies:
Riding my motorcycle, boating, and shooting handguns and rifles. 
---
Vital Stats
1983 Leesburg High School graduate.
Served in the United States Marine Corps from 1983-1986.
Named 2018 Officer of the Year by the U.S. Naval Sea Cadet Corps.
Akers Media Group's James Combs has been a staff writer for several local publications since August 2000. He has had the privilege of interviewing some of Lake County's many fascinating residents—from innovative business owners to heroic war veterans—and bringing their stories to life. A resident of Lake County since 1986, James recently embarked on a journey to lead a healthier lifestyle. He has lost 60 pounds and walks nearly five miles a day. In his spare time, he enjoys target shooting, skeet shooting and watching his beloved Kentucky Wildcats!
Share This Story!